Starting an edible oil mill business is a profitable venture that requires careful oil business plan and execution. If you're interested in entering the cooking oil processing industry, you've come to the right place. In this article, we will provide a comprehensive guide on how to start a groundnut oil business that is both profitable and sustainable. We will cover everything from creating an oil business plan, selecting the right peanut oil mill equipment, and marketing your products to achieve success in this competitive market.


Groundnut Oil mill Business Plan for Beginners in Nigeria

6 Steps of Starting Small Groundnut Oil Processing Business in Nigeria
Developing the Groundnut ​Oil Mill Business Plan
Before starting your groundnut oil mill business, you need to have a comprehensive business plan. The oil production business plan should outline the mission and vision of the business, target market, marketing and sales strategies, and financial projections. The plan should be comprehensive and realistic to ensure the success of the business. (Related other oil business post: mini soybean oil making buainess plan>>)
Securing Funding for the Peanut Oil Production Business
The next step is to get funding for your groundnut oil business. This can be done through loans, grants, or partnerships. It is important to have a excellent business plan to present to potential investors or lenders to obtain enough funding for the business. And it is necessary for you to know: How much does a small scale groundnut oil mill project setup cost>>.
Choosing the Best Groundnut Oil Mill Equipment Manufacturer/Supplier
Choosing the right groundnut oil extraction and refinery machines manufacturer is crucial for the success of your business. The quality of the groundnut oil mill plant you use will determine the quality of your final product, as well as the efficiency and productivity of your operations. Here are some factors to consider when choosing an oil processing equipment manufacturer:
Reputation: Do some related research and read reviews from other customers who have used the manufacturer's equipment. Looking for manufacturers with a solid reputation in the groundnur oil production industry.
Quality: Look for the manufacturers who use high-quality materials and components in their peanut oil mill equipment. Check that the groundnut oil pressing and refining machinery is built to last and can withstand the rigors of continuous operation.
Service: Choose a manufacturer that provides good after-sales service, including technical support and spare parts availability.
Price: Of course, groundnut oil extraction machines price is an important consideration. However, don't sacrifice quality for a lower price. Cheaper groundnut oil production equipment may end up costing you more in the long run due to repairs, maintenance, and downtime. (Related Information: Groundnut oil extraction machine price in Nigeria>>)
Setting Up the Groundnut Oil Mill Plant for Your Oil Business
When designing the edible oil mill plant layout, you should consider arranging it in a way that optimizes workflow and productivity. Consider the following factors when designing your plant layout:
Equipment layout: Place the peanut oil making machine in a way that maximizes space and optimizes workflow. Make sure there is sufficient space around each piece of equipment for maintenance and cleaning.

Safety considerations:

Safety should be a top priority when designing your edible oil processing plant layout. Place equipment in a way that minimizes the risk of accidents and ensure that emergency exits are easily accessible.

Flow of materials:

Design the layout in a way that optimizes the flow of raw materials, finished products, and by-products. This will help maximize efficiency and minimize waste.
Understanding Groundnut Oil Extraction Methods and Oil Refining Processes
When you have set up your oil mill plant, you need to consider about the peanut oil extraction and oil refining process. The followings are some key factors to consider:
Different Methods of Peanut Oil Extraction: There are several methods of oil extraction, including oil mechanical pressing and oil solvent extraction. Mechanical pressing involves using oil press machines to press the oil out of nuts. Solvent extraction method uses chemical solvents to extract oil from the oil seeds. There is a hybrid method that combines mechanical pressing with solvent extraction. Each method has its own advantages and disadvantages, and you should choose the one that is best suited for your business.
Peanut Oil Refining Process: After the groundnut oil is extracted, it needs to be refined to remove impurities to improve its quality. Refined first-class peanut oil and the concentrated peanut oil in the step of the oil refinery process is different. Refined first-class peanut oil is using conventional full refining process, the whole process includes degumming, deacidification, decolorization, deodorization,dewaxing and other major processes; while concentrated peanut oil is produced using low-temperature crystallization, anhydrous dephosphorization process. (Read More: buy groundnut oil refinery plant in Nigeria>>)


Groundnut Oil Pressing and Refining Process Flow Chart
Marketing and Selling the Groundnut Oil Products
The final step in starting a groundnut oil mill business is to develop a marketing strategy and identify potential customers and distribution channels. Packaging and branding the products can help to create a unique selling proposition and build brand recognition. Social media and online marketing can also be used to promote the business and products.
Buy Low Cost Groundnut Oil Production Equipment
ABC Machinery has established itself as a renowned manufacturer and supplier of edible oil processing machinery. Our expertise and experience in the field have earned us an esteemed reputation worldwide. Our range of products includes screw oil press machines and oil refinery equipment capable of handling a diverse range of oil-bearing seeds and nuts. These machines can efficiently produce different types of vegetable oils, including but not limited to soybean, copra, peanut/groundnut, palm kernel, hemp seed, coconut, and rapeseed. And we have established many successful cooking oil procesing project around the world, such as India, Uganda, Nigeria, and Ghana,etc.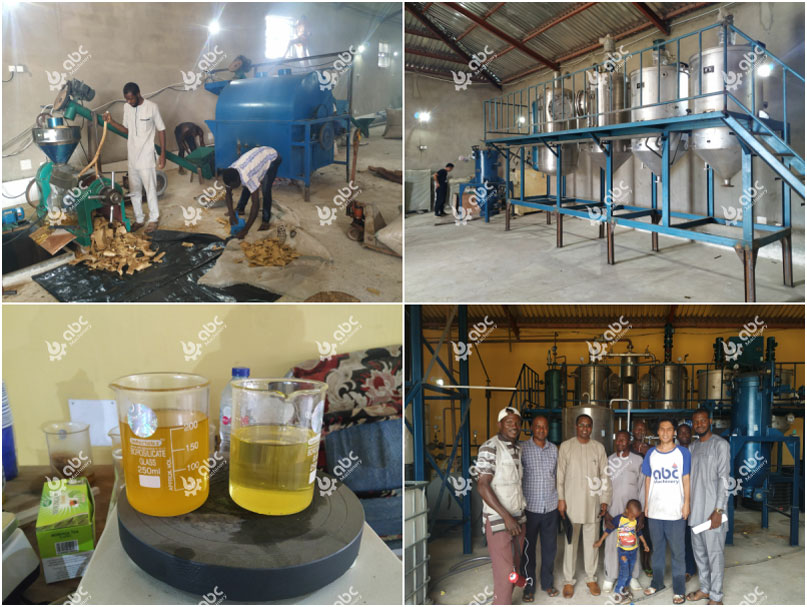 Groundnut Oil Project Established by ABC Machinery in Nigeria

Advantages of Starting Groundnut Oil Mill Business in Nigeria
It might be advantageous for business owners to setup a groundnut oil mill plant in Nigeria. With a large market for groundnut oil in the nation, minimal startup costs, and a variety of uses, the enterprise has the potential to employ locals and give small company owners a steady stream of income. Crushing groundnuts and utilizing an oil expeller equipment to extract the oil are both steps in the process. In general, businesses wishing to make investments in the agro-industrial sector can choose the groundnut oil mill industry in Nigeria.
In conclusion, starting a groundnut oil mill business requires a lot of hard work and dedication, but it can be a prfitable opportunity for those who are willing to put in the effort. If you are also interested in building a groundnut oil mill plant, FEEL FREE TO CONTACT US!
Request a Quote
We receive enquiries in English, Español (Spanish), Русский язык (Russian), Français (French) and العربية (Arabic).Our professional team will reply to you within one business day.Please feel free to contact us!