YZS-85 Oil Press Machine
YZS-85 oil press machine is a screw oil press machine that is able to process grain type oil materials, including, rapeseeds, cotton seeds, soybeans, peanuts, sesames, tung nuts, and more others. Before pressing, all the materials should be pre-treated, such as cleaned, pealed, broken, crushed, soften, broiled or baked, for best oil extraction results. The quality of pre-treatment contributes directly to the performance, longevity, safe oil extraction of oil press machine. Thanks to its compact size, highest efficient, easy operation and wide application to various materials, YZS-85 screw oil press is very suitable for Mobile Oil Processing and Small Oil Production Line. (New order of YZS-85 Soybean Oil Press to America>>)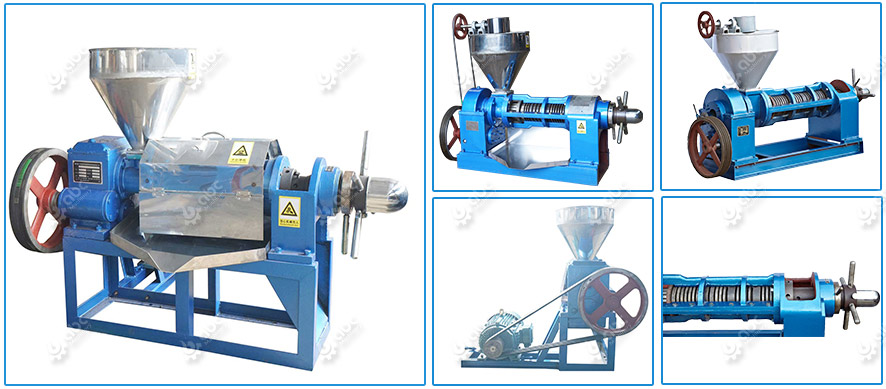 YZS-85 Oil Press Machine
Model
Capacity
Power
Weight
Outline Dimension
YZS-85 Oil Press
60-80kg/h
1.4-2T/24hrs
5.5kw
200kg
1200×400×900mm3

How YZS-85 Soybean Oil Press Main Works?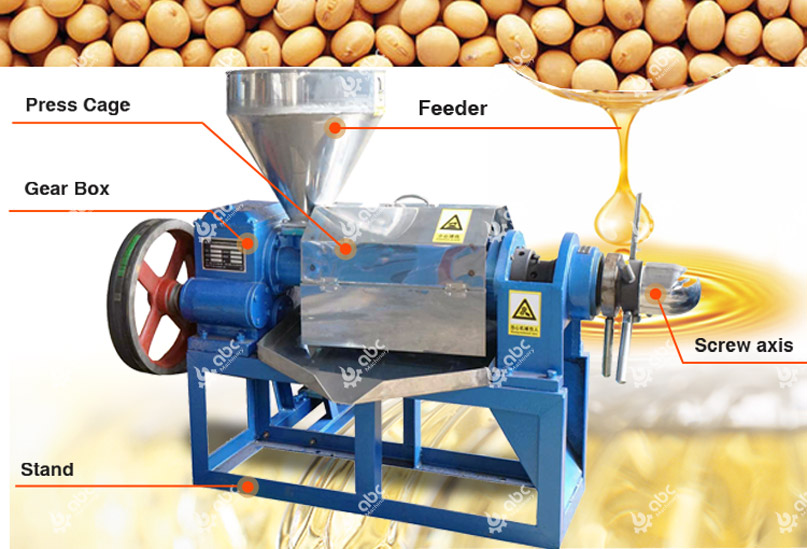 YZS-85 Soybean Oil Press Structure
The YZS-85 soybean oil press machine consists of feed hopper, gearbox, pressing cage, screw shaft and machine stand, etc.
Feeder: Composed of feeder, feeder flange, etc.
Gear Box: Composed of gear box, cover, cylinder gear, driving axis, rolling bearing and triangle belt wheel, etc. Oil can be added when the oil adding screw on top of the gear box is discharged. Likewise, oil can be released when the oil release screw on the bottom is removed.
Pressing Cage: Composed of upper and lower pressing cages, roll bar, bar, pressing ring, cake output ring and pressing screws, etc. Both sides of it are linked with gear box and stand. When assembling after discharging the machine, the original sequence must be followed. They must be tightened with pressing screws. The pressing intensity will be more proper when the pressing ring can worm on during the soybean oil pressing.
Screw Axis: Composed of screw axis, pressing screw, cake guide ring, press nut, adjusting bolt and planar bearing, etc. The bar, pressing ring, cake output ring, cake guide ring are made of quality carbon steel. After thermal treatment, the surface temperature reaches as high as HRC56-62 with 20# rather fine abrasion resistance. The assembling between pressing screws must be precise and tightened by fastening nuts to prevent from axis way moving.
Stand: Composed of base, stand, screw nut. The base is the basic component for the assembling and installation of the entire mini soybean oil press machine. Besides supporting the mother parts, the stand is also a cookie outlet.
YZS-85 Small Soybean Oil Press Machine Working Video
Soybean Oil Press Working Principle
The main working principle of soybean oil press is to squeezing the oil out from soybean embryo by continue twist of screw shaft. Because the soybean embryo in oil press is to stop under active condition and the pressing chamber is at low pressure condition, there will cause great friction resistances between the soybean embryo and screw, and pressing cage, thus making frictions between embryo micro material, and forming the relatively activities, finally get oils out from the embryo. YZS-85 small soybean oil press can achieve multi-stage pressing.

Soybean Oil Pressing Line Setup Cost and Equipment?
Soybean oil is a kind of oil extracted from soybean. Soybean oil is commonly called "soybean salad oil", which is one of the most commonly used cooking oils in the world. The longest shelf life of soybean oil is only one year, and the best quality soybean oil should be in light yellow, clear and transparent, and there is no sediment, no beany flavor in the soybean oil. When the temperature is below zero degrees Celsius, the high quality soybean oil will be crystallized. Soybean oil is rich in many valuable nutrients and must be kept fresh after being processed.


Soybean Oil
However, how much needed to setup Soybean Oil Mills and what's equipment is needed?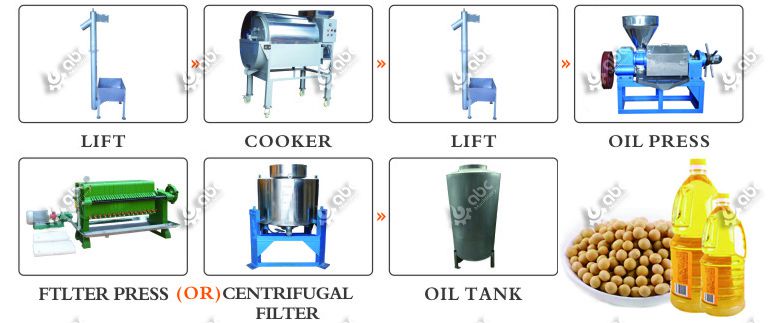 YZS-85 Oil Press Setup Small Soybean Oil Pressing Mill

ABC Machinery is a professional and reliable Oil Press Machine supplier in China, we provide soybean oil press at factory price. What is more, we have gained rich experiences in Oil Mill Plant in different capacities. It's very much easier to setup soybean oil mill plant by applying soybean oil press. Generally, a small scale soybean oil mill that adopts simple oil extraction process and equipment will cost about $7,000 ~ $10,000. However, the exact cost may be varied from the capacity, equipment and process.
Firstly, it is very important to completely understand the right and efficient soybean oil manufacturing process. Generally, the soybean oil pressing process for small scale oil production factory includes:
Cleaning → Flaking → Cooking → Pressing → Filtering
Cleaning → Cooking → Extruding → Pressing → Filtering
The final products of the whole soybean oil pressing process is crude soybean oil and soybean oil cake.
Secondly, based on your desirable soybean production process to choose the equipment accordingly. For example, this first soybean oil pressing process requires cleaning machine, flaker, steam or electric cooker, soybean oil press. While, the second process is made up of cleaning machine, steam cooker, extruder, soybean oil machine, etc. (Read More: Soybean Oil mill Machinery Price >>)
Anyway, the process and detailed equipment should be based on your requirements of final soybean oil, your investment cost and your favorable conditions. Any questions, please get in touch with us directly!
Request a Quote
We receive enquiries in English, Español (Spanish), Русский язык (Russian), Français (French) and العربية (Arabic).Our professional team will reply to you within one business day.Please feel free to contact us!