YZS-128 oil press machine, with advanced design, is easy to operate. It is built with premium quality carbon steel for long-term service life. The feeding hopper is newly designed and equipment with triangular belt-wheel and tension pulley. The patented feeding mechanism enables easy adjustment of tightness and further ensure smooth materials feeding. More importantly, the gearbox adopts helical gear design to prompt stable pressing of screw shaft and highly efficient transmission. This type of oil press model is very suitable for a great deal of raw materials, including canola, copra/coconut, groundnut, flaxseed, cottonseed, sunflower seed, and more.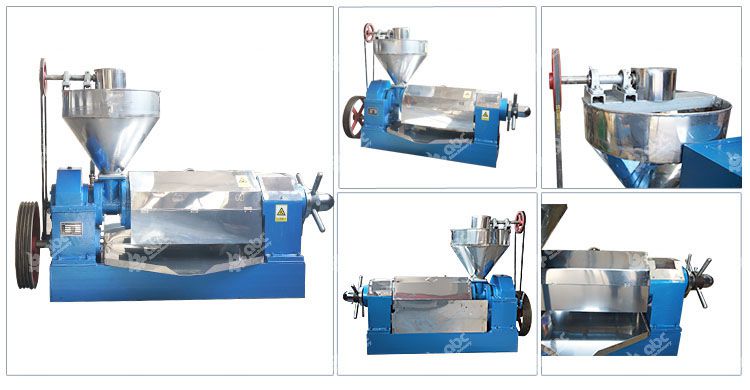 YZS-128 Oil Press Machine
| Model | Capacity | Power | Weight | Outline Dimension |
| --- | --- | --- | --- | --- |
| YZS-128 Oil Press Machine | 300-375kg/h; 7-9T/24hrs | 15kw | 775kg | 2000*600*1170 mm³ |
As we all know, for best oil pressing results and longer service life, most oil press should be preheated to ensure smooth machine operation. But it may require long time. For user's convenience and cost reduction, The YZS-128 oil press machine is added with an auto-temperature contro l to adjust the heat for fast machine running while increasing oil yield rate. In addition to maintain all the benefits of YZS-128 single screw oil press, the new type YZS-128 with auto-temperature control features many outstanding advantages and increasing popularity among customers.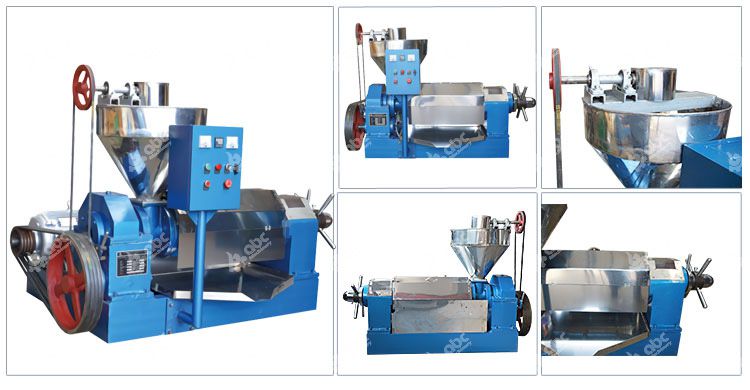 YZS-128 Oil Press Machine with Auto-temperature Control
Model
Capacity
Weight
Outline Dimension
Total Power
Power

YZS-128 Oil Press Machine

with Auto-Temperature Control

300-375kg/h;
7-9 T/24hrs
830kg
2000*600*1165 mm³

18.2kw

Pressing power: 15Kw-6
Main shaft heating power:

1.8Kw

Pressing cage heating power:

1.4Kw
YZS-128 Auto-Temperature Control Oil Press Features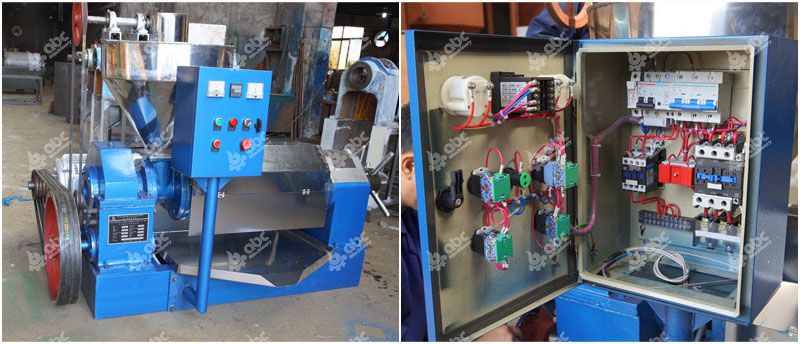 The screw shaft and pressing cage are heated simultaneously, so the machine itself can be quickly heated for oilseeds pressing, which saves time, labors and operating cost
Automatic temperature control system preheats the machine, ensure oil pressing stability and improve oil output rate
The oil drip pan and cover is made of stainless steel, which is more convenient to clean and safe.
Advanced feeding system with triangular belt-wheel and tension pulley for smooth, stable and efficient material feeding.
Stable oil extracting performances, easiest operation, less maintenances and wide usages of various materials make it the BEST choices for a lot of small scale oil workshops and edible oil mill plants.
Correct Operation of Canola Oil Press Machine
In order to ensure the highest oil output rate, it is necessary to follow the correct extraction process of canola oil. First, the seeds of canola should be cleaned to remove foreign impurities, such as stones. The stones and sandy can absorb oil, thus reducing the oil yield and cause the risk of damages to your canola oil press. Then, cleaned seeds should be compressed into flake by mechanical actions. The next process is to cook flakes ready for pressing. Finally, it comes to the pressing process. We recommend our YZS series canola oil press machine for all our customers to get the highest canola oil yield rates.
Canola Seeds Selection & Cleaning – Flaking – Cooking – Pressing

Canola Oil Press for Sale
This is one set of canola oil press that is equipped with seeds conveyor for one of our customer. Before packing and shipment, the canola oil press you ordered from us will be carefully suspected to ensure no preblems.
Tips on Improving the Oil Yield of Canola Oil Press?
As we mentioned before, it is very necessary to select and clean the material seeds of canola.
Control cooking temperature and moisture content to optimal proportions.
It's also very important to control the temperature when the material is feeding into canola seed oil press
Fully makes use of the pressing principle of canola oil press to add auxiliary materials and improve the oil yield.
Request a Quote
We receive enquiries in English, Español (Spanish), Русский язык (Russian), Français (French) and العربية (Arabic).Our professional team will reply to you within one business day.Please feel free to contact us!