If you're in Nigeria and considering venturing into soybean oil production, you've come to the right place. Soybean oil is one of the most widely consumed cooking oils globally, making it a lucrative business opportunity. Starting a small soya oil production business is the best option for a beginner. To get started, you'll need a small soybean oil extractor.


How much does a small soybean oil extractor machine/small production line cost? How do I buy the right soybean oil machine? What do I need to consider? You must be thinking about these things first, and I hope you get the answers in this post.

Why Choose a Small Soybean Oil Extractor?
Soybean oil is extracted from soybeans through a mechanical process that involves cleaning, dehulling, cracking, cooking, and pressing. Each step has a corresponding equipment to implement. (Read More Detailed: Soybean oil manufacturing process>>)
The soybean oil pressing process is primarily achieved through an oil extractor machine, which can vary in size and capacity. A small soybean oil extractor is an excellent choice for aspiring entrepreneurs and small-scale producers.
Advantage of Small Soybean Oil Extraction Machine
Affordability: Small oil extractors are typically more budget-friendly than their larger counterparts, making them a suitable choice for those with limited capital.
Space Efficiency: Small soybean oil expeller are compact and require less space for installation and operation, making them ideal for small soybean processing factory.
Versatility: These oil press machines can often process a variety of oilseeds, not just soybeans, providing flexibility in your edible oil production venture.

Of course, if you have enough preparation and strength, you can also choose soybean oil extraction machines and oil mill plant with larger capacity according to the actual conditions.
Learning about Soybean Oil Mill Plant >>
Buy Small Soybean Oil Extractor Machine at Best Price in Nigeria
1 Set A Budget Based on Financial Capacity and Business Plan
When it comes to purchasing a small soybean oil extractor, the price is a crucial factor. Prices can vary widely based on several factors, including brand, capacity, and features. In Nigeria, the price of a small soybean oil extractor typically ranges from ₦150,000 to ₦500,000 or more, depending on the specifications. A small/mini soybean oil mill plant unit cost from $10,000.
Keep in mind that the initial cost of oil processing equipment is just one part of your investment; you'll also need to budget for installation, maintenance, and other operational expenses. (Related Posts: Soybean oil plant cost >>)
2 Determine the Capacity of Machine
The capacity of the soybean oil machine determines how much oil you can produce in a given period. Small screw soybean oil press machines in Nigeria typically have a capacity ranging from 100 kg/h to 500 kg/h or more. Your choice should align with your production goals and available soybeans.
In addition, consider factors such as the availability of soybeans in your location and the market demand for soybean oil. It's better to choose a machine with a slightly higher capacity than your immediate needs to allow for future growth.
3. Searching Quality and Durable Oil Mill Machines
Look for soybean oil extractor machines that are made from high-quality materials and have a robust design. A well-built extractor will be more reliable and have a longer lifespan, reducing maintenance and replacement costs in the long run.
4 Buy from Reputable Brand and Manufacturer
Look for reputable companies with positive customer reviews and a track record of delivering excellent oil processing machines. Well-established brands often provide better performance machines, better customer support and reliable after-sales services.

You can purchase a small soybean oil extractor through these avenues in Nigeria.
► Online Marketplaces: Platforms like Jumia, Konga, and Alibaba offer a wide range of oil extractors.
► Agro-Industrial Equipment Suppliers: Visit local suppliers specializing in agricultural and industrial equipment.
► Manufacturers and Distributors: Contact manufacturers or authorized distributors directly to inquire about pricing, specifications, and availability.
[Project Report]-Soybean Oil Production Plant Setup in Nigeria
As a leading oil plant machinery supplier and manufacturer in China, ABC Machinery is committed to providing the best oil mill machinery for all customers.
Small soybean oil extractor in Nigeria requires low investment but high efficiency, which makes it a popular product among all our products. In addition to high quality oil press machinery, we also provide comprehensive A~Z solutions as well as on-site installation and commissioning services for your soya bean oilproject in Nigeria.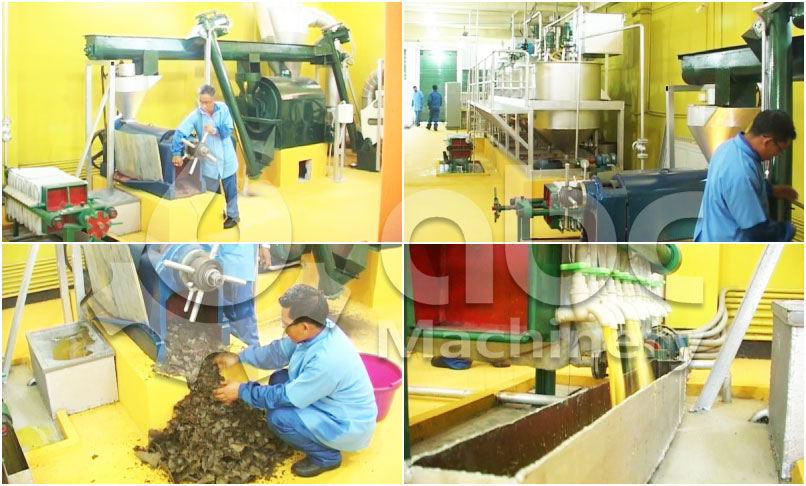 The 5 TPD Soya bean oil machine is set up for a client in Nigeria. This mini soybean oil production line is equipped with both oil extraction and oil refining equipment.

The commissioning and installation of this project was successfully completed after 10 days. The customer is very satisfied with the color and quality of the finished soybean oil. We are confident that the refined oil will help him to expand more market share of edible oil.
How to Start a Small Soya Bean Oil Mill Business in Nigeria
Initially, it is recommended that you start a small oil mill plant, and if you are able to set up a mill in your own space, do so. There is no need to rent or buy a separate property to run the business you are just starting.
Understanding Market Demand
If you are going to run a successful soybean oil processing business, then you will need customers. Analyze the demand for soybean oil in your area through professional research and surveys.
Buying the right soybean oil machine in Nigeria is the initial investment of your cooking oil business. After extracting oil from soybeans using the oil press machine, it is important to note that the crude soybean oil may not get its full market value without going through the refining process. Therefore, you may also need to invest in a soybean oil refinery plant for more profit.
Request a Quote
We receive enquiries in English, Español (Spanish), Русский язык (Russian), Français (French) and العربية (Arabic).Our professional team will reply to you within one business day.Please feel free to contact us!