What's Single Screw Oil Press Machine?
Screw oil press, at present on market, refers to Small Oil Press, Automatic Oil Press, Auto-temperature Oil Press, etc. Single screw oil press machine is the most popular small oil press machine in today's market, especially for small scale oil production plant. it maximizes the oil yield and requires low investment cost. It is mainly composed of pressing cage and a single screw that is equipped within pressing cage. Screw shaft is the most important part of screw oil press. Its technical parameters, rotate speed, building materials have a great impact on the pressure of pressing cage and the quality of oil and oil cake. (You may be also interested in Small Edible Oil Production Line Cost >>)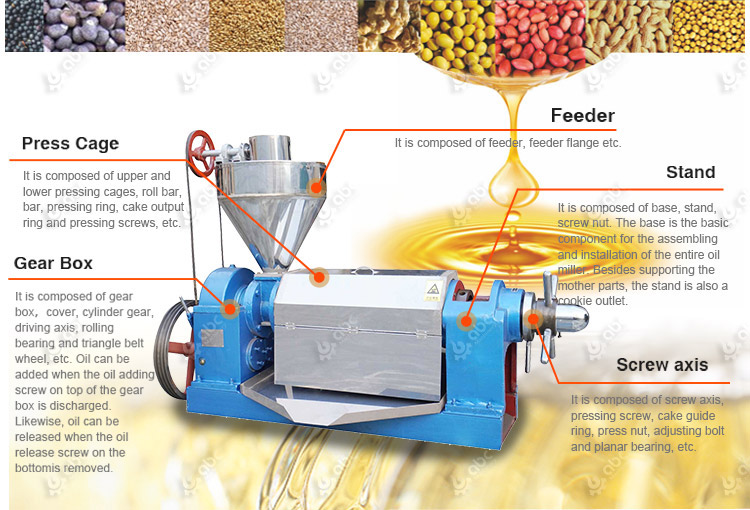 Small Screw Oil Press Machine Structure
A single-screw oil press machine with simple design can meet the various needs of customers. ABC Machinery chose steel with strong wear resistance as the material for making snails, so that the edible oil extraction process can proceed smoothly. In addition, the small single-screw oil press has high oil extraction efficiency and relatively low equipment costs. It is easy for investors to recover costs and obtain profit income. Therefore, small edible oil production mills can choose small single-screw oil presses machine to start processing business.

Raw Materials That Can Be Processed By Small Oil Press Machine
The screw oil press machine is designed to extract oil from a very wide range of oil-bearing seeds, including soybean, peanut/groundnut, sesame seed, sunflower seed, niger seed, palm kernel, cottonseed, flaxseed, moringa seed, hemp seed, black cumin seed, mustard seed, coconut/copra, rice bran, corn germ and more. (Related Post: Oil Making Machine for Business >> )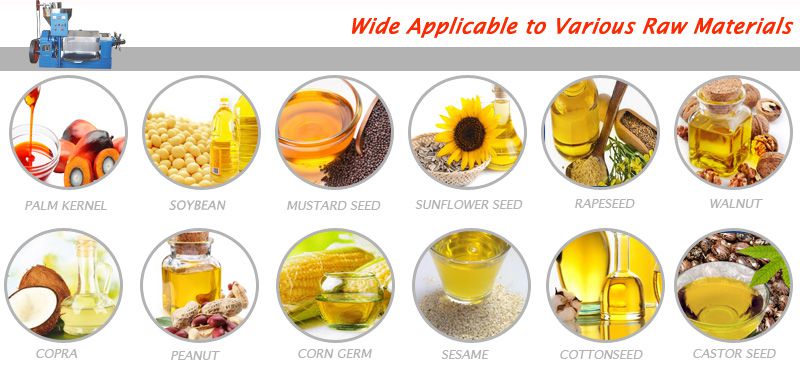 Various Materials Small Oil Press Can Process
Above listed raw materials are just some of the raw materials that our screw oil extraction machine can process. If you can't find your raw materials in the picture or list, please contact us to ensure whether its oil content and oil yield.
Small Oil Press Machine at Factory Price
The following are single screw oil press machine of different specifications manufactured by ABC Machinery, which can meet the different processing needs of customers.
ABC Machinery offers different small screw oil presses to fit different oil production capacities. They are all certificated with ISO9001 and CE. ABC Machinery has been manufacturing edible oil production equipment for 10 years, and has also done edible oil production projects in Nigeria, Congo, Lebanon, Thailand, Indonesia and other countries. If you are going to buy an ideal oil press machine, there are always one model suitable for your request BEST. For any questions or the latest price, please feel free to contact us anytime!

The Working Principle And Characteristics Of Small Single Screw Oil Press Machine
When screw oil press is running, pretreated oilseeds material goes into the squeeze chamber through hopper and is pushed forward and pressed by pressing the screw. Because the material flake in pressing bore of small oil press is in motion. Under the pressure of pressing chamber, there are a great frictional resistances between material flake and screw worm, material flake and pressing bore, which results in relative motion within material flakes. (Read More about Soybean Oil Manufacturing Process >>)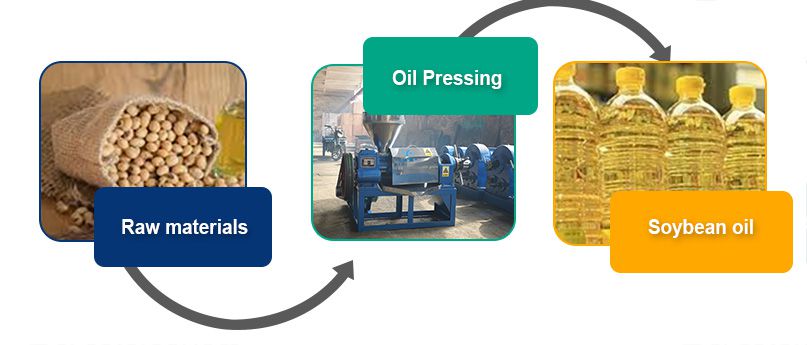 Soybean oil manufacturing process


On the other hand, the root diameter of screw worm is gradually enlarged while screw pitch is gradually reduced. When screw turns, thread and material flakes will move forward and flip outward again. At the same time, the material close to the surface of the press screw thread will rotate with pressing shaft rotation. In this way, each particle of material flake in the pressed chamber is not equal to the equal velocity, but in the same direction. So, there is also a relative motion between the particles of material flake. The heat produced by frictions meets the heat requirements of oil pressing, which helps the protein denaturation of material flakes, increase the quality of plastic and reduces viscosity and finally increase oil yield of single screw oil press machine. The oils are squeezed out from material flakes and discharged out from the gaps of pressing rings and pressing bar.

Small Screw Oil Press Machine Features
The small screw oil press machine manufactured and supplied by ABC Machinery has a lot of features and advantages that can't be matched by other oil press machines. It saves times and efforts, has high oil yields and low oil residual ratio. Most importantly, we offer the most CHEAP PRICE for our customers!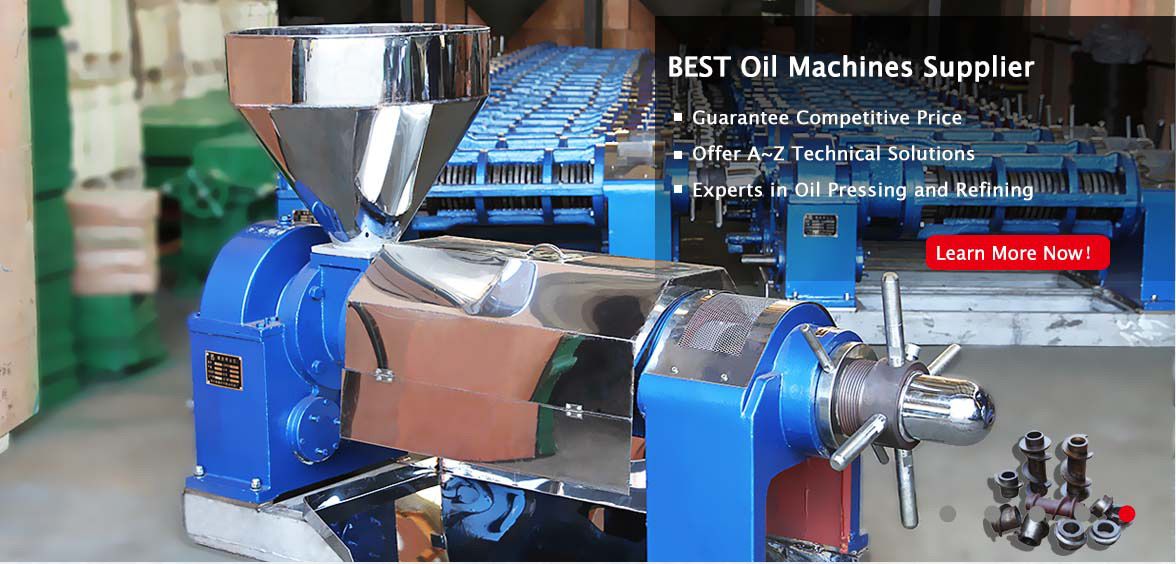 Small Oil Press Machine at Factory Price
Labor Saving: the same output can save 62% of the labor force, and one to two people can organize production.
High Oil Yield Rate: compared with old and traditional oil press, the oil output rate of our oil press machine can be 5 to 8 percentage points higher. For example, use our oil press machine to process about 50 kg soybean can get about 3.5~4 kg crude soybean oil, which can greatly save cost and increase income.
Quality Guaranteed: every part of the oil press machine, from the smallest parts to the whole machine, is completely designed and manufactured by our own factory, so the quality and technical advantages of our oil press machine are not comparable to those produced or assembled by some small factories.
Long-term Performance: because the pressing ring and squeezer will wear out due to the extrusion and friction. In order to increase the wear resistance coefficient, we updated the heat treatment equipment, improved the heat treatment temperature and the depth of carburizing to extend the service life of parts, further to reduce operational cost of users.

Small Occupation of Land:

only needs a space of about 10 sq. ft. can start your own oil making workshop
High Efficiency, Energy Saving and Optimized Transmission: choose the most reasonable gear ratio and maximize the energy output to achieve the purpose of high efficiency and energy saving
The equipment needed to open an edible oil processing plant is inseparable from the size of the processing plant. If the scale of the processing plant is relatively small, then a small single-screw oil press machine is a good choice. The small single-screw oil press has low investment cost and small floor space, making it more suitable for small-scale edible oil processing plants. This can increase the value of edible oil and increase profits.
You can leave us a message on the requirements for edible oil production equipment in the following table. ABC Machinery can comprehensively consider the factors involved and select cost-effective edible oil production equipment so that your edible oil processing plant project can proceed smoothly.
(Read More about
Automatic Oil Press Machine
>>)
How much does it cost? you offer your expert to train on the machine installations and operations?
Hello, sir. Thanks for your inquiry of our screw oil press machine. The price list of our YZS series single screw oil press machine has sent to you. Please check your inbox in time.
We have engineers and after-service team to help you on the machine installations and operations. They may offer the instruction video, or provide field installation service, or inform our agency to help you install your machine.
I would like to start processing cooking oil in Zambia. We have availability of soya beans, groundnut, sunflower, etc. Kindly send a portable machine, cheap but quality and durability.
Hello, sir/madam.
Our oil press machine can process various oilseeds, including soybeans, groundnuts, sunflower seeds, etc. Our YZS series oil press machine is durable and of premium quality. The smallest one is YZS-85 oil press machine. It is portable and suitable for home use or business use.
Could I please have your price list for your small to medium size oil press? How much including shipping to Zimbabwe and I can I buy just one unit or you have a minimum order you take.
Thanks for your inquiry. It is better to have your expected capacity and the raw materials you want to process, so we can help you choose the most suitable one.
The minimum order of our oil press machine is one set. We have exported oil press machine to Zimbabwe before, but the shipping cost is not fixed. It is decided by market conditions, freight forwarding, distance, ship type, oil prices, port costs and other factors.
Request a Quote
We receive enquiries in English, Español (Spanish), Русский язык (Russian), Français (French) and العربية (Arabic).Our professional team will reply to you within one business day.Please feel free to contact us!