As a leading worldwide manufacturer of efficient Screw Oil Press Machine, Automatic Oil Press Machine, Oil Production Line and Oil Refining Machine. ABC Machinery helps customers to set up their own edible oil production line at lowest cost. We value the trust of our customers and gurantee them premium quality oil processing machinery. We are also proud to partner with oil manufacturer and professional investors around the world. But, how to start oil mill for cooking oil produciton?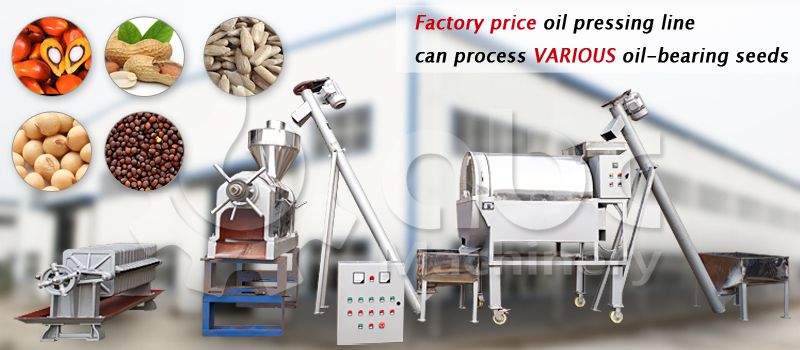 Small Oil Production Line
BEST Oil Prodution Solutions

Above is some of the examples of vegetable oil production line that uses mechanical oil pressing method. The detailed layout and equipment configuration should be based on the capacity, factory size, raw materials, the level of automation and more. If you are interested in it, please tell us more about your requirements, so we can offer FREE customized oil processing solutions for you! (Related Post: What Seeds and Nuts for Oil Processing >>)
Small Oil Production Line Setup Cost
Cooking oil is indispensable in people's daily life. In recent years, with the rapid development of the world edible oil market, investing on edible oil production line and establishing edible oil plant are good choice for many investors. Below details the cost setting up edible oil plant.
However, many people do not know how to start a small scale oil production line? They may have many questions, such as, How Much It Would Cost? What Equipment It Needed? How to Operate It Correctly? and more. In order to help more people to setup their own oil pressing line at low cost, ABC Machinery specially designed the small scale oil production line with capacity of 1tpd to 30tpd for optimal choice.
| | |
| --- | --- |
| Capacity | 1TPD, 3TPD, 5TP, 10TPD, 15TPD, 20TPD, 30TPD and Above |
| Investment Cost | $7,000 ~ $50,000 ( The EXACT cost is decided by the capacity, equipment and specific requirements) |
| Main Equipment | Cleaning Sieve, Cooker, Conveyor, Oil Press, Oil Filter and More |
| Oil Seeds & Nuts | Soybean, Sunflower Seed, Sesame Seed, Peanut/Groundnut, Copra/Coconut, Palm Kernel, Cottonseed, Rapeseed, Mustard Seed, Almond, Hemp Seed, Tea/Camellia Seed, Niger Seed, Black Cumin Seed, Moringa Seed, Prickly Pear Seed, Corn Germ, Neem Seed and more. |

Small Oil Pressing Lines Setup Advantages
Oil pressing and production can be done in oil mill plant. Usually there are three types of oil mill, small scale, medium scale and large scale. The conditions of starting a small scale oil pressing line is relatively simple and easy, especially for novice in oil processing industry.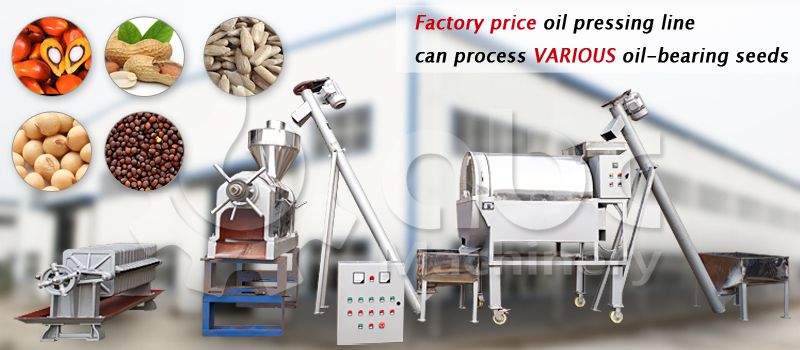 5TPD Mini Cooking Oil Production Line
The small oil pressing line we designed and built can process cotton seeds, palm kernels, coconut, peanut, almond, prickly pear seeds, rapeseeds, mustard seeds, flaxseeds, sunflower seeds and more other oil-bearing plants and nuts. If you are searching for a reliable supplier to be your own oil mill plants, ABC Machinery won't let you down. We have very rich experiences and professional technical personals in this sector.
High oil output can get returns quickly
It is versatile for various vegetable seeds
It also features short cycle of installation and construction
The whole oil pressing process is automated and can operate consistently
Small scale oil pressing line usually requires small investment, less factory spaces and less labors. It is ideal and safe choice to enter into oil making business
Small Oil Pressing Line Equipment at Factory Price
The oil production line calls for all required oil processing machine to work together and achieve continuous and efficient oil production. The working principle of small oil pressing line is to separate vegetable oils directly from the raw materials by physical pressure. The whole process is without any chemical additives, so as to ensure the safety, sanitation natural nutrition of oil. And the process is free from pollution. The merits of the pressing technology is that it requires less equipment, has good adaptability to different raw materials, allows flexible production, ensures best quality, color and flavor of oils. So what equipment is required for a small scale oil production line?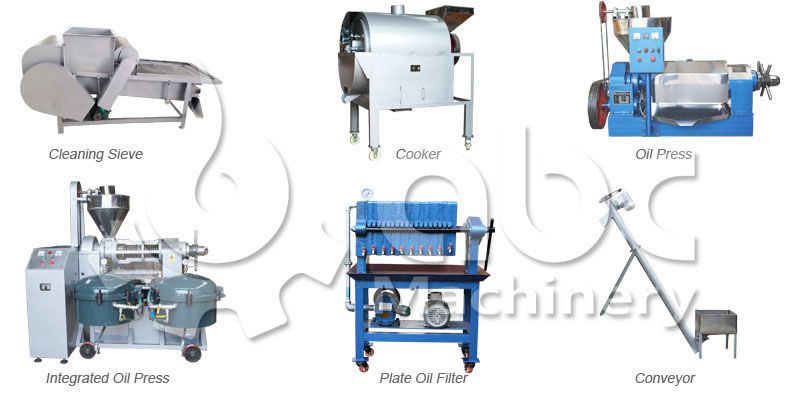 Vegetable Oil Processing Machine for Sales
Generally, a complete small oil pressing line is made up of cleaning equipment, cooker, oil press machine, oil filter press, edible oil refinery machine and more. But, all the equipment should be choose based on the properties and pressing process of your raw materials. For example, if you are going to set up a peanut oil pressing line, the peanut sheller is necessary to remove the outer shell of peanuts. If there are any questions about setting up a small oil press production line, please let us know!

Tips on Buying Oil Pressing Equipment
Customers should choose and purchase the oil processing machinery, whole line machine from pre-treatment to refinery, based on the actual production demands, such as the capacity, processing technology, and the standards of final products. Anyway, setting up an oil pressing line is simple but not easy. So, finding a reliable manufacturer and supplier will save your efforts and cost. ABC Machinery has been providing good quality processing equipment, competitive price and comprehensive service to meet every customer's requirements to setup a highly efficient oil production line. If there are any questions, please get in touch with us directly!
Request a Quote
We receive enquiries in English, Español (Spanish), Русский язык (Russian), Français (French) and العربية (Arabic).Our professional team will reply to you within one business day.Please feel free to contact us!