ABC Machinery is the specialist in designing and manufacturing edible oil refinery line that can refine crude oil for edible or other purposes. We are also the BEST exporters of complete edible oil refinery plant. Featured lower operating cost and higher efficiency, all our clients spoken highly of the edible oil refining line we designed and built. It can process many crude oils, including vegetables oils and animal oils, such as canola, cottonseed oil, palm kernel oil, coconut oil, seal oil, fish oil and more. Until now, we have helped our customers to establish edible oil refinery plant with different capacity in at least 30 countries, such as Australia, India, Philippine, Korea, Jamaica, Zambia, Chile, Afghanistan and more. We can offer the edible oil refining plant in batch type from 1 tons to 30 tons per day, while, the continuous edible oil refinery plant is up to 500 tons per day. (See more information at Oil Refinery Projects>>)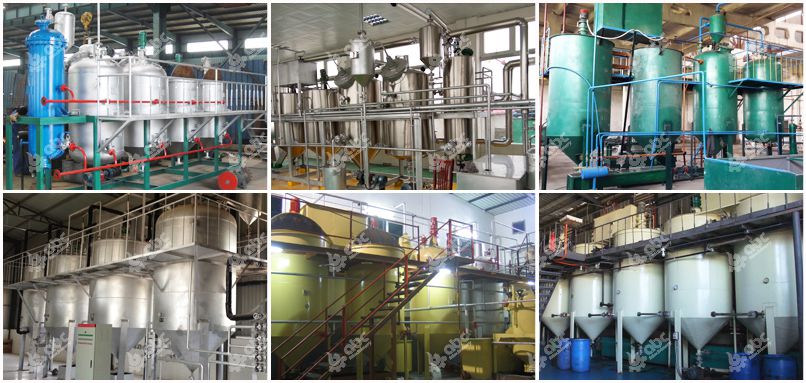 Small Oil Refining Line We Built Worldwide
What's Crude Oils?
Crude oils is an item given to the oils directly obtained by mechanical pressing or solvent extraction. The main ingredient of crude oils is a mixture of triglycerides, known as neutral oil. In addition to the neutral oil, the crude oils also contain a glyceride substance, collectively known impurities. The type, nature, status, can be roughly divided into mechanical impurities, fat-soluble impurities and water soluble impurities such three categories.
Why Edible Oils Needs Refining?
Oil refining is usually for refined oil. The presence of impurities contained in crude oils not only affects the use value, the safety storage of crude oil, but also cause difficulties for the deep processing crude oils. However, oil refining is not to remove all the impurities out from the crude oils. It will refine harmful impurities, such as, gossypol, protein, lecithin, mucus, water and more, out from the crude oil for better storage, industrial applications and edible purpose. Some beneficial substances, such as tocopherol, sterol and more, will be maintained. Therefore, according to different requirements and USES, the unnecessary and harmful impurities are removed from the oil to obtain refined oils and pure oils. Edible oil refining is a general term for the removal of solid impurities, free fatty acids, phospholipid, colloid, wax, pigment and odors in vegetable oils.
Types of Edible Oil Refining Plant


Edible Oil Refining Plant Types
Typically, the edible oil refining line can be divided into three main types: batch oil refining, semi-continuous refining and continuous refining. Choosing which type for your edible oil refining line should assess the capacity, the purpose of final refined oils and detailed refining process.
Batch oil refinery is more suitable for small oil refining line since it has many outstanding advantages. The whole refining equipment takes less areas, the investment cost is relatively lower, and it can refine almost all the crude edible oils. The main refining process of batch edible oil refinery plant include degumming, neutralizing, decolorizing and deodorizing. The capacity of batch edible oil refining plant is 1TPT to 30TPD.
Semi-continuous oil refinery can fit small scale and medium scale edible oil refining plant. It is efficient and can be designed based on customer's requests. The common daily capacity of semi-continuous edible oil refinery plant is from 10 TPD to 50 TPD. It also can process a variety of crude oils, including crude plant oils and animal oils.
Continuous oil refinery is designed for large scale edible oil refinery plant. The daily capacity of continuous type refining is generally over 30TPD. It carries out continuous and completely automatic refining process for highest efficiency. It has high requirements on all the basic conditions for an edible oil refining plant.


Advantages of Small Edible Oil Refining Line
Small scale edible oil refinery line is especially popular in today's oil making market, since it has many outstanding features. For most investors or starters, it is definitely a great choice to start your edible oil making business.
It has all functions of oil refinery, but requires less investment cost and less land occupation
It is easy to operate and maintain, very suitable for small or medium oil production plant
It is suitable for various crude oils, including cottonseed oil, peanut oil, soybean oil, palm kernel oil, palm oil, sunflower oil, rapeseed oil, mustard oil, fish oil, seal oil and more.
ABC Machinery has gained rich practical experiences in
setting up edible oil refinery plant
, especially in small scale. Choose us, you can get the most efficient edible oil refinery machinery, the advanced oil refinery technology, as well as the most competitive price. Our professional engineers will offer you customized plan.
If you prefer to know more information, please get in touch with us at anytime!
Request a Quote
We receive enquiries in English, Español (Spanish), Русский язык (Russian), Français (French) and العربية (Arabic).Our professional team will reply to you within one business day.Please feel free to contact us!