Mini oil refining plant is a type of very small oil production line that maintains all the functions and merits of medium and large scale oil refinery plant. At the same time, it features small investment cost, less land occupation and quick returns, which makes mini oil refining line is especially ideal for small and medium oil mill plants. What's more important, it can process many different kinds of crude vegetable oils, including olive oil, palm oil, palm kernel oil, mustard oil, canola oil, sunflower oil, groundnut oil, tea seed oil, and more. In addition, it is also very great choice for the refining of some animal oils, such fish oil, seal oil. if you there are any needs, please contact us for detailed specifications and latest prices!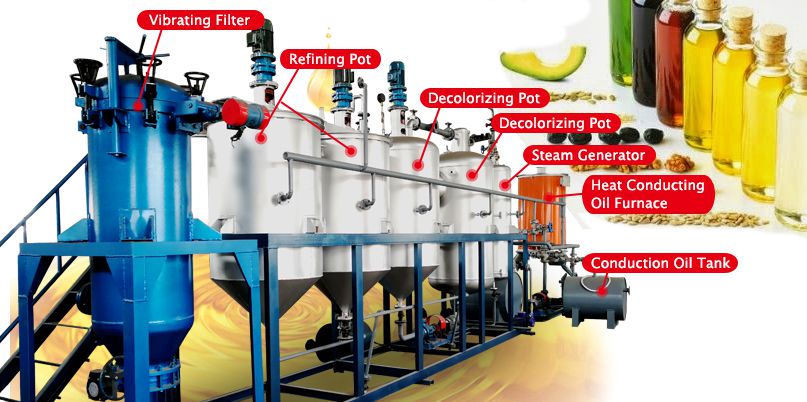 Mini Oil Refinery Plant
Mini Oil Refining Plant Working Process
Degumming: the process to remove gelatinous impurities within crude oils by chemical or physical methods is called degumming. In edible oil, if the content of phosphatide is high, it is easy to blister, smoke and smell when heated. And the phospholipid is oxidized at high temperature and then make the crude oils in dark brown, which affects the flavor of fried food. Based on the principle that phospholipid and some proteins within the crude oils are soluble to oils at the condition of sewage, but insoluble in oil and water after the formation of hydrate, degumming process is to add hot water or steam into crude oils, and heat crude oils, agitation mix at the temperature of 50 ℃. Then let stand for layered, in that way, the phospholipids and part of the proteins are removed from the crude oils.
Deacidification: the Free Fatty Acids (FFA) contained in the oils will affect its stability and flavors. The process to remove FFA is called deacidification or alkali refining.
Decolorizing: crude oils may contain chlorophyll, carotenoid and other pigments. Chlorophyll is photosensitizer, which affects the stability of oil, while other pigments can affect the appearance of oil. So theses pigments can be removed by adsorbent in decolorizing process
Deodorization: there are some undesirable odor substances in oil, mainly from oil oxidation products. The method of vacuum distillation was used to inhibit the oxidation.
Mini Oil Refinery Plant Features
Small investment and quick returns.
Low energy consumption and small footprint.
High quality refined oil can be used for edible or industrial use.
Compact structure and beautiful layout.
Simple structure and convenient operation.
Perfect after-sales service
How to Set up Mini Oil Refinery Plant (1~5T/D)
It is actually easy to set up a mini oil refinery plant. Choose the right factory location, ensure enough raw material supply, integrated useful resources and find out a reliable oil refining plant supplier. ABC Machinery has rich experiences in setting up oil refinery plants. And, we have built many mini oil refinery lines for clients at home and abroad. (See more information at Oil Refinery Projects>>) Here, we listed some of the mini oil refinery plant we built in the world. If you want to know more information, please contact with us, we can offer what more than you expect!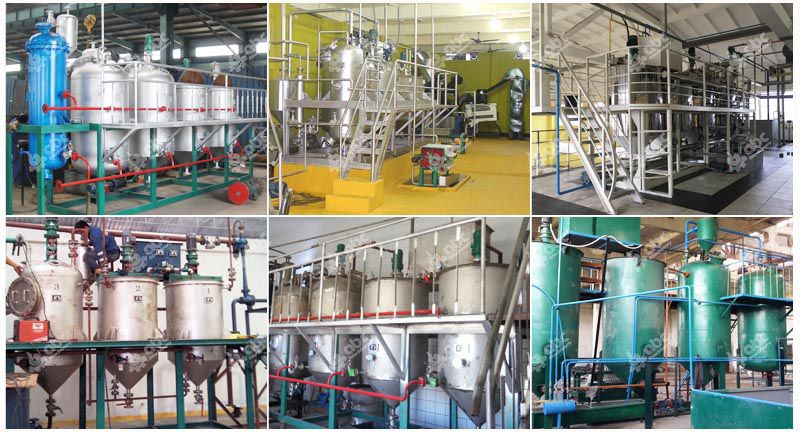 | No. | Project |
| --- | --- |
| 1 | 1TPD Sunflower Seed Oil Refinery Line in Tanzania |
| 2 | 1TPD Seal Oil Refinery Plant in Namibia |
| 3 | 1TPD Mini Mustard Oil Refining Line in India |
| 4 | 3TPD Fish Oil Refining Line in Bangladesh |
| 5 | 3TPD Soybean Oil Refinery Plant in Jamaica |
| 6 | 3TPD Sunflower Oil Refinery Plant in Moldova |
| 7 | 5TPD Coconut Oil Refinery Plant in Philippines |
| 8 | 5TPD Soybean Oil Refinery Line in Ghana |
| 9 | 5TPD Fish Oil Refinery Plant in Pakistan |
| 10 | 5TPD Palm Kernel Oil Refinery Plant in Cote D'lvore |
| ........ | .................. |
Request a Quote
We receive enquiries in English, Español (Spanish), Русский язык (Russian), Français (French) and العربية (Arabic).Our professional team will reply to you within one business day.Please feel free to contact us!