Nigeria Soybean Oil Production Plant Project Information

Country: Nigeria
Project Period: September 3 ~ October 13, 2019
Raw Material: Soybeans
Capacity: 10TPD Soybean Oil Extraction & 1TPD Soybean Oil Refinery
Final Product: Refined Edible Soybean Oil, Animal Feed Pellet Made by Soybean Oil Cake
Main Factory Section: Soybean Oil Extraction Section; Soybean Oil Refining Section; Animal Feed Pellet Making Section
Main Equipment and Machinery: Vibration Sieve, Cooker, Oil Presser, Plate and Frame Oil Filter, Conveyor, etc.; Alkali Pot, Decolorizing Pot, Deodorization Pot, Boiler, etc.; Grinder, Small Feed Pellet Mill and more.
This Soybean Oil Plant was just successfully installed in Nigeria in October 2019. It is actually a completely small scale soybean processing plant that is mainly designed to help small scale farmers or business man to improve their product category and expand their business scope in the agricultural sectors, including vegetable oil processing and livestock farming. If you are interested in getting such a similar soybean oil processing plant and want to get the exact cost and project plan, please contact us directly. We are always here to help you!

Soybean Oil Plant Project in Nigeria - Onsite Installation & Commissioning
ABC Machinery successfully installed a complete soybean oil processing factory in Nigeria to produce high quality edible oil. The whole oil production line is designed with two sectors, one is 10TPD soybean oil pressing line, the other is 1TPD soybean oil refining line. Below is the on-site installation and commissioning of the main soybean oil processing machinery.

Nigeria Soybean Oil Production Plant Operation Video
Start Edible Oil Processing/Production Business in Nigeria - How & How Much?
As of 2010, about 30% of Nigerians are engaged in agriculture. Agriculture was once the main source of foreign exchange earnings in Nigeria. The main oil crops in Nigeria include palm kernel, palm fruit, soybean, peanuts (groundnuts), sunflower, safflower, sesame, castor bean, mustard, cotton seed, corn and flax seeds (Related Post: Palm Kernel Oil Extraction Machine in Nigeria). Therefore, there are rich sources to start edible oil processing business in Nigeria. In addition, there are growing demands for high quality edible oils with the the improvement of people's living standard in Nigeria. So, how to start it? And How much it may require?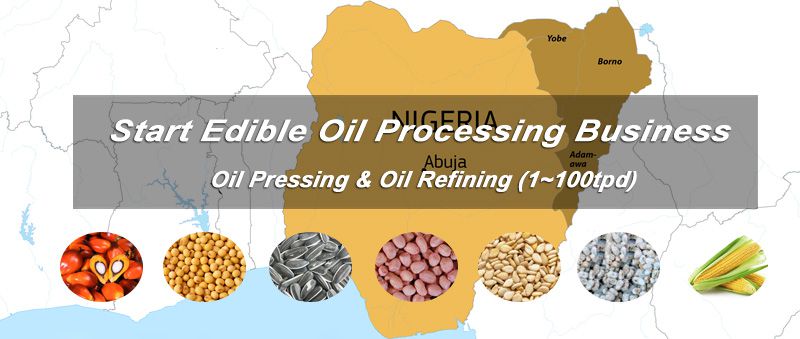 Just like any other business, it is necessary to have the feasibility report and business plan to ensure the success of your oil processing business. Here we listed the general steps to start edible oil production business in Nigeria, you can have a reference. But, perfect oil mill business plan is based on your actual requirements and conditions. Contact us to get the customized Oil Making Machine for Business in Nigeria.
Prepare an In-depth Analysis of Local Oil Manufacturing Market
Draft Customized Business Plan
Raise Funds and Prepare the Factory Land
Choose Reliable Oil Processing Machinery Supplier
Oil Mill Plant Installation, Commissioning and Production
Craft Edible Oils Marketing Promotion Plan


Small Cooking Oil Production Line (1~20TPD)
For most farmers or small scale business investors, it is feasible to have a mini size or small size edible oil mill plant since it requires less investment and easy operation and management. In the market, a mini scale edible oil processing plant may cost at least about $7,000 (2,600,000 NGN) and above. For most farmers, it is also available to get a single Oil Press Machine to start your business, which is definitely much cheaper than to get a complete oil processing plant.

ABC Machinery & Nigeria
ABC Machinery is now China largest oil processing machines manufacturers and suppliers. We have built good relationship with our customers around the world. In recent years, our company get more and more orders from Nigeria. Therefore, every year, we will go to Nigeria to visit our customers and help them to expand their business and solve their problems. In addition, we also take actively part in attending Nigeria local machinery exhibitions or trade fairs with the main to help more Nigeria people get the equipment and machinery at factor price. Below is some pictures we visited Nigeria in 2019.
Request a Quote
We receive enquiries in English, Español (Spanish), Русский язык (Russian), Français (French) and العربية (Arabic).Our professional team will reply to you within one business day.Please feel free to contact us!