Edible Oil Filter for Sales
What is edible oil filter? Edible oil filter is plate and frame oil filter press that is mainly used to for crude vegetable oil filtering. It can be connected with oil press machine to remove the solids and impurities contained in the extracted crude oils.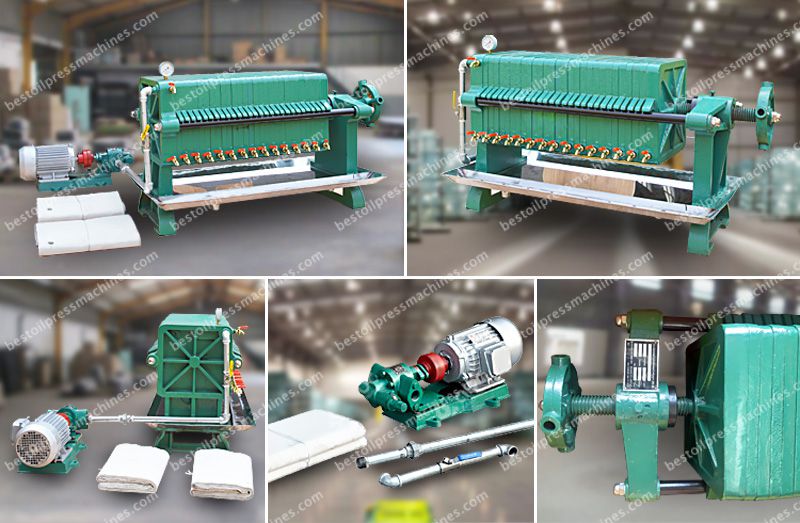 Edible Oil Filter Press for Sales (YLB307)
Technical Data of Edible Oil Filter Machine
| Model | YLX65 | YLB470 | YLB307L | YLB307 | Z26 |
| --- | --- | --- | --- | --- | --- |
| Capacity | 800kg/h | 450kg/h | 240kg/h | 180kg/h | 85-100kg/h |
| Filtration Area | 20 m² | 7m² | 4m² | 3m² | 1 m² |
| Plate Quantity | 29pcs | 18pcs | 18pcs | 18pcs | 8pcs |
| Filtering Pressure | 0.5MPa | 0.3MPa | 0.1~0.3MPa | 0.1~0.3MPa | 0.1~0.3MPa |
| Power | 1.5Kw | 1.5Kw | 1.5Kw | 1.5Kw | 0.55Kw |
| Outline Dimension | 2900*920*1040 m³ | 1650*700*780mm³ | 1520*570*640mm³ | 1270*570*640mm³ | 900*410*750 m³ |
| Weight | 2950kg | 1040kg | 520kg | 430kg | 430kg |
Edible Oil Filter Machine Structure
This
plate and frame edible oil filter press
is designed with a fine-mesh filtering cloth to remove the impurities. The filtrating cloth forms many rooms between the plates, the crude oil goes through the filtering cloth in the force of oil pump and expelled out from the faucet automatically. It is particularly efficient in
edible oil refining
and also the BEST choice for many
vegetable oil pressing factory
.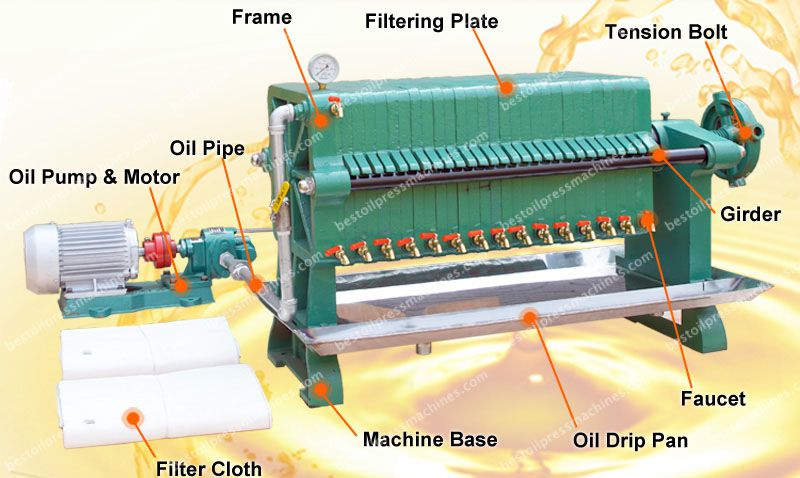 Structure of Edible Oil Filter Machine
Edible Oil Filter Machine Features
Efficiently to remove impurities in the crude oils, including peanut oil, soybean oil, palm kernel oil, palm oil, sunflower oil, coconut oil, mustard oil, rape seed oil and more.
Best oil filtration equipment for oil pressing plant and oil refinery plant
Designed with oil pump and motor for large filtrating force.
Can be easily connected with different types of oil expeller
Continuous oil filtration, easy operation, compact size and factory price
Application of Oil Filter Machine

Oil Filter in Small Oil Pressing Line - Z26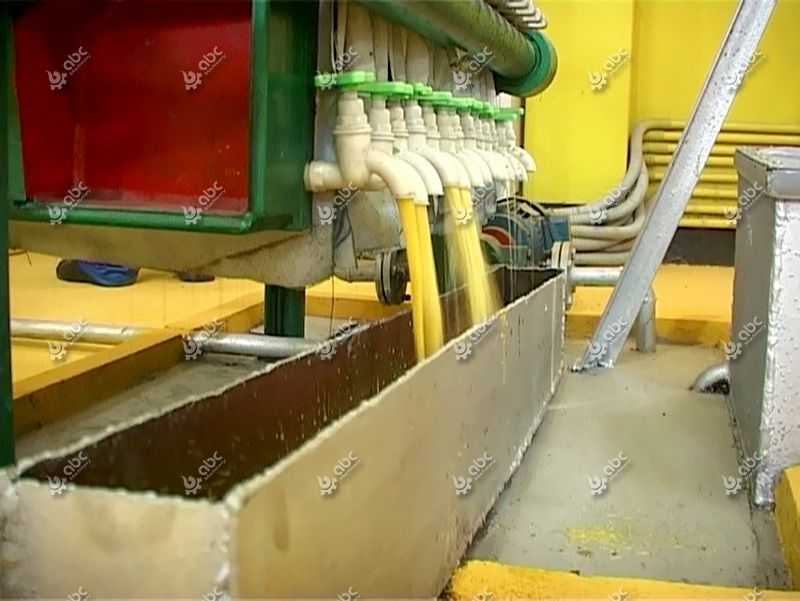 Edible Oil Filter Press in Mustard Oil Mill Plant - YLB307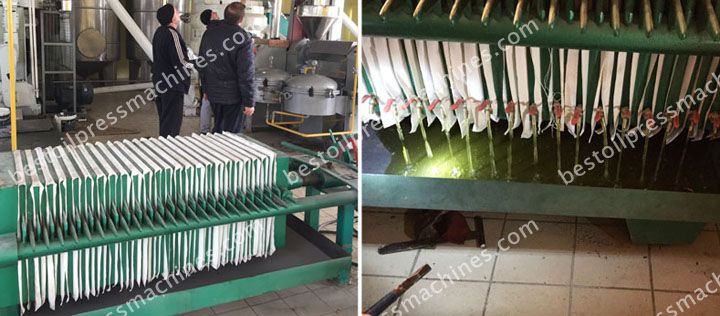 Oil Filter Machine in Sunflower Oil Making Plant
What We can Supply for Edible Oil Filter Press?
Sufficient and factory price spare parts
Technical supports for the installation and operation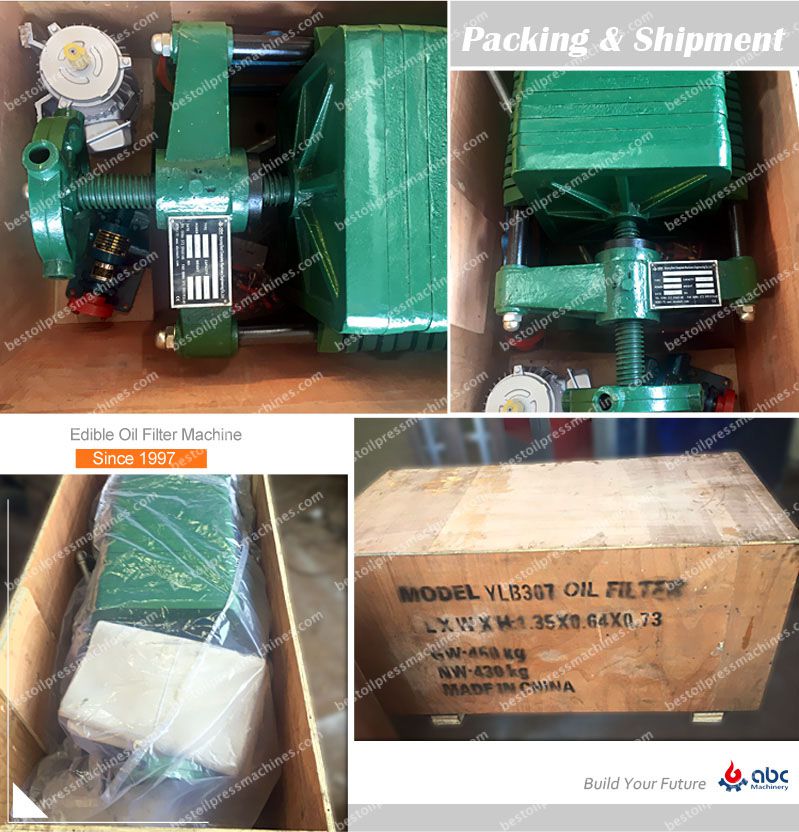 Installation and Operation Tips of Edible Oil Filter Press
Below is a video that takes YLB307 Oil Filter Machine to show us the installation and operational tips about edible oil filter press.
Our oil filter machine can be used to remove impurities from the crude oils efficiently. It is widely used in vegetable oil pressing plant or cooking oil refinery plant. For the detailed price of parameters, please get in touch with us anytime!
Request a Quote
We receive enquiries in English, Español (Spanish), Русский язык (Russian), Français (French) and العربية (Arabic).Our professional team will reply to you within one business day.Please feel free to contact us!