What's Single Screw Oil Press Machine?
Oil press, at present on market, refers to small oil press machine, automatic oil press, multifunctional oil press, vacuum oil press, auto-temperature oil press, etc. But, most are belonged to screw oil press and single screw oil press machine. So, what is single screw oil press machine? And why it can dominate oil making markets? Single screw oil press machine is the most popular screw oil press in today's market since it maximizes the oil yield and requires low investment cost. It is mainly composed of pressing cage and a single screw that is equipped within pressing cage. screw shaft is the most important part of screw oil press. Its technical data, rotate speed, building materials have a great impact on the pressure of pressing cage and the quality of oil and oil cake.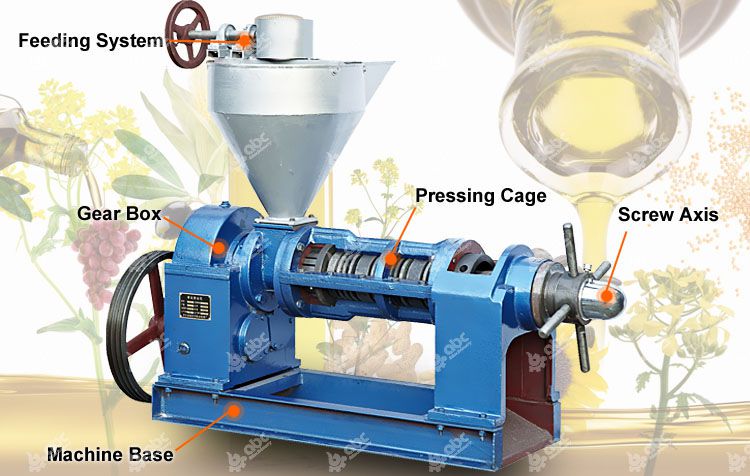 Screw Oil Press Working Principle
When screw oil press is running, pretreated oilseeds material goes into the squeeze chamber through hopper and is pushed forward and pressed by pressing the screw. Because the material flake in pressing bore of screw oil press is in motion. Under the pressure of pressing chamber, there are a great frictional resistances between material flake and screw worm, material flake and pressing bore, which results in relative motion within material flakes.
On the other hand, the root diameter of screw worm is gradually enlarged while screw pitch is gradually reduced. When screw turns, thread and material flakes will move forward and flip outward again. At the same time, the material close to the surface of the press screw thread will rotate with pressing shaft rotation. In this way, each particle of material flake in the pressed chamber is not equal to the equal velocity, but in the same direction. So, there is also a relative motion between the particles of material flake. The heat produced by frictions meets the heat requirements of oil pressing, which helps the protein denaturation of material flakes, increase the quality of plastic and reduces viscosity and finally increase oil yield of single screw oil press machine. The oils are squeezed out from material flakes and discharged out from the gaps of pressing rings and pressing bar.
BEST Single Screw Oil Press Machine for Sales
ABC Machinery offers different screw oil press to fit different oil production capacities. They are all certificated with ISO9001 and CE. If you are going to buy an ideal oil press machine, below is your best choice. For any questions or the latest price, please feel free to contact us anytime!

Model
Capacity
Power
Outline Dimension (M³)
Picking Dimension (M³)
Gross Weight/Net Weight (KG)
YZS-85 Single Screw Oil Press
60-80kg/h;
1.4-2 T/24hrs
5.5Kw-4P
1.20*0.40*0.90
Main Machine: 1.28*0.40*0.78
210/190
Hopper: 0.52*0.43*0.41
20/10
Motor:0.54*0.43*0.30
80/65
YZS-95 Single Screw Oil Press
150-200kg/h;
3.5-5 T/24hrs
11Kw-6P
1.60*0.70*1.35
Main Machine: 1.60*0.49*0.78
520/500
Hopper: 0.64*0.70*0.75
45/30
Motor:0.70*0.49*0.42
137/122
YZS-105 Single Screw Oil Press
210-300kg/h;
5-7 T/24hrs
15Kw-4P
1.83*0.70*1.35
Main Machine: 1.80*0.49*0.78
575/550
45/30
Motor:0.70*0.49*0.42
137/122
YZS-128 Single Screw Oil Press
300-375kg/h;
7-9 T/24hrs
15Kw-6P
2.01*0.60*1.17
2.00*0.60*1.165
Main Machine: 1.78*0.53*0.78
685/655
Hopper: 0.77*0.73*0.77
55/40
Motor:0.80*0.55*0.47
137/122
YZS-130 Single Screw Oil Press
450-500kg/h;
10-12T/24hrs
18.5Kw-6P
2.00*0.80*1.38
Main Machine: 2.05*0.56*0.85
830/800
Hopper: 0.77*0.73*0.77
55/40
Motor:0.85*0.56*0.50
205/190
YZS-150 Single Screw Oil Press
750-850kg/h;
18-20T/24hrs
30Kw-6P
2.18*0.79*1.79
Main Machine: 2.23*0.66*1.00
1420/1320
Hopper: 0.82*0.63*0.81
75/60
Motor:0.94*0.65*0.58
295/280
Features of BEST Single Screw Oil Press Machine

Oil Press Machine for Sales at Factory Price
The single screw oil press machine manufactured and supplied by ABC Machinery has a lot of features and advantages that can't be matched by other oil press machines. It saves times and efforts, has high oil yields and low oil residual ratio. Besides, our screw oil press machine requires small power and the oil it extracted is relatively pure. Most importantly, our single screw oil press machine is able to process a wide variety of oil-bearing seeds and nuts, including peanut, soybean, sunflower seeds, cottonseed, flaxseed, canola, palm kernel, copra, sesame seeds, castor beans, niger sees, corn germ, and more.
Labor Saving: the same output can save 62% of the labor force, and one to two people can organize production.
Small Occupation of Land: only needs a space of about 10 sq. ft. can start your own oil making workshop
High Oil Yield Rate: compared with old and traditional oil press, the oil output rate of our oil press machine can be 5 to 8 percentage points higher. For example, use our oil press machine to process about 50 kg soybean can get about 3.5~4 kg crude soybean oil, which can greatly save cost and increase income.
Quality Guaranteed: every part of the oil press machine, from the smallest parts to the whole machine, is completely designed and manufactured by our own factory, so the quality and technical advantages of our oil press machine are not comparable to those produced or assembled by some small factories.
Long-term Performance: because the pressing ring and squeezer will wear out due to the extrusion and frictions. In order to increase the wear resistance coefficient, we updated the heat treatment equipment, improved the heat treatment temperature and the depth of carburizing to extend the service life of parts, further to reduce operational cost of users.
High Efficiency, Energy Saving and Optimized Transmission: choose the most reasonable gear ratio and maximize the energy output to achieve the purpose of high efficiency and energy saving
How to Choose a Highly Cost Effective Small Oil Press Machine?
The ABC Machinery tells us how to buy a highly cost-effective single oil press. Here are a few factors to consider before buying. Firstly, which material you are going to press? You need to clear which material you plan to extract before buying oil press equipment. There are various oil-bearing materials. The normal oil-bearing materials are peanut, soybean, rapeseed, sesame, tea seeds, corn germ, etc. Based on the quality of your material to consider the type of oil press machine. Secondly, how big your working area is? Think about where you're going to pressing oil before you buy an oil press, and who is the target customer of your final products. You should choose the suitable oil mill plant or workshops based on the oil press to avoid adjusting the oil pressing workshop areas.
Then, you comes to choose the oil press machinery. The most important factors during oil press machine selections are the supplier or manufacturer and the models of oil press. It is very necessary to choose a reliable and good oil press supplier and manufacturer before purchasing. Because a good supplier is the guarantee of the quality of your oil press machine. How to tell a truly good oil press supplier and manufacturer? A reliable and qualified supplier and manufacturer should have the business licenses, tax registration certificate, organization code certificate, quality system certificate. In this way, we can prove that they are a qualified manufacturer. Just like us, ABC Machinery, we have been in manufacture ring and supplying oil press machine at least two decades.
The purchase of oil press equipment should be based on your actual needs. What's your required processing capacity? We offer various screw oil press machine for your selection. There are always one type that fits your needs. By the way, there are also various auxiliary equipment that can be equipped with the screw oil press machine, such as steam cooker, oil filter press, sheller and more. If you have any interests in our screw oil press machine, please get in touch with by below inquiry form or just call us immediately!
Request a Quote
We receive enquiries in English, Español (Spanish), Русский язык (Russian), Français (French) and العربية (Arabic).Our professional team will reply to you within one business day.Please feel free to contact us!