If you are looking for small scale soybean processing plant for your own uses or business purposes. Our mini soybean oil mill can perfectly meet all your expectations about soybean oil manufacturing. It just connects necessary soybean oil processing machine together by conveyors to form continuous and automatic soybean oil production. The common capacity of our mini soybean oil mill is about 1~30 tons per day. Estimates of the total cost range from $ 7,000 to as high as $100,000. For people who is going to start a mini or small soybean oil making business. It is absolutely the BEST choice. (Read more about Soybean Oil Business Plan >>)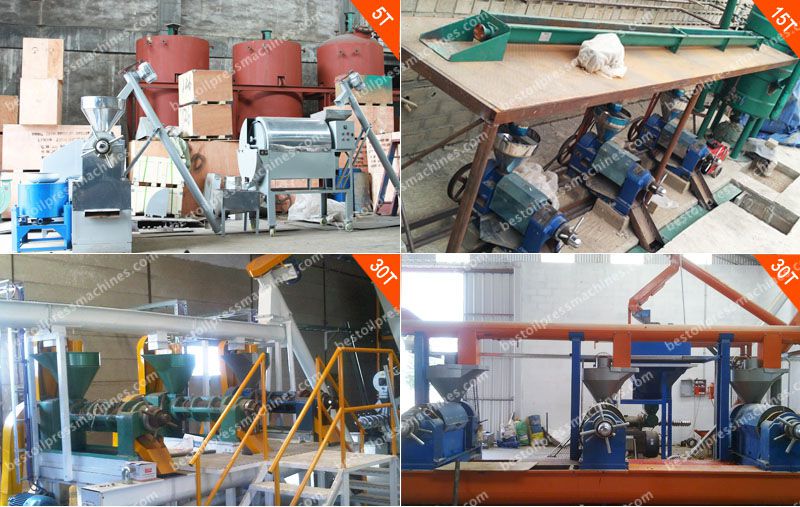 1~30TPD Mini Soybean Oil Mill Plant
Mini Soybean Oil Mill Plant at Low Cost
Soybean oil processing requires a series automatic process. Normally, the basic process of mini soybean oil processing plant is cleaning, cooking, oil pressing, oil filtration or oil refining, etc.. Every process has the respective soybean oil processing equipment to fulfill its functions. The main equipment for a mini soya oil extraction plant is cleaning equipment, cooking machine, soybean oil press, soybean oil filter machine, conveyors, and more. As the core heart of mini soybean oil mill plant, Soybean Oil Extraction Machine makes uses of mechanical forces to squeeze oil out from the soybean materials, which can totally ensure no chemical solvent additions while get the highest oil yield.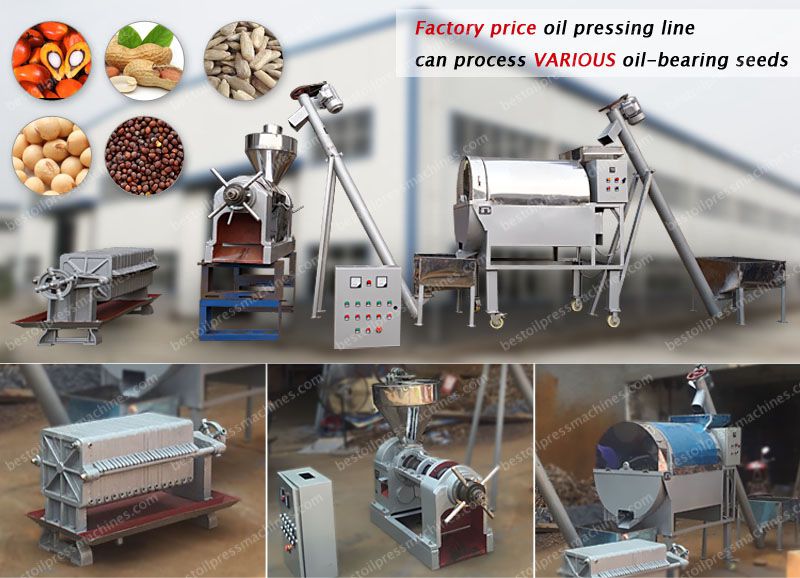 5T/D Mini Soybean Oil Mill Machine

Mini Soya Oil Processing Plant Features
Mini/Small Soybean Oil Processing Plant has many cost-effective features, so it gains increasing popularity among many small and medium investors.

1~20TPD Soybean Oil Processing Line
It is very easy to install, operate and maintains
It requires lowest investment but can quickly gain profits
It only needs small factory area and minimal operator
It can be customized for highest oil output based on your budget and oil processing requirements
It is super versatile to other vegetable oil processing, such as peanut/groundnut, sunflower seeds, mustard seeds, tea seeds, cottonseeds, rapeseeds, moringa seeds, castor seeds, and more
Steps to Start Small Edible Soybean Oil Mill Plant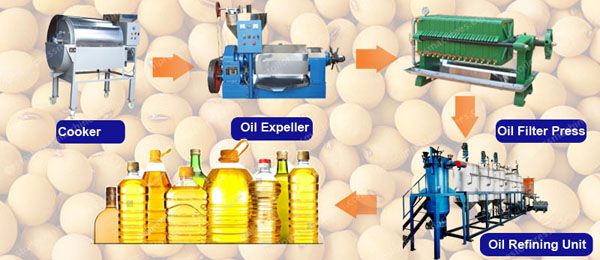 For most people who is lack of experiences in setting up soybean oil plant. Even through it is mini oil mill plant, there are a lot of factors should be taken into consideration when starting your own soybean oil production. The main consideration about mini soybean oil mill is investment capitals, soybean oil processing equipment selections, oil mill plant management and soybean oil market promotions and more. (Read more about Cost Setting up Edible Oil Plant >>)
Step 1: Get Clear Investment Ideas about Soybean Oil Production
You should have clear idea about your investment on the edible vegetable oil production since it is vital for all the steps of soybean oil production setup. As for starting up a mini soybean oil processing plant, the investment is relatively lower than other types, more importantly, it is very profitable, especially in regions where have no professional oil extraction plant. A Mini Oil Mill Plant will enables you to expand the market shares.
Step 2: Choose Right Soybean Oil Mill Machinery Supplier
Get the right equipment for your mini soybean oil mill. ABC Machinery is the experienced oil mill plant supplier in China, with about 2 decade's experiences in manufacturing oil processing machinery for various vegetable oils. We are your trustable manufacturer for Factory Price Soybean Oil Mill Machinery.The mini soya oil processing unit we supply not only can minimize the investment cost of your soybean oil production, but also has the complete functions of soybean oil processing.
Step 3: Manage the Soybean Oil Processing Plant Scientifically
For mini scale oil mill plant, it is relatively easy to manage it since it doesn't require too many operator, maybe 1~3 is enough. And, the soybean oil production process is automatic and continuous, so, it is pretty easy to manage your mini soybean oil plant.
Step 4: Make Marketing Plan for Soybean Oil Selling
Making a feasible marketing plant for the final soya oil is also important to earn profits for your soybean oil mill plant. But, there are many indicators that it is almost for sure that get a mini oil mill plant for soybean oil can be profitable. For example, more and more people tend to the vegetable oils that are extracted by mechanical power instead of chemical solvent extraction. That is what the mini vegetable oil making unit does.

Soybean Oil Processing Plant Setup by ABC Machinery
ABC Machinery is a professional oil mill machinery manufacturer that is dedicated to the research and development of enviornmentally friendly oil processing equipment, ranging from small scale to large scale, from 1TPD~400TPD. We have grown into the leading manufacturer in China due to the high quality equipment, excellect service and good reputation. Our oil mill machinery has been exported to more than 60 countties. And the Cooking Oil Manufacturing Project supplied by ABC Machinery has been installed and operated in 45 countries and regions all over the world. Our oil processing equipment runs well locally, and we strive to provide full service for our customers. Below listed part of the soybean oil processing plant we built.
Soybean Oil Mill Plant Project Report


Soybean Oil Manufacturing Plant for Edible Oil Making

Anyway, starting a mini oil processing plant for soya oil is relatively easy. If you have any questions about soybean oil processing machinery included in the mini oil mill, please contact us for more information or detailed specifications!
I would like to know if the spare parts for the machines are readily available as the distance between our countries is really far. I need advice on what spare parts would be needed mostly and how I can acquire them.
Hello, sir. We will suggest you the necessary Spare Parts for every set of machine, so you can buy them in advance. We have rich experiences in the various oilseeds processing. Therefore, we know which spare parts are necessary and needed to be in stock in advance. But, in general, if you take care of the machine and have the right operation, the service life of the machine and the spare parts will be prolonged.
Request a Quote
We receive enquiries in English, Español (Spanish), Русский язык (Russian), Français (French) and العربية (Arabic).Our professional team will reply to you within one business day.Please feel free to contact us!