Commercial oil press machine is mainly used to produce vegetable oils for business purposes. It is great choice for mobile oil factory and various oil mill plants. Compared to home use oil pressing machine, commercial oil press machine is efficient in oil extracting and large in size. Generally, commercial oil press machine can be divided into three types, Screw Oil Press, Automatic Oil Press machine, Auto-temperature Control Oil Press. ABC Machinery has been specialized in designing and manufacturing commercial oil press machine for at least two decades, we know which oil expeller is the most suitable model for you considering from the investment and production capacity! (Read more about wholesale oil making machine >>)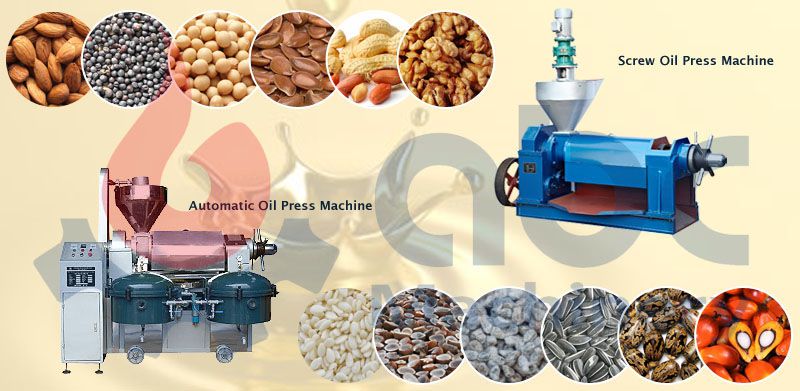 Commercial Oil Press Machine for Sales
Screw oil press machine is small type oil expeller press that is now the most popular oil extraction machine and well recognized by customers. It can be easily to setup a small scale or medium scale oil production plant with single screw oil press machine. (You may also like soya oil press >>)
Automatic oil press machine is newly developed wholesale oil mill machine that is designed with heating system and oil filtering system. The design is to improve oil yield and minimize cost. And now more and more customer tend to this type of commercial oil press machine. For movable oil factory, small oil pressing line and other oil extraction plant, automatic oil press machine is a great choice. (You may also llike wholesale automatic oil press machine >>)
Auto-temperature oil press machine is equipped with electrical heating pipe in the pressing cage to speed up the whole oil pressing process. And it is also designed with electrical control cabinet. (Read more about high quality cottonseed oil making machine >>)

YZS Series Commercial Oil Press Machine at Factory Price
All the commercial oil press machine extracts oil out from the pretreated seeds by mechanical squeeze, and there are no any chemical additions. The final products are crude oils and oil cake or oil meal. And the oil cake or oil meal can be also processed for commercial uses. If you are interested in our commercial oil extractor, please contact us ask for the latest price and detailed specifications!
Five Features of Commercial Oil Press Machine
Reasonable structure design: effectively reducing space cover area and greatly improving the maneuverability. And it is easy to get started and operated. Worried-free oil press extractor.
Energy-saving & labor-saving: it is easy to operate and only one to two people can complete the oil extraction process
High oil yield: compared to the same capacity oil press machine, our commercial oil press has higher oil processing ability and save labors and energy. So it can definitely increase the profits.
High quality oil: our commercial oil extracting equipment can produce high quality oils that can't be achieved by inferior oil processing equipment. It can give security to the properties and quality of the oil, not only the oil yield, which is the long-term promise for more profits.
Versatile application to various oil seeds: our commercial oil press machine can be used to processing many different raw materials. For example, some raw material are seasonal seeds, such as rapeseeds. Therefore, a good oil press machine should have the function to process different materials so as to ensure the operating time, further ensure earn more.
What is Cold Pressing?
Cold pressing, as its name indicated, is to squeeze out oil with heating. The raw material is cleaned and directly fed into the oil presser. The method of cold pressing can't get all the oil once, so the oil content of oil cake of cold pressing is high. The feature of cold pressing is that the oil color is relatively shallow, there are no rising bubble during oil extraction process. The disadvantage of cold pressing is that it has low oil yield and the flavor of final oil is not very good. However, choosing cold pressing or hot pressing should be based on the properties of the raw materials, the specific requirements for oils or the application of final oils. (You may be also interested in Customized Oil Press >>)
ABC Machinery is now the largest commercial oil press machine supplier in China. We have strong technical support, high quality pre-sale and after-sale service, super designing and manufacturing strength. All types of our commercial oil press machine requires low investment input, produces high profits and provide positive user experiences. Any questions, please contact us for more detailed information!
Request a Quote
We receive enquiries in English, Español (Spanish), Русский язык (Russian), Français (French) and العربية (Arabic).Our professional team will reply to you within one business day.Please feel free to contact us!