The automatic oil press machine is a popular oil extraction machine in the edible oil production and processing market.The reason why the multifunctional automatic oil press has become the choice of edible oil manufacturers and investors is precisely because of its low investment cost and high squeezing efficiency. ABC Machinery is a manufacturer and supplier of edible oil production equipment. Our sales and production have the advantages of integration. We can directly provide customers with multifunctional automatic oil press machine at factory prices, saving customers intermediate costs.


Automatic Oil Press Machine for Sale
What is the Automatic Oil Press Machine?
Automatic oil press machine is multi-functional oil extractor that is modified and upgraded from traditional Screw Oil Press Machine. The main oil pressing process is completely automatic. Therefore, when the raw material is loaded into the machine, there are almost no other operations, it can extract oils out automatically. This type of multi-functional automatic oil extracting machine can be used to extract oils from a very wide range of plant seeds and nuts, including soybean, mustard, peanut/groundnut, sesame, palm kernel, cottonseed, sunflower seeds, coconut/copra, tea seeds, flaxseeds, and more. And, it is now very popular in the edible oil making market worldwide.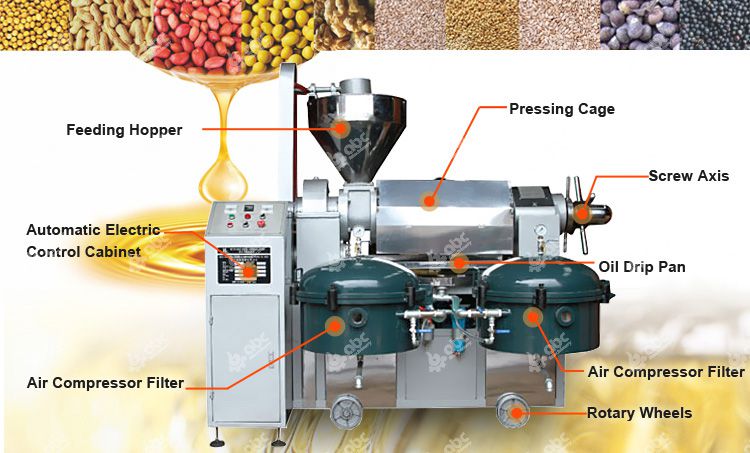 Automatic Oil Press Machine Structure
Generally, the model of automatic oil press machine mainly contains feed hopper, pressing chamber, automatic electrical control cabinet, filtering equipment, etc. The biggest feature is that it is designed with automatic electric control cabinet and oil filtering equipment. In the process of using an automatic oil press machine to squeeze edible oil, first turn on the automatic temperature control system to make the inside of the oil press machine reach a temperature suitable for oil squeezing, and then transport the oil into the pressing cage for squeezing. The squeezed edible oil is filtered by the air compressor filter, and the residue is removed to obtain pure edible oil.
Automatic Oil Press Machine for Sales with Different Models
The automatic oil press machine produced by ABC Machinery has different models. Different types of automatic oil press machine have different technical parameters, which are suitable for the production of edible oils with different processing volumes. You can choose your own automatic oil press machine for home or business according to the detailed equipment information in the following table:
Model Parameters of Automatic Oil Press Machine

Automatic Oil Press Machine Working Video
The Equipment Features of Automatic Oil Press Machine
The automatic oil press machine ABC Machinery has many outstanding features, which makes it favorite oil extraction for many cooking oil manufacturing plant.
Novel and Scientific Design with Mechanical and Electrical System
This screw oil extraction machine adopts an automation device, so it only needs several minutes from material feeding to oil extracting. This design of this oil machine is scientific and the structure is reasonable, the operation is simple, safe and stable.
Premium Quality Material and Exquisite Workmanship
It is made of high carbon steel that features high hardness, strength, good abrasion after high frequency quenching and heat treatment. So it can easily adapt to continuous operation of high temperature and high pressure. Quality materials also guarantee the service life of automatic oil press machine. It is basically no problem to use it for decades.
Reasonable Pressing Cage and High Oil Output
It uses multistage advance gradual compression principle, makes the pressing chamber pressure increase rapidly, separates and isolates the material at one time, automatically controls the pressing temperature and moisture to soften oil materials directly to activate oil molecules, ensure stable oil pressing and high oil output.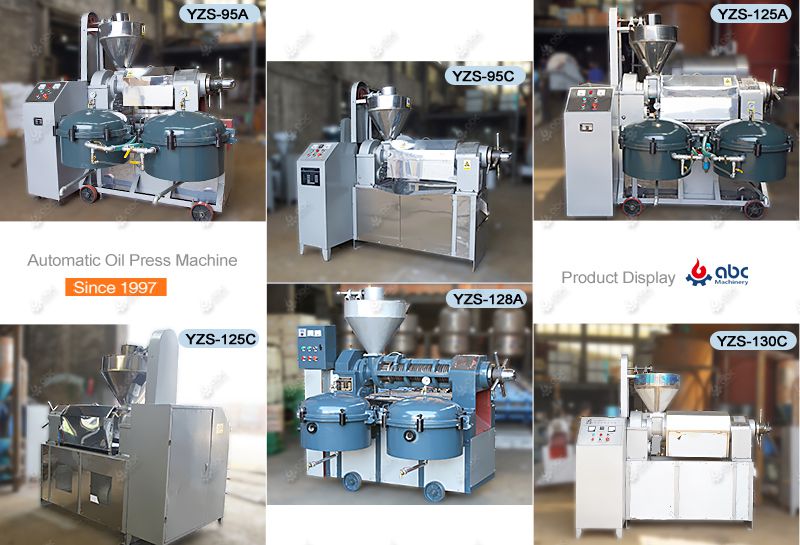 Automatic Oil Press Machine at Factory Price
High Efficient Filtering is Quick and Convenient
It is equipped with a variety filtration system device, which has increased the oil filtering pressure. And the completely new oil guide technology for automatic oil filtering. The oil pressing and filtering can be done at the same time to greatly improve the oil filtering speed. The oil is pure. This type of automatic oil press is convenient and practical in use and is the ideal choice for most users.
This oil press is not subject to the restriction of climate due to the heating temperature control system. So it can automatically adjust the oil pressing temperature according to the environment to achieve perfect oil pressing and filtering performance. It is suitable to use in all seasons and climates.
Multi-functional Oil Press for Extensive Uses
It utilizes a reasonable feeding system to ensure stable and uniform feeding and further contribute to quick oil pressing speed. It can be widely used to press peanut, soybean, rapeseed, sesame, canopy, sesame seed, camellia seed, cotton seed, palm kernel, walnut meat, tung seed, castor, almonds and other oil crops.
If you also need an automatic oil extraction machine, or other types of oil production equipment, you can directly contact ABC Machinery and tell us your specific requirements, and we can provide you with high-quality edible oil equipment. Welcome to contact us!

Automatic Oil Press in Cooking Oil Manufacturing Plant
With the popularity of automatic oil extracting machine in the cooking oil manufacturing industry, more and more edible oil plant tend to adopt it, from small scale to large scale. It can be used to process a very wide range of oilseeds, including peanut, soybean, palm kernel, sunflower seed, cottonseed, mustard seeds, castor seeds and more. If you are interested in Automatic Cooking Oil Manufacturing Plant Cost, please contact use for more details.
If you plan to process more than 10 tons of oil per day, ABC Machinery recommends that you choose a small edible oil production line to process edible oil, so as to ensure the oil output, avoid some oil loss, and control the investment budget. A small edible oil production line includes cleaning sieve, steaming and frying pan, oil press, and filter. If you want to obtain high-quality edible oil, you can also equip a small edible oil refining equipment to remove impurities in the oil, so that the ingredients of the edible oil meet the national standards.
ABC Machinery designs and manufactures high quality Commercial Oil Press Machine, including single screw oil press and automatic multi-functional oil press machine for all types of oilseeds. Besides, we have also provide complete turnkey project services for small, medium and large scale cooking oil manufacturing plant at low cost for clients from the world. The competitive prices, advanced oil processing technology, plus professional services help us always the leading supplier and exporter of vegetable oil processing machinery! Learn more about our Products, please do not forget contact us by emails or any other possible ways.
Hi,
I am interested in your product because it has filters, that way the oil will not come out ready.
I am looking at the YZS-95A/B/C AUTO OIL PRESS. Please give me a quote for all three machines - 3.5 to 5T. I want to use peanuts mainly. Let me know if palm oil can also be extracted from your machine. Thanks.
Hello,
The detailed machine parameters and price list have been sent to your email. Also, you can have a view of our Automatic Peanut Oil Press Machine. Our automatic oil press machine can also be used to extract palm oil, but the oil yield is relatively low. We have professional oil extraction for palm oil. Except for palm fruit, our oil press machine is perfectly suitable for various oilseeds, peanut, soybean, palm kernel, castor seed, sunflower seeds and more.
I need automatic small seseam oil machine.
how much cost ? Do you office in Ethiopia?
Hello, sir/madam
The exact cost and price is decided by machine capacity. We have send the price list and machine parameters to you. Recently, we just sucessfuly installed a Complete Automatic Sesame Oil Processing Plant in Thailand, you can have a reference.
For now, we haven't office in Ethiopia. But we have exported oil extraction machines to Ethiopia and have oil mill plant project there. If you are interested, you have see our project in person. Thanks.
Request a Quote
We receive enquiries in English, Español (Spanish), Русский язык (Russian), Français (French) and العربية (Arabic).Our professional team will reply to you within one business day.Please feel free to contact us!