Cooking oil industry is one of the most basic sectors for the developmen of human beings. There are many oilseeds that are suitable for cooking oil processing, like soybean, groundnut, palm kernel, sunflower seeds, cottonseeds, etc. Cooking oils are extracted by a series of oil production processes, the most common cooking oil extraction processes has:
oil seeds→ shelling → magnetic separation → stone removal → crushing → flaking → steaming and frying → pre-pressing → secondary pressing → filtration → crude oil
oilseeds → shelling → magnetic separation → stone removal → crushing → flaking → extrusion → oil pressing → oil filtering → crude oil
And more and more soybean oil manufacturing plant tend to choose soybean extruder machine in the pretreatment section to improve the oil yield and oil quality, so as to achieve better economic benefit. (Read more: Soybean Oil Processing Plant Business Plan >>)


Factory Price Soybean Extruder Machine for Sales
If you are looking for a professional manufacturer for soybean processing, like soybean extrusion, soybean oil extraction, just contact us. ABC Machinery has been grain & oil processing industry for at least 25 years. Our soybean making machines are quality guaranteed, just send us your inquiry and get the latest price list!

Soybean Oil Extruder Machine for Sales
Compared to traditional soybean oil extraction process, the adding of soybean extruder macine in the soybean oil mill plant has many advantages, including
Improve oil yield, reduce residual oil in meal, average 0.15%
The processing capacity of solvent extractor or oil press machine is greatly improved, 20%~50%
Significant energy saving and consumption reduction
Improve the nutritional value of meal protein and crude oil
Expand the production scale, reduce the cost of production and improve the economic efficiency of enterprises
Soybean Materials VS Extruded Soybean Material
Oil Yield Comparisons
Soybeans
Moisture
Oil Content
Unit Weight for Leaching
Seepage Velocity
Infiltration Rate
Mixed Oil Retention Ratio
Scivent Contentinwet Meal
Solvent Ratio
Dry Meal Residual Oil Rate
Extraction Time
Soybean Flakes
10%
20%
402 kg/m3
54.86 cm/min

38.61 mL(CM2•m

)

1.2 g/g

38.9%
1.2
1%
1%
Extruded Soybean
10%
16.3~20%
550~609 kg/m3
139.7 cm/min
121.92 mL(CM2•m

)

0.95 g/g

17~22%
0.72~1
72 min
30 min

Working Principle of Soybean Extruding Technology
Extruding technology refers to process the powdered or flaked materials by functional wet and heat treatment, that is, through mixing, extrusion (heating extrusion), gluing, decompression puffing molding, cutting and cooling, drying and other physical and biochemical processes, so as to form the materials with structured shape, further is beneficial for oil extraction, food processing and feed application. (Read more: Soybean Oil Manufacturing Plant Cost >>)
The working principle of extrusion in oil extraction process: the flakes or the powder oilseeds materials is fed into extruder machine, then in the propulsion of the spiral, by the spray of direct steam heating and tempering, the role of the spiral and shear pin in the cavity, resulting in strong friction, chopping, kneading, extrusion, temperature, humidity, pressure rising, so that the oil cells are fully destroyed, moderate denaturation of proteins, harmful substances are passivated, the oil and grease is puffed. Harmful substances are passivated, grease viscosity is reduced (high oil content material grease part is squeezed out).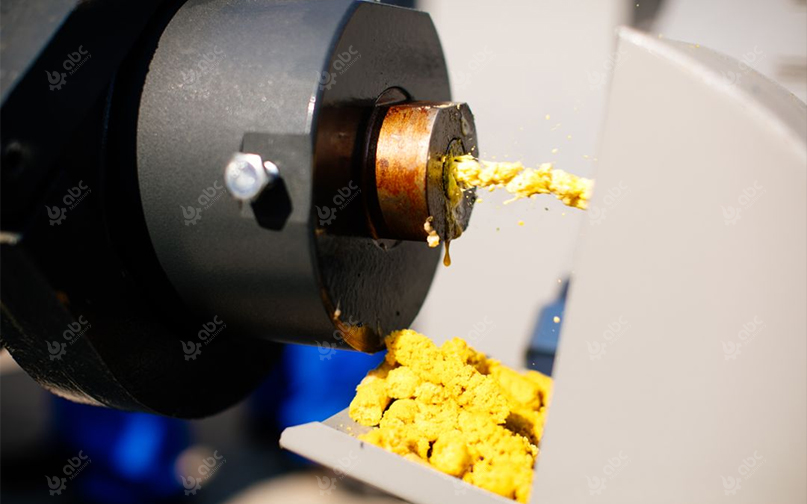 Soybean Extrusion Process
After high temperature, high pressure (about 200 ℃, about 7MPa), the material is finally pushed to the discharge end, by the die hole plate instant pressure reduction spray burst and out. So that the material expands sharply, the internal water evaporates quickly and forms porous structure. It becomes a cooked embryo with high strength and good permeability, which is conducive to solvent oil extraction. Extruding has been applied in cooking oil production industry and push the development of the world's cooking oil production technology. Nowadays, extruding has become the mainstream technology in soybean oil extraction and canola oil extraction. (Related equipment: Canola Oil Extraction Machine for Sale >>)
Request a Quote
We receive enquiries in English, Español (Spanish), Русский язык (Russian), Français (French) and العربية (Arabic).Our professional team will reply to you within one business day.Please feel free to contact us!