Start Soya/Soybean Oil Making Business
Soya oil, also known as soybean oil and soyabean oil, it's widely used vegetable oil. The color of crude soyabean oil is different due to its coat and its variety. Soya oil is generally light yellow, slight green, dark brown and so on. The refined soy oil is pale yellow. Soybean oil is the oil that is squeezed from soybeans through processes such as cleaning, crushing, softening, embryo rolling, steaming, and oil extraction using soybean oil processing equipment. In addition, if you want to further process the squeezed soybean oil, you can add a set of soybean oil refining equipment to further process the squeezed crude soybean oil to obtain high-purity soybean oil. (You may also like high quality soybean oil expeller machine >>)

Small Soya Oil Making Mill Production Equipment
If you are planning to successfully start a mini or small scale soya oil making business, you must take all the steps seriously. Fortunately, ABC Machinery can offer you the most suitable solutions for your soya oil making business. We are your BEST partner on the way to the success of your soya oil making business!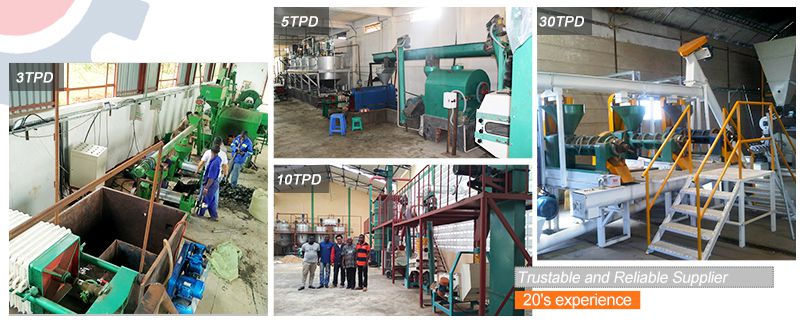 Small Soya Oil Making Plant (1~30TPD)

Factors To Consider Before Starting The Mini Soybean Oil Production Business
Before carrying out the whole plan of soya oil making, there are some factors you must make clear first about your soya oil making business, including the production capacity, the cost budget, the purpose of the final oil, the raw material supply and more. Surely, if you don't have too many ideas about the soya oil production business, you can directly contact us for more details. We will offer customized business plans according to the actual conditions and specific requirements! (Read more about Soybean Oil Machine Suppliers>>)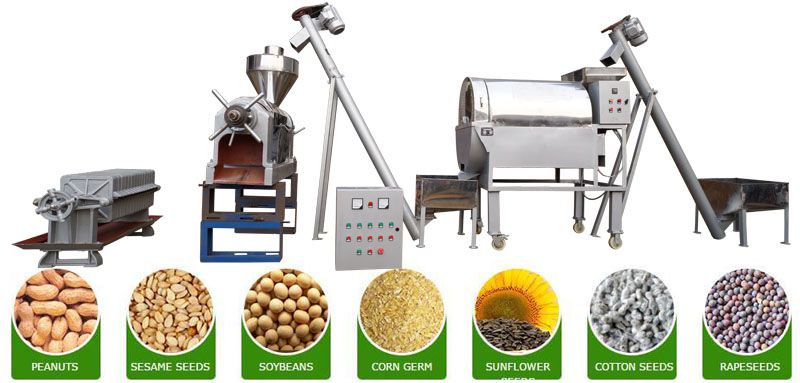 Soya Beans Cooking Oil Production At A Small Scale
Business Plan To Set Up A Small Size Soybean Oil Mills
| | |
| --- | --- |
| Required cost | $5000 above (For exact cost, please contact us! ) |
| Production capacity | 1~10 tons per day |
| Main equipment | Seeds Conveyor, Cooking Roaster, Screw Oil Expeller, Edible Oil Filter |
| Seed raw materials that can be processed | Soyabeans, peanut/groundnut, sesame seeds, corn germ, sunflower seeds, cotton seeds, rape seeds, palm kernel, and more. |
The soybean oil production process of semi-automatic and automatic oil press machines is not complicated. People with little knowledge of oil manufacturing can start and operate it well. Our mini soya oil making machine doesn't require large capital and factory area, which will benefit your soya oil making business greatly since it can lower your investment cost and ensure the quality of final extracted soyabean oil. (More information about Soybean Oil Production Plant >>)
Small Screw Soyabean Oil Press for Sales
As the core part of soyabean oil making, high quality screw oil press machine counts for much. We provide various small soyabean oil press machine for different oil making capacities. They are all built with high quality steel and stainless steel to ensure its long-term service life. The scientific design and compact size make it the most cost effective soybean oil processing machinery. It can also be used to process more raw materials, not just soybeans. (Related Machinery: Mini Soybean Oil Refinery Unit >>)
The exact cost oil mini soya oil making plant is decided by the equipment selections and detailed soya oil production process. If you are interested in soya oil making business, please feel free to contact us for tailored business plan, we can offer you the BEST oil press equipment, helping you to lower the cost!

Mini Soybean Oil Making Machine Working Video ——Model YZS-85
The above is a brief introduction of ABC machinery for small soybean oil processing technology and production equipment. You can choose soybean oil milling machine of different specifications according to the actual soybean oil production needs. If you don't know how to choose a suitable oil extraction equipment configuration or want to know a specific quotation, please send your needs in the message form below to consult us. We will tailor the configuration plan of the oil pressing equipment according to your actual production needs to help you avoid waste of funds.
Where or how can I acquire these machine in Nigeria?
Hello, sir. We have exported many soya oil press machines in Nigeria. You can contact our sales to get the detailed purchase process. Also, there is a Small Soybean Oil Production Line we installed in Nigeria in 2019. You can have reference the performance of our soybean oil extractors.
Where and what is the cost of maintenance?
Hello, sir. Our soya oil processing machine requires less maintenance. And, we have professional after-sales team to help you how to maintain the machine for longer service life. At the same time, we also suggest to have several sets of Square Parts for your machine.
Request a Quote
We receive enquiries in English, Español (Spanish), Русский язык (Russian), Français (French) and العربية (Arabic).Our professional team will reply to you within one business day.Please feel free to contact us!