ABC Machinery is a pioneer of oil making machine manufacturing in China. With years of development, we have been the expert in supplying low cost and high quality soybean oil expeller machine for clients around the world. In addition to offer screw type oil press, we also undertake complete turnkey oil mill plant for various oil-bearing seeds, including mustard seeds, soybeans, palm kernel, sunflower, niger seeds, moringa seeds, copra, and more. (Read more about Soybean Oil Press Machine Supplier >>)
Mini/Small Soybean Oil Making Machine Structure
The soybean oil making machine mainly consists of feeding hopper, gear box, pressing chamber, screw shaft and machine stand. Every part is well designed for the best oil extracting results. All the materials for our oil machine is of premium quality and can ensure long-term uses. Here, we will have a clear and comprehensive introduction of the structure of small soybean oil machine, which provides you a full understanding about its working prinple and its operation and maintenances.

Soybean Oil Making Equipment Structure
Feeding - The feeding part is composed of hopper, screw feeder, umbrella gear, axle seat, bearing and others. The feeding capacity and the ratio of umbrella gear drive is in perfect based on different models. Well-designed feeding hopper provides smooth materials feeding and minimal noises.

Gear Box - The gear box of soybean oil making machine is made up of gearbox casing, cover, cylindrical gear, transmission shaft, antifriction bearing, triangular belt-wheel and more. Disassembly the screw-plug on top of the gearbox casing, it can be directly inject lubricating oil. While, discharge the drain plug on the bottom of the gear box can release the lubricating oil directly. In addition, the oil mark on the left side of the gear box can be used to observe the oil level. Therefore, the whole design of the gear box is user-focused, which provide great conveniences in actual oil production.

Pressing Chamber - As the core heart of the whole soybean oil machine, the pressing chamber is mainly made up of upper pressing cage, down pressing cage, rails group ring, pressing bar, pressing rings cake output ring, pressing bolt and more. The ends of pressing chamber is connected to gear box and machine stand. For best oil pressing performance, all the pressing rings must be arranged and combined in sequence strictly when installing or disassembling.

Screw Shaft - The screw shaft is mainly composed of screw shaft, worm, cake guide ring, adjusting bolt, safe cover, surface bearing and others.

Machine Stand - It is mainly made up of base, stand, barrel and other components. The main base is the basic part of the whole machine. In addition to support other components, the main stand is also the outlet of oil cake.

Spare Parts of Soybean Oil Presser
The pressing bar, pressing ring, cake output ring, cake guide ring and other parts of our soybean oil press machine are made of 20# high quality steel. After After heat treatment surface deep carbon - nitrogen co-osmosis – quenching, they all have high level of wear resistance. If you buy the soybean oil making unit from us, you are guaranteed with professional after-sale services, including the instruction of maintenances, replacement of spare parts of your soybean oil machine and more. You are very welcomed to contact us to have direct communication with us about all the problems of soybean oil making equipment.
Mini Soybean Oil Making Machine for Sales
| Model | Capacity | Power | Weight | Size |
| --- | --- | --- | --- | --- |
| YZS-85 | 60-80kg/h | 5.5kw | 200kg | 1200×400×900mm3 |
| YZS-95 | 150-200kg/h | 7.5-11kw | 530kg | 1600*700*1350mm3 |
| YZS-105 | 210-300kg/h | 15kw | 550kg | 1825*700*1350mm3 |
| YZS-128 | 300-375kg/h | 15Kw | 775kg | 2000*600*1170 mm³ |
| YZS-130 | 450-500kg/h | 18.5kw | 850kg | 2010*800*1380 mm3 |
| YZS-150 | 750-850kg/h | 30Kw | 1380kg | 2180*790*1790 mm3 |

All our YZS small soybean oil machine is certificated with ISO9001:2015 and CE. They are promise with highest quality. If you some knowledge of oil making machinery, you will know how important the quality is for the oil production. Our soybean oil making machine is featured with state-of-the-art design, superior quality, and high efficiency. More important, it is also suitable for other vegetable oil-bearing seeds, such as peanut, palm kernel, sesame seeds, sunflower seeds, niger seeds, rape seeds and more. Every year, we will have thousands of soybean oil making machine exported to many countries, including Australia, Argentina, Jamaica, Ghana, Nigeria, America, India, Russia and more.
Soybean Oil Pressing by YZS-130 Oil Expller

This is the soybean oil pressing of YZS-130 oil expeller. It adopts 4-stage oil pressing. And the soybean oil coming for the pressing rings is pure and clear, the oil cake is in tegular form, which indicates it has low oil residual. YZS-130 model, with the capacity of 10~12 tons per day, is very suitable for small scale soybean oil mill plant.
Get a Mini & Small Soybean Oil Making Plant by Yourself
Actually, using screw oil press machine to extract soybean oil is a pretty mature technology now. So, it not very difficult to set up a oil making plant by yourself using our mini soybean oil machine or small soybean oil pressing machine. If you are truly interested in it, first of all, you should have a clear idea about the process of how to extract soybean oil. Soybean belongs to low oil content crops. The oil content of soybean is about 11~20%. Before entering into the oil extracting machine, soybeans should be treated to ensure highest oil yield. The whole oil pressing flow chart of soybean oil making is as follows.

Soybean Oil Extracting Process
Based on different areas and oil making requirements, we will have customized soybean oil making process for our clients. For example, we will add extruding and drying for clients from South America to minimize labor cost and maximize the oil output. If you want to know the detailed soybean oil processing flow chart in your country, please tell us more your information about soybean oil production.
After get understand the right process of soybean oil extracting, the next step is to get the respective equipment to form a complete line of soybean oil pressing. Fortunately, we have rice experiences in soybean oil extracting, so we can offer the full set of soybean oil making plant in all scales, including min, small, medium and large.

An Example of Mini Soya Oil Making Plant – 5 tons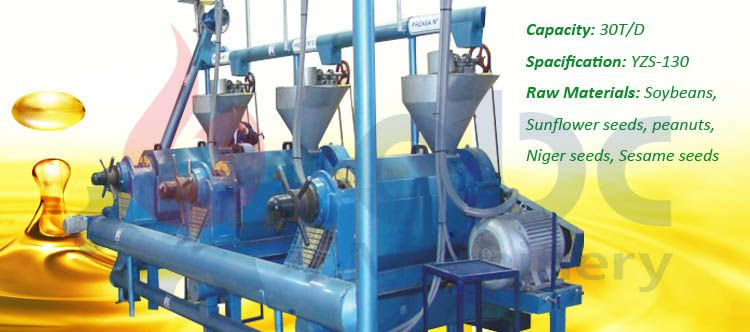 An Example of Small Scale Soybean Oil Plant – 30 tons
To sum up, as a popular vegetable oil, soybean oil has been widely accepted. Getting a mini soybean oil press expeller to start the vegetable oil making business is quite easy due to its simple oil extracting process and relative lower investment cost. If you are interested to get in start, please contact us for professional advices!
Request a Quote
We receive enquiries in English, Español (Spanish), Русский язык (Russian), Français (French) and العربية (Arabic).Our professional team will reply to you within one business day.Please feel free to contact us!