YZS-130 Automatic Oil Press Expeller at Factory Price
YZS-130 automatic oil press expeller is an advanced type of oil extraction machinery. It maintains all the advantages of YZS-130 screw oil press machine, but adds more favorable designs for convenient and easy operation. This model provided by ABC Machinery can be divided into types: YZS-130A and YZS-130C. However, what is the differences between YZS-130A and YZS-130C? In fact, the biggest difference between YZS-130A and YZS-130C is that YZS-130A is designed with oil filtering device – air pressure filter. Both the two oil expellers are suitable to process a broad spectrum plant seeds, such as peanut, almond, coconut, corn germ, cotton seed, mustard, jatropa, niger seed and more.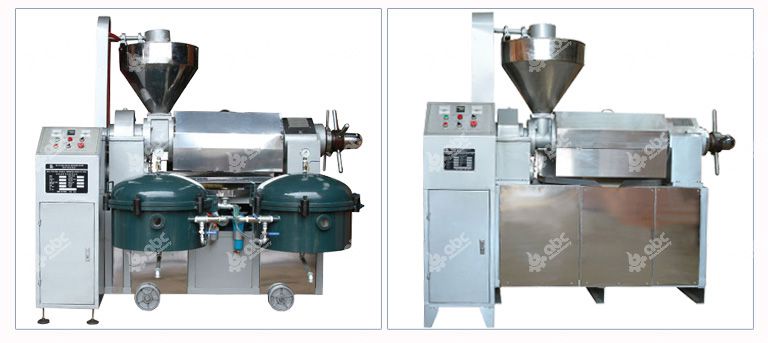 YZS-130A Automtic Oil Press (Left) YZS-130C Automatic Oil Press (Right)
Model
Capacity
Dimension
Weight
Power
Remark


YZS-130A


450-500kg/h
10-12T/24hrs



2250*1450*2050mm3



1300kg



23.9kw
Pressing power: 18.5kw-6P
Air Pressure Oil Filter
Main shaft heating power: 1.8kw-220v
Pressing cage heating power: 1.4kw-220v
Filter air compressor power: 2.2Kw-220V
YZS-130C
450-500kg/h
10-12T/24hrs

2140*1140*1710mm3

1080kg

21.7kw

Pressing power: 18.5Kw-6P

Without Filtering Equipment
Advantages of YZS-130A & YZS-130C Automatic Oil Press
Saving preheating time: The screw shaft and pressing cage of this automatic oil extractor are equipped with electric heated tube to preheat the oil machine itself, saving prepressing time.
Environment-friendly: The heating system of this oil extraction unit not only makes full use of the high temperature to meet the environmental protection and the requirement of green energy, but also can improve the quality of crude oils.
Automatic temperature control: Comes with electric control cabinet control the temperature of pressing cage automatically so as to improve the reliability of heating and ensure the high oil output rate.
User-friendly operation: The motor is installed under the oil extractor and the protective cover is used to protect it, which not only greatly reduces the floor area, but also enhances the safety performance of the oil machine.
Stainless steel: The oil drip pan and cover plate are both made of stainless steel, which is more convenient to clean and healthy
Wide application: Very wide application to various oil-bearing seeds makes it suitable for small scale or medium scale oil mill plants
Filtration device: Built with air pressure oil filter for pure crude oils (Only for YZS-130A integrated oil press)

Sunflower Seed Oil Press Machine for Edible Sunflower Oil Making
Sunflower seeds, the fruit of sunflower, contain 30% to 45% fat, up to 60%. Sunflower seed oil, extracted from sunflower seeds, is golden yellow, clear and transparent, has features smell fragrant. As an important cooking oil, sunflower seed oil contains a lot of linoleic acid and other essential unsaturated fatty acid. It can promote the regeneration of the cells in the body and growth, protect the skin healthy, and can reduce the cholesterol in the blood sedimentation, oil is a kind of senior nutrition. (You may be also interested in Cooking Oil Pressing>>)

Sunflower oil ranks fourth among all vegetable oils in the world, after palm oil, soybean oil and canola oil. Global sunflower seed oil production is stable, between 10 million and 12 million tons, and sunflower seed oil is one of the important edible oils in European countries. Many countries and regions in the world, such as Taiwan, Hong Kong, Japan and South Korea, consume up to 70 percent of sunflower oil. (Learn more about Small Scale Sunflower Seeds Oil Making Plant we built)
Automatic Sunflower Oil Press/Extraction Machine for Sales
Sunflower Oil Extraction Process
Sunflower seed oil press utilizes mechanical force to press the oil out from sunflower seeds. The whole sunflower oil extracting processes by sunflower oil press is without any additives. Edible sunflower oil making process requires a series process to improve the quality, color and taste.
Selection of good quality sunflower seeds: it is needed to select good quality sunflower seeds since the moisture content and oil content of sunflower seeds may vary. Good quality sunflower seed is the basic requirements for highest sunflower oil output.
Clean up impurities: in order to get purer crude sunflower oil, protect sunflower oil press from damages by impurities, such as stones, and avoid oil absorption of foreign impurities, it is a must-do step for sunflower oil making
Dehulling: to remove the outer shell of sunflower seed
Cooking: heat treatment is one of the most important processes to extract oil. Sunflower seeds are mainly hot pressed. The effect of heat treatment has a direct effect on the smooth operation of sunflower oil press, the oil yield and the quality of sunflower oil and cake.
Pressing: uses our YZS series sunflower oil press machine can get the highest oil output since it has automatic temperature control system and filtering equipment for purer sunflower oil
Filtering: Our sunflower oil press is equipped with air pressure filter that can directly filter crude sunflower oil after it is discharged from the pressing rings and pressing bar. Unlike vacuum oil filter, air pressure filter has more efficient oil filtering capacity and can avoid blockage.
ABC Machinery provides sunflower oil press with different models and functions, there, you can get you ideal oil machine for sunflower oil making. You are very welcomed to contact us whenever want to know more information about YZS-130A or YZS-130C oil machine, or complete sunflower oil processing plants. We'd like to hear from you!
Request a Quote
We receive enquiries in English, Español (Spanish), Русский язык (Russian), Français (French) and العربية (Arabic).Our professional team will reply to you within one business day.Please feel free to contact us!