Edible Oils Produced By Sunflower Oil Production Line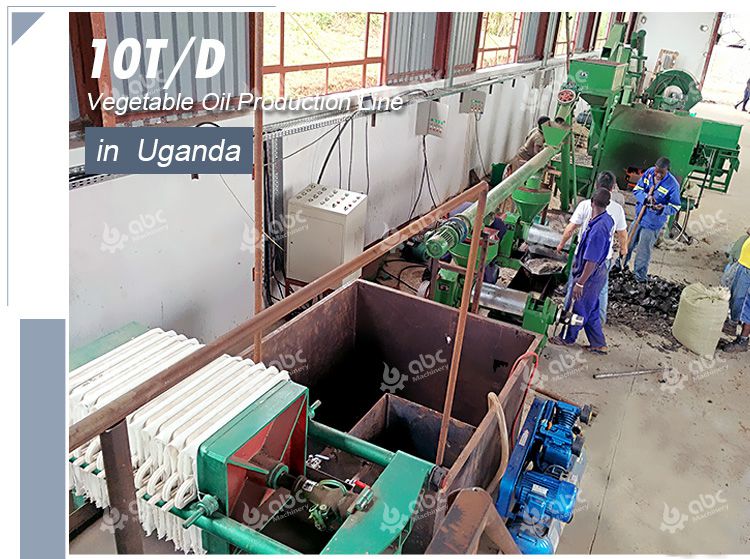 10TPD Small Sunflower Oil Production Line Setup in Ghana
This Vegetable Oil Production Line was established in Uganda in 2016. Now, this project has been running for four years, and the edi ble oils it produced are sold very well in local markets. Although the oil pressing section was designed for three kinds of plant seeds, the main raw material is sunflower seeds. Taking in consideration of the further oil production requirements, the pretreating section was also equipped with delinter, crusher, screening sieve, cooker, single screw oil presses and one set small oil refinery unit so that the whole oil processing factory can process more plant seeds, not only sunflower seeds, soybean and cottonseeds. (Related Post: Cooking Oil Manufacturing Plant Cost >>)
This sunflower seed oil pressing line was assembled with two sets of YZS-95 Oil Press Machine that is very suitable for Small Scale Oil Mill Plant. The oil refining section adopts small type edible oil refinery equipment for high grade oil. All the sunflower oil production equipment was carefully combined for the best results and customer's requirements. If you are searching for a best oil production plant, you can contact for professional solutions. We will never let you down!

The cost of setting up a sunflower oil production line should take many factors into into consideration, including production capacity and process, equipment, factory layout, automation degree of the production line, requirements of the final sunflower oil (crude oil or refined oil). You are welcomed to get in touch with us and get free service on estimating project cost.
Sunflower Oil Prdouction Line Installated in Ghana
This small sunflower oil production line was constructed under the technical guidance of ABC Machinery professional engineers. Below is the onsite installation and commissioning pictures of this sunflower oil pressing line.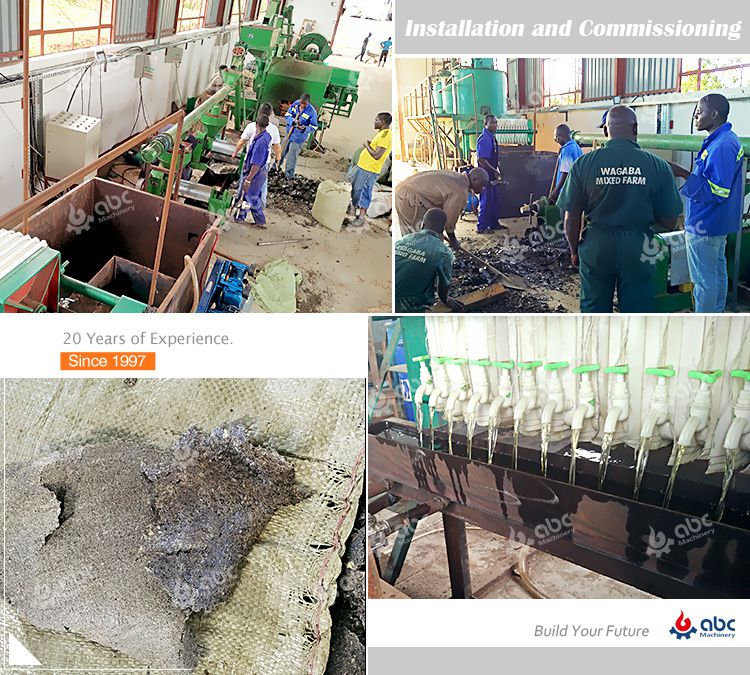 Sunflower Oil Pressing Line Installation and Commissiong in Ghana
Small Sunflower Oil Production Line in Ghana - Working Video

Sunflower Oil Production Process & Machine
Actually, setting up an Oil Mill Plant to produce vegetable oil from sunflower seeds is an easy thing, especially for a small scale sunflower oil production line. The process of extracting oil from sunflower seeds is quite simple compared with the extraction of some other kinds of oils. Sunflower seeds are cleaned with magnets which will attract all metal particles and then they go through screening to remove other impurities. Sunflower seeds are then prepared for oil extraction by being heated and dried. They can be cleaned from seed shells prior to oil extraction or go to the Sunflower Oil Processing Equipment complete. The seed is mechanically pressed to extract half to three-thirds of oil from seeds. Sunflower oil is then sent to further processing to make it edible. This is where sunflower oil refining is done. After bottling, sunflower oil is ready to be consumed. There, we introduce the main sunflower oil production machine and its functions.
Sunflower Seeds Pretreatment Equipment:
to increase the oil output by removing foreign impurities from sunflower seeds and softening sunflower seed.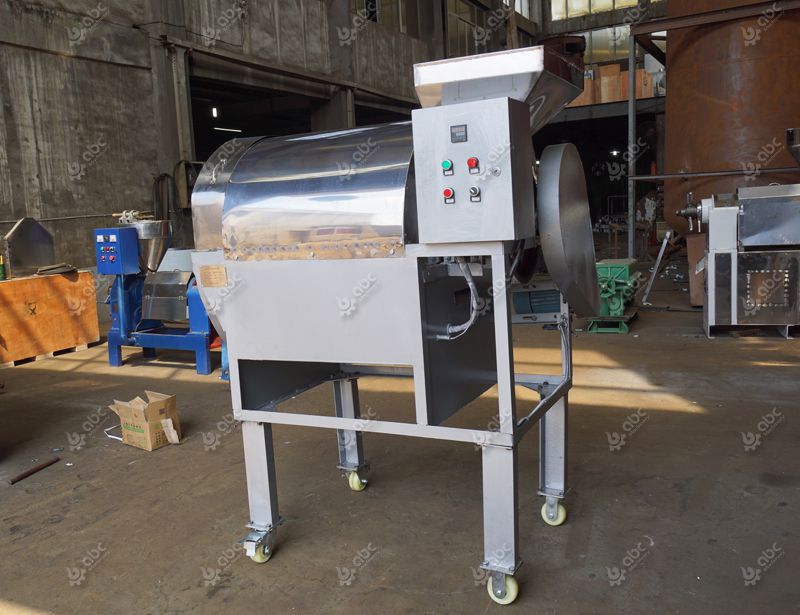 Electrical Roasting/Cooking Machine for Sunflower Seeds
Sunflower Oil Pressing Machine: There are many types and models of sunflower oil pressing machinery in today's market. But, we recommend screw oil press since it costs lower but has very good producing capacity. We offer two types of screw oil press machine for sunflower oil production, one is the single screw oil press and the other is automatic oil press. Both are very great in practical uses. If you want to know more specifications or the latest prices, please contact us!
Sunflower Oil Filtering, Refining and Dewaxing Machine: to remove impurities (organic impurities, phospholipid, odors, pigment, wax, etc.) contained in the crude sunflower oil, enhance the stability for storage, improve the sunflower oil flavor and improve the color of sunflower oil.

ABC Machinery is professional vegetable oil proceessing machine manufacturer and supplier and has undertook many turnkey projects. With years of experiences, we can process a very wide range of raw materials to produce high quality edible oils or non-edible oils. We can provide you a comprehensive oil production solutions. If you have any interests, please contact directly by emails or calls.

Sunflower Oil Processing Opportunity in Africa
Africa is a huge market for new opportunities. There is a lot of space for different industrial developments, a lot of opportunities for progress in the field of agricultural development. The food market is an ever-growing area of the African economy. Production of sunflower oil provides many opportunities for the economic development of a region, from growing plants to producing oil from the seeds. This process is an opportunity for new jobs and the improvement of the social status of many.
African Countries with the Highest Sunflower Oil Production
Although the whole of Africa recognized opportunities that emerge from sunflower oil processing, some countries adjusted better to the demands of the industry. In these countries, Sunflower oil productions are very high and still developing with new technologies. (Related Post: Sunflower Oil Extraction Machine for Sale South Africa >>)
| | | | | |
| --- | --- | --- | --- | --- |
| ♦ South Africa | ♦ Tanzania | ♦ Uganda | ♦ Egypt | ♦ Morocco |
| ♦ Zambia | ♦ Mozambique | ♦ Zimbabwe | ♦ Angola | ♦ Kenya |

There is still a lot of space for developing and many improvements in the sunflower oil industry in Africa. Better conditions for the farmers and better incentives, encouragement for small manufacturers that act locally using local sources and offering jobs for the local population, modernization of existing machinery and the process itself, it can all bring new opportunities in sunflower oil production. The consuming market of edible sunflower oil is big enough for all improvements.
Request a Quote
We receive enquiries in English, Español (Spanish), Русский язык (Russian), Français (French) and العربية (Arabic).Our professional team will reply to you within one business day.Please feel free to contact us!