Do you have a strong desire and interest of owning an edible oil manufacturing company? Do you want to learn the simple steps you can take to setup a profitable vegetable oil processing plant and the cost?
If your answer is yes, we are going to take you through on all the requirements of setting up a small, medium or large-scale oil extraction plant. As the demand for quality oil continue to grow, it's a nice idea to venture into an edible / cooking oil manufacturing business.
Recent News: Small Cooking Oil Press Machine in Tanzania
Start a Complete Vegetable Oil Processing Plant
Most cooking oil that is used in our homes is extracted from nuts, peanuts, mustard, soybean, coconut and other seeds such as rapeseed, sesame, cottonseeds, etc. The extraction process is quite simple and only requires one to have some training on how to operate commercial screw oil extracting machines.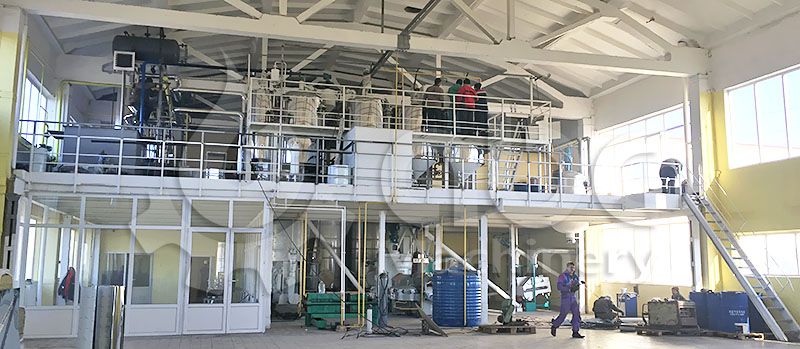 Vegetable Oil Processing Plant Layout Design
This is a vegetable oil mill plant designed and built for 10 ton/day oil extraction and 3 ton/day refining process. View the photos below to see the included equipment and factory layout. To maximization of production efficiency, all our oil milling projects are customized according to each client's oilseeds situation and other requirements. Contact us now to get your business plan for FREE!


Mechanical Vegetable Seeds Pressing Machine



Vegetable Oil Refining Mahine in the Oil Factory
If you are planning to build a small edible oil production line, contact us now to get a customized project plan for FREE! All our equipment are sold directly from our oil press factory to eusure all our clients can enjoy the best price!
Vegetable Oil Production Plant Setup Cost
Before getting the cost of opening a vegetable oil plant, you must think about the following questions:
How many oilseeds you want to process per day? or how much oil do you want to make per day?
What's the moisture of the oilseeds? Is it raw oilseeds or dehulled seeds?
What do you want to produce? crude oil or refined edible oil?
If you already have the plant, you should also take the plant size into consideration.
Here is a reference for you: the equipoment cost of a 5 ton/day oil mill plan is around $8000. The price might be higher or lower based on to differnet client situation and requirements.
Proposals for Setting Up Profitable Vegetable Oil Processing Plant
Below are some few steps you can follow to setup your own vegetable oil processing plant. (Related Post: How to Mini Start Soya Oil Mill?)
Step 01: Understand the business well
If you don't have prior experience on how to run an oil manufacturing plant, learn how the business operates. Nowadays, with the advancement of internet technology, you can search for more information on the requirements of operating an oil processing plant in your country. Important things to consider are regulations registration, trademark, competition and capital market, technology etc. You maybe also interested in processing technology of sesame processing plant >>
Once you understand how the business operates, create your own strategy and cleverly invest on it. Look for a suitable location to set up your plant, examine the target market, calculate operating cost and come up with a startup capital cost.
When determine the place to set up your plant, remember to check availability of raw materials and reliable mode of transport. These two factors are so important and can help you cut off transportation and supply costs of your raw materials.
Step 02: Select the type of raw materials to use
As we discussed, vegetable oil can be processed from so many different types of seeds. Based on your geographical location of your plant, choose the most available seeds and raw materials to use. Find good suppliers and create supply and payment terms.
To run an oil manufacturing plant, you will need some money for building the site, paying employees, bills, buying machineries and required equipments. If you can't afford to raise enough capital to run the oil plant, seek financial help from friends, family and loans from lenders. There are banks and investors that can loan you funds at affordable interest rates that are easy to manage.
Step 04: Buy machineries and equipments from a reputable company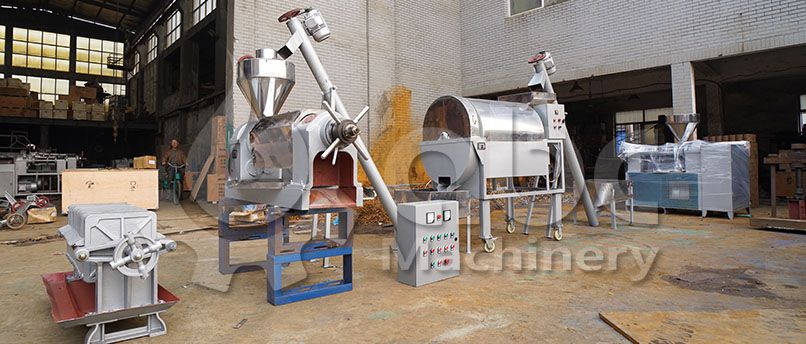 Small Vegetable Oil Processing Unit
The quality of oil that your plant will manufacturer will be highly dependent on the quality of your machines and processing equipment's. Buying quality machines and equipment's will boost your business brand by manufacturing quality oil products that beat the market. (Related Equipment: Setup low cost mini oil refinery plant >>)
Step 05: Hire qualified employees
Hiring qualified employees can greatly reduce your vegetable oil processing plant cost by 30% or more. Advertise job opportunities and look for graduates with manufacturing degree, diploma, certificate or any other related qualification. Take all applicants to a screening or interview process in order to determine and hire the most qualified candidates.
Step 06: Plan the packaging, distribution and advertisement of your product
Once you start manufacturing edible oil, look for attractive packages that can attract buyers and suppliers to try your product. Advertise your product on commercials, online media, local newspapers and any other media that you find applicable. Finally come up with a good supply and distribution plan that will ensure that your product is well delivered to the market.
We are general merchants in Nigeria that invest in profitable businesses. The company wishes to try out groundnut oil production and see the level of profitability before going in full scale. every advice you give means a lot to the organisation. The groundnut has shells and i need a machine with a capacity of 500-100kg/h. I need your advice on a suitable machine and other machines that would be needed in the oil production plant.
Hello, sir. Thanks so much for your interests in our vegetable oil processing machines. For groundnut shells, the Groundnut Sheller can remove the shells automatically. The capacity of smallest groundnut shelling machine is 500-700kg/hr. For small scale groundnut oil production, here is the Business Plan of a Small Scale Groundnut Oil Processing Mill, you can have a reference.

F

or vegetable oil production I would need a "refinery" to bleach, neutralize and deodorize the oil. I want to know if your company also sell the refinery and I would also like to know how much it costs.

Yes, we also provide oil refinery machine for the vegetable oil production. The small scale vegetable oil refinery plant ranges from 1tpd to 20tpd. Please click here to get more about Mini Oil Refinery Plant Cost.
Request a Quote
We receive enquiries in English, Español (Spanish), Русский язык (Russian), Français (French) and العربية (Arabic).Our professional team will reply to you within one business day.Please feel free to contact us!