ABC Machinery has been the leader in designing and manufacturing oilseeds processing equipment. Our commercial oil extraction machine has been well recognized by professionals in the edible vegetable oil processing industry. In addition to providing oil extraction for small business, we also offer complete turnkey service to help customers build up their own commercial oil mill plant, which includes factory layout design, equipment manufacturing, installation and debugging, technical training, and more.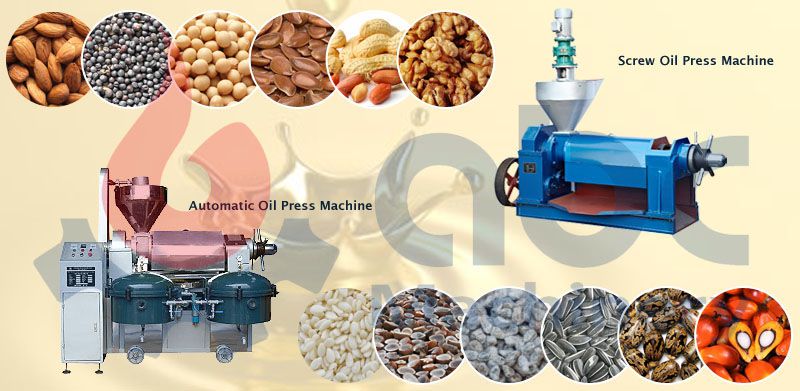 Commercial Oil Press Machine for Various Oilseeds
Commercial oil press machines are mainly used to produce edible oils for business purposes. It is a great choice for the mobile oil factory, mini oil mill plant, small and medium cooking oil manufacturing plant. Compared to home use oil machines, commercial oil press machines are efficient in oil extraction and larger in size. If you are now looking for oil making machine for business, just contact us directly, we know which commercial oil extraction machine is the most suitable model for you considering from the investment capitals and production capacity!

Commercial Oil Press Machine for Sales
Generally, commercial oil press machines can be divided into three types, single screw oil press, automatic oil press machine, auto-temperature control oil press. All the commercial oil press machines extracts oil out from the pretreated seeds by mechanical squeeze, and there are no any chemical additions. The final products are crude oils and oil cake or oil meal. And the oil cake or oil meal can be also processed for commercial uses.
Screw Oil Press Machine is small type and the most popular oil extraction machine. It can be easily to setup a small scale or medium scale oil production line to produce edible oils.
Automatic Oil Press Machine is newly developed oil mill machine that is designed with heating system and oil filtering system. The design is to improve oil yield and minimize cost. And now more and more customer tend to automatic oil extraction machine for their oil making business.
Auto-temperature Oil Press machine is equipped with electrical heating pipe in the pressing cage to speed up the whole oil pressing process. And it is also designed with electrical control cabinet.

YZS Series Commercial Oil Press Machine for Sale
Commercial Oil Making Machine Parameters
| Small Commercial Oil Machine | Capacity | Power | Color | Remark |
| --- | --- | --- | --- | --- |
| Single Screw Oil Press Machine | 60-850KG/H | 5.5-30KW | Blue or Customized | / |
| Auto-temp Oil Press Machine | 60-500KG/H | 5.5-4P-18.5-6P | Blue, Silver or Customized | with heating System |
| Commercial Automatic Oil Press Machine | 150-500KG/H | 13.6-23.9KW | Silver or Customized | with air pressure oil filter or vacuumer filter and heating system |
Commercial Oil Machine Features
Reasonable structure design: effectively reducing space cover area and greatly improving the maneuverability. Easy to get started and operated.
Energy-saving & labor-saving: it is easy to operate and only one to two people can complete the oil extraction process
High oil yield: higher oil processing ability and save labors and energy. So it can definitely increase the profits.
High quality oil: produce high quality oils that can't be achieved by inferior oil processing equipment. It can give security to the properties and quality of the oil, not only the oil yield, which is the long-term promise for more profits.
Versatile application to various oil seeds: used to process many different raw materials. For example, some raw materials are seasonal seeds, such as rapeseeds. Therefore, a good oil press machine should have the function to process different materials so as to ensure the operating time, further ensuring more benefit.
If you want to buy commercial oil press equipment to start your edible oil processing business plan, ABC Machinery can design the corresponding edible oil production plan according to your needs. In order to design the plan more accurately and meticulously, we need to understand the basic situation of the project, including the type of oil, the amount of oil processed, and the requirements for refined oil. You can contact us for your specific needs through the button below, hoping that we can provide you with suitable edible oil equipment to make your edible oil processing project go smoothly.

Commercial Oil Machine for Various Oil Seeds and Oil Crops
Vegetable oil which is derived from oil seeds and oil crops is used for cooking. The prices of different kinds of vegetable oils in different countries vary to a large extent depending on the global oilseeds and oil crops production.There are various oil seeds and oil crops that our commercial oil extraction machine can turn it into cooking oil by processing it within Cooking Oil Manufacturing Plant, including soybean, peanut/groundnut, sesame seeds, cotton seeds, sunflower seed, castor seed, palm kernel, rapeseed, mustard seed, rice bran, corn germ and more. (Read more: Groundnut Oil Production Business Plan >>)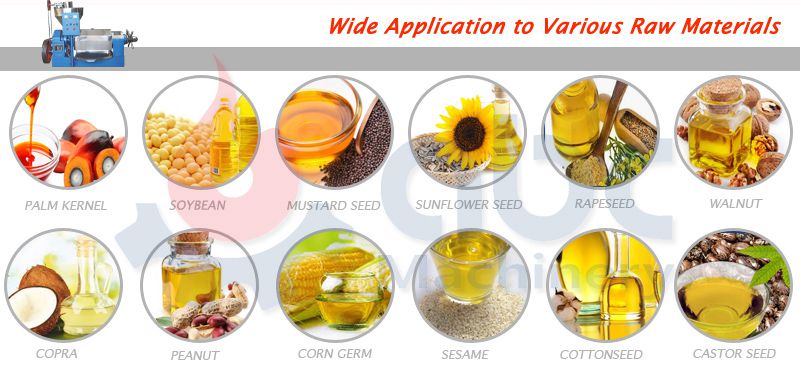 Globally, soybean is the major oil crop and is grown in many countries worldwide, like the United States, China, Canada, India, Ukraine. In 2018-2019, the soybean production was approximately 360 million metric tons worldwide. Our company provides the Small Scale Soybean Oil Processing Plant to help more people can gain profits from soybean oil industry. Rapeseed is another oil seed grown in large quantities in the European Union and China, and the harvest in the last year is estimated at around 75.6 million metric tons. Other major oil seeds and crops are sunflower seeds, cotton seed, peanuts, palm kernel, copra from coconut trees, etc. If you want to know the cost setting up edible oil plant, please contact us direclty to get the custom plan and free quotation.

How to Make Money from Commercial Oil Extraction Machine?
Have Self-employed Oil Mill Business
It is really a great way to use your oil extraction machine to provide services for those who need it but can't afford it, such as farmer in urban or rural areas. Get a small place, just 10 to 20 square meters, prepare your oil press machine, then you can get charges by pressing oil for people who bring raw materials. Also you can pressing oil for them for free, but keep the oil cake and sell it for money. But all your strategies should be on the local conditions.
Start Small Scale Cooking Oil Manufacturing Plant - 5TPD~30TPD
Also, you can your oil press machine to start a min or small scale cooking oil production line and get the profits by selling the edible oil produced. It can be located near by the vegetable market, or supermarket. This the fresh oil made from the oil seeds, including soybean, sunflower, rapeseed, sesame seeds and more. In this way, the customer can see the whole oil production process, and would definitely satisfied with the quality of final oil. The demand for fresh oil directly from the oil extraction machine is now increasing. It must attract a lot of customers.
Setup Professional Oil Processing Plant for Big Money - 30TPD-400TPD
If you think above mentioned ways can't meet the demand in your place. You can simply setup oil processing plant to start your business in much larger scale. But, it actually requires much investment cost due to the complete oil production process and capacity. In this way, you can use the commercial oil press machine to make big profits.

What is Cold Pressing?
Cold pressing, as its name indicated, is to squeeze out oil with heating. The raw material is cleaned and directly fed into oil extraction machine. The method of cold pressing can't get all the oil once, so the oil content of oil cake of cold pressing is high.


Small Cold Oil Pressing Line
► The advantage of cold pressing is that the oil color is relatively shallow, there are no rising bubble during oil extraction process;
► The disadvantage of cold pressing is that it has low oil yield and the flavor of final oil is not very good;
However, choosing cold pressing or hot pressing should be based on the properties of the raw materials, the specific requirements for oils or the application of final oils. If you are interested in starting cold pressing oil making business, please contact us directly. Our service team will help you on equipment selection, cost estimation, etc.

Commercial Opportunity for Vegetable Oil Processing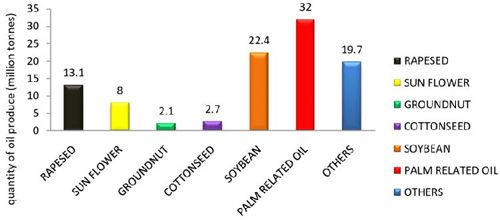 From 2011 to 2018, reports show that the global vegetable oil market had an increase of around 4% CARG, attaining a consumption rate reaching 200.1 million tons. Reports also show that non-food users of vegetable oils have been involved in traditional methods of manufacturing greases, lubricants, candles, and soaps. While other markets like the biofuel have been involved in mineral production, as a result, enabling a speedy and healthy growth in the global vegetable oil market. Based on different regions there are slight changes in vegetables via demand concerning the various regions. But statistics show that a majority of the regions have a high consumption rate of palm oil than the other vegetable oil like the canola oil, sunflower seed oil, and soyabean oil.
Still based on reports, the production of vegetable oil consumed is still due to the food industry. Food industries concerning various regions have the highest consumption rate of vegetable oil. Also following the food industry is; industrial usage and the biofuel industry. Statistics show that region-wide, Indonesia is one of the highest producers of vegetable oil, achieving over one-fifth of total global production. Following Indonesia is China, Malaysia, and the European Union for the highest production rate of vegetable oil.
Factors strengthening production growth
Development in the food industry
The population growth of the region.
Improvement of living standards
The changes in dietary habits
The demands of certain emerging countries in the region
Large Complete Vegetable Oil Mill Plant Video
ABC Machinery is now the largest commercial oil press machine supplier in China. We have strong technical support, good pre-sale and after-sale service, super designing and manufacturing strength. All types of our oil press machine requires low investment input, but can produce high profits and provide positive user experiences. In many countries, there are the oil processing plant projects built by us, including Mexico, Panama, Thailand, Philippines, Brazil, Jamaica, Togo, Nigeria, Ghana, Tanzania, Cameroon, Australia, etc. If you are interested in any one, please contact to get the latest price and promotion activities.

Good day, I am a commercial feedmiller based in Lagos state of Nigeria, I am interested in your soya oil pressing machine including it's refinery, effectively able to produce fullfat soya, soya cake, soyameal, plus refined oil. kindly send me a quotation for a 5 ton per 12 working hours machinery.
Hello, sir. We just successfully setup a Small Scale Soya Oil Production Plant in Nigeria in 2019, which includes oil pressing, oil refining, oilcake pelletizing for animal, etc. It maybe the project you are looking for. If you want to know the factory design, equipment selection, project cost, running video, or to visit the project, please contact us without hesitation.
Hello, my partner and I plan to open an edible oil press plant in Thailand to press oil. I would like to know what types of large oil press machines your company produces.
Hello, sir. This large oil press production line is mainly different from the output of the small oil press machine. Generally, the single output of the small oil press machine is up to 20 tons per day, and the single output of the large oil press machine can reach 100 tons. /Day or more. The large oil presses we export mainly include 200A, ZX-24, ZX-28, ZX-32, 260, etc.
Request a Quote
We receive enquiries in English, Español (Spanish), Русский язык (Russian), Français (French) and العربية (Arabic).Our professional team will reply to you within one business day.Please feel free to contact us!