Groundnut oil is high in good fat (monounsaturated fatty acid), and low in bad fat (saturated fatty acid), this oil is used to lower cholesterol and to prevent heart related disease. Groundnut oil is also used to make medicine, ointments, and medicinal oil for constipation treatment. It is also believed that consuming the groundnut oil lower the risk of cancer.


Groundnut Oil Mill Business
Throughout the world groundnut oil is very important edible oil because of its good nutritional values and it lowers the cholesterol problem. Hence, this is considered as popular cooking oil. Beside of cooking groundnut oil is very good substitute for other edible oil in bakery and confectionery industries too. It is an essential ingredient of making soap, mayonnaise etc. in domestic industries. It stands on the top among other edible oils. (Read more about Cost Setting up Edible Oil Plant >>)
Business Plan of Small Scale Groundnut Oil Processing Mill
Groundnut oil is in very high in demand in international market, so establishing a groundnut oil processing mill for business purpose is considering as a financially profitable idea for those who want to set up a business in the edible oil production line industry. So if you are interesting about starting a groundnut oil mil business plan, here is a complete business plan of a small scale groundnut oil processing mill. It will be very useful to take these guidances into consideration when starting. (You may also interested in the groundnut oil processing plant setup cost in Africa countries)


Business Plan of Small Scale Groundnut Oil Production
The demand of groundnut oil directly proportional on income and population. Actually it is more depends on income. First you need to check the established manufacturing companies in the market. This will help you in making your project report and business plan. (Similar Project: Small Groundnut and Soybean Oil Production Plant Project in Togo >>)
For groundnut oil business, the main required raw material is groundnuts, also called peanuts, for that you will need to ensure the continuous availability of the shelled groundnuts or unshelled groundnuts. Also, you will check wheather there has stable supply of groundnut oil processing materials, such as caustic soda or bleaching earth for cooking oil refining process. Also, groundnut oil comes in mainly two packaging that is plastic bottle and poly pouch for that you will need to procure cost intensive packaging consumables. Ensure that your raw material supplier should be reliable and professional vendor.
Arrange Finance for Groundnut Oil Production Unit
After preparing the basic like raw material and project report, now it is time to arrange the finance. For small scale groundnut oil processing business, the investment cost is relatively lower. If you have enough funds to start the business with your own, its fine or you will have to arrange the money from other capital firms or from the banks. Depending on your requirement bank offers different kind of customized loans. Like if you need fund for purchasing machinery only, or if you want total project finance bank will fund you according to your specific need. (Related Article: Groundnut Oil Processing Machine >>)
Selection of a Location for Setting up Machinery
Now, you will need a moderate covered area for the groundnut oil manufacturing plant operation. The space area is depends the quantity of production and on the unit size. For example, for a small scale groundnut oil processing factory, you need to cover an area around 100 square metter for the oil processing, oil packaging, raw materials storage and more. Make sure that the location must have water supply and electricity. For setting up the groundnut oil production unit you, can also avail long term lease in any industrial area.
Selection of Groundnut Oil Processing Machine
After determining the space, now you will need to select a right machine because choosing the groundnut oil machine is extremely crucial in this business. You can find a lot of oil milling machines in the international market. Compare the rates and feedback from the industry than decide to go for placing order. The machinery should be best for groundnut oil pressing and oil refining that will be able to produce quality and refined groundnut oil. (Related Article: Edible Oil Refinery Plant >>)

Groundnut Oil Processing Mill Machines
Typical Machines for Small Scale Groundnut Oil Processing Mill includes: Groundnut Shelling Machine, Cleaning Sieve, Cooking or Roasting Machine, Screw Oil Press, Oil Filter Machine, Oil Refining Machine, Pumps, Conveyor, Automatic Bottling Machine and more.
Installation and Commissioning of Groundnut Oil Processing Machines
After selecting the location and procuring the machine, now it is the time to setup the groundnut oil processing machine correctly and make it running normally. If you managed to get some covered space than fine otherwise you can set up the unit under color coated steel roofing sheets.
For the groundnut oil mill production business, even it is in small scale. It is very important to get best distribution network. So that you will secure the best channels that will see your groundnut oil reach to the end users.

Small Groundnut/Peanut Oil Processing Plant Working Video
Small Scale Groundnut Oil Processing Mill at Low Cost
Small Scale Groundnut Oil Processing Mill Price (1~30TPD) is about $7,000~ $50,000, but, the exact cost is decided by the specific groundnut oil processing method and equipment. If you have any interests in setting up small scale oil processing mill to produce groundnut oil, please contact us for more detailed information!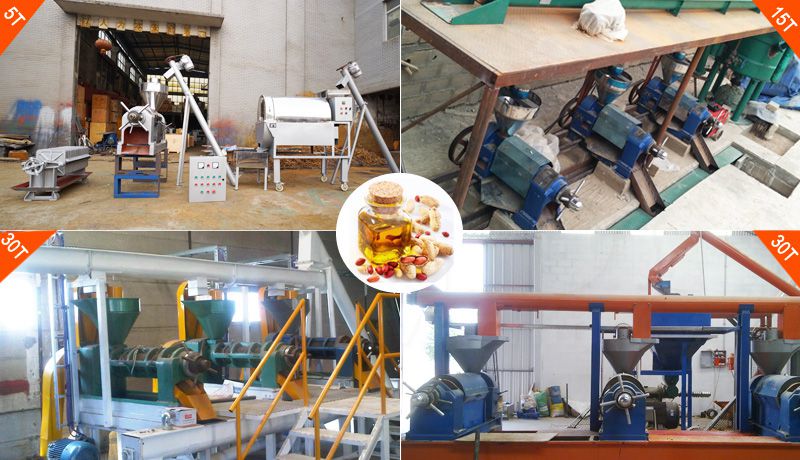 Small Scale Groundnut Oil Processing Mills
For groundnut oil processing business, a small scale type is ideal choice for starting due to its incomparable advantages:
Low Input and High O

utput:

The small scale groundnut oil processing mill requires simple equipment combination, thus it won't cost much money. But, the income is considerable for its high oil output.
Small Spac

e Occupation:

This whole set of small groundnut oil production machine takes up small space
Less Maintena

nce and Easy Operation:

This mature groundnut oil processing method and high quality oil production machine ensure the whole groundnut oil production line runs greatly and long time.
If you have any questions about the how to set up a small scale groundnut oil processing mill, please let us know, we can offer the BEST business plan for you!
Request a Quote
We receive enquiries in English, Español (Spanish), Русский язык (Russian), Français (French) and العربية (Arabic).Our professional team will reply to you within one business day.Please feel free to contact us!