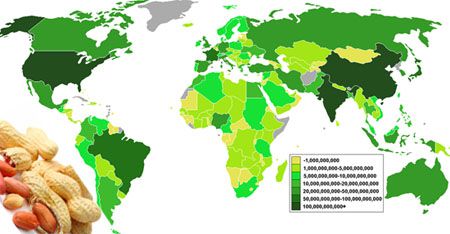 Groundnut, also known as peanut, is one of the most important raw materials to produce high quality edible vegetable oil. Groundnut is planted all over the world, but Asia and Africa are the two leading areas for groundnut. The planting area of groundnut in Asia is about 80%, Africa is 32%, America is 6%, Europe and Oceania is about 2%. Groundnut oil is a kind of vegetable oil that contains high unsaturated fatty acid, about 80%. The fatty acid composition of groundnut oil is very easy to be absorbed by human body. Therefore, based on the information of global groundnut production and the advantages of groundnut oil, it is a viable investment to make cooking oil from groundnut by yourself. It is very easy to get high quality groundnut no matter where you are. All you need is efficient and cost effective
oil press machine
for groundnut. (Read more about
Peanut Oil Press for Sale
>>)
Groundnut Oil Press Machine
Our groundnut oil press machine is integrated oil machine that are built based on human centered design with emphasis in giving users a complete solution to their needs. The process of pressing oil using the integrated oil machine adheres to standards and this makes its usage hygienic. The groundnut oil expeller press machine can run and stop automatically, thus making it easy to use and safe to operate. The groundnut oil machines can be iterated to press oil from different vegetable seeds, like rape seed, tea seed, copra, corn germ, sesame, niger seed, grape seed, sunflower seeds and more.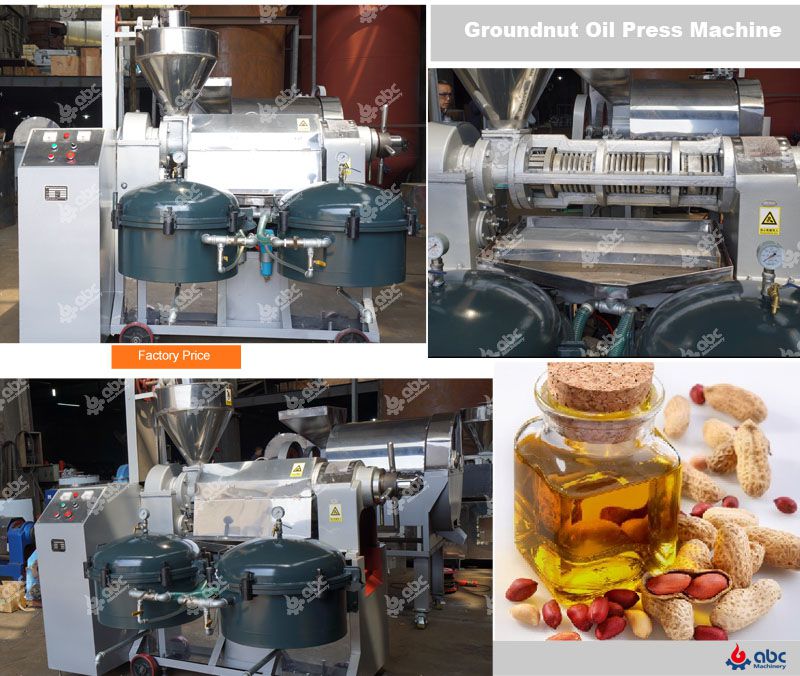 Groundnut Oil Press Machine at Factory Price
The integrated oil machine mainly has four compartments: the feeder, the pressing chamber, electrical control system and the oil filters. Each part is effectively connectable to make a high yield and are added to create a great experience to the users. The oil filtration part is designed with air compressor oil filters that can greatly improve the crude oil filtering efficiency compared to other types of oil filter machines, at the same time, it minimizes the annoying replacements of filtration clothes. In additions, our integrated groundnut oil expeller machine has many outstanding features that makes it a wonderful oil processing unit for making cooking groundnut oil. (See more about Peanut Oil Press Machine Price>>)
It is designed with electric heating pipe in the pressing chamber that includes pressing cage and screw shaft, which can greatly improve the heating time when the machine is started.
It is installed with electrical control cabinet that provides the possibility to control the oil pressing temperature accordingly, thus improving the oil output.
It is designed with oil filter machine, one of the biggest feature different from traditional oil press machines. So, the crude oil coming from the machine can be removed large organic impurities directly.
It adopts stainless steel oil tray and cover above the pressing cage, which offers clean and sanitary groundnut oil pressing.
Application of Groundnut Oil Press Machine
Due to its multi-functional oil processing ability and great design, this types of groundnut oil press machine has wide applications for oil making industry. It is suitable for movable individual oil making factory, small scale oil factory, medium scale oil mill plant and more. (You may also be interested in how to set up vegetable oil pressing plant>>)
ABC Machinery is experts in various oil press machines and this is proof enough that we will service your the most cost effective integrated oil machine wholeheartedly and professionally. Additionallu, we also provide other auxiliary equipment for groundnut oil pressing, including the sheller, cooker, oil filter press and more. If you are interested in any, kindly get in touch with us in any possible way to get more data!
Request a Quote
We receive enquiries in English, Español (Spanish), Русский язык (Russian), Français (French) and العربية (Arabic).Our professional team will reply to you within one business day.Please feel free to contact us!