10~20 TPD oil refinery plant is preferable for small scale and medium scale oil pressing plant to produce highest quality oils to find more wide applications. ABC Machinery is the BEST manufacturer in oil refinery machinery, and has exported a lot of complete oil refinery machine sets to install highly efficient oil refinery plants in the world. (More information at Small Oil Refinery Projects>>)
Soybean Oil Refinery Plant (10~20TPD )
Soybean is one of the annual plants of leguminosae, and it produces about 50% of the world's oil. The oil contend of soybean is about 18%. Soybean oil is one of the most commonly used cooking oils in the world. It is an important source of unsaturated fatty acids for human body, which can lower cholesterol, and also has an auxiliary therapeutic effect on hypertension and cardiovascular diseases. Through refining, soybean oil is mainly used for cooking. But, how the soybean oil is refined?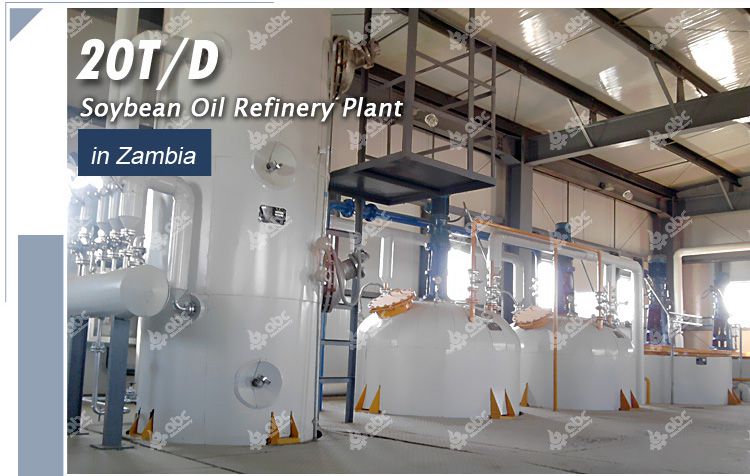 Soybean Oil Refinery Plant in Zambia (20TPD)
Soybean Oil Refinery Plant Process (10~20TPD )
Crude Soybean Oil – Degumming – Deacidification – Decolorizating – Deodorizating – Soybean Oil

Crude soybean oil can be obtained from soybean extraction plant or soybean oil pressing plant. However, crude soybean oil still have some impurities that is insoluble or soluble. For cooking, these impurities must be removed from the crude soybean oil. Detailed process of soybean oil refining is offered below. (
You may be also interested in Soybean Oil Production
>>)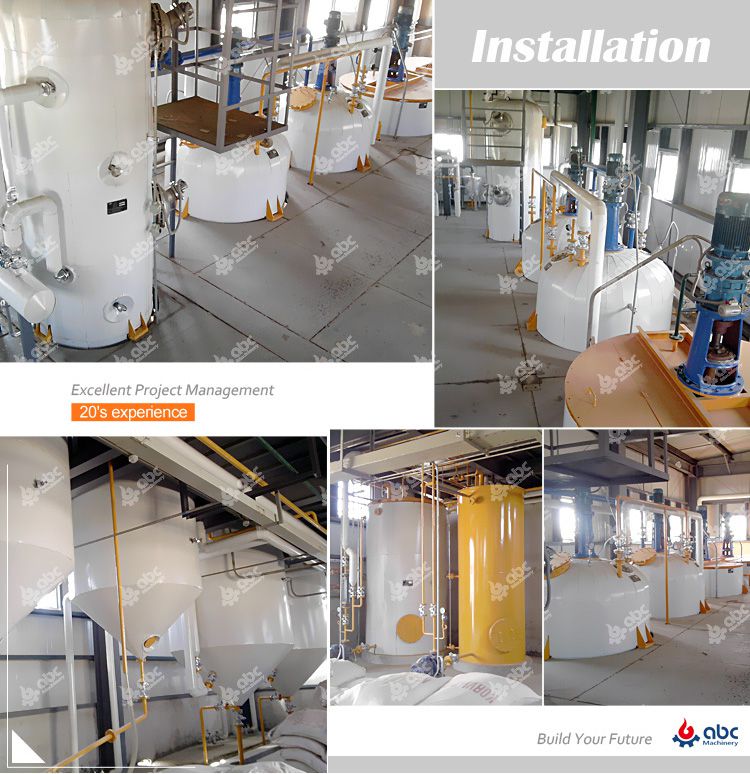 Degumming is to remove impurities, like phospholipid, gum, and protein, and other, by adding hot water or dilute acid, alkali, salt and other electrolyte solution into the crude soybean oil. As a result, the colloidal impurities absorb water, expand and coagulates, finally are separated from soybean oil.
Deacidification is to add alkali to neutralize the free fatty acids (FFAs) and lead to the formation of fatty acid salt (soap) and water. Then, some impurities are absorbed in soap and all sank and separated from the soybean oil.
Decolorizating is to adsorb the pigment and other impurities in crude soybean oil by adsorbents and remove the adsorbents and impurities through filtration to achieve the purpose of decolorization and purification.
Deodorizating is to remove the smelly substance from soybean oil. The most wide used method of deodorization for soybean oil refinery plant is vacuum deodorizating.
ABC Machinery is the BEST soybean refinery plant manufacturer. The 10~20TPD oil refinery plant is suitable for various crude oils, not only soybeans. It can get high quaity edible or nonedibe oils from peanut oil, palm kernel oil, sunflower oils, mustard oil, canola oil, castor bean oil, niger seed oil, and more. Here, we don't list all. If you have any questions about about the oil refinery technology, oil refinery machinery price, please let us know!
Request a Quote
We receive enquiries in English, Español (Spanish), Русский язык (Russian), Français (French) and العربية (Arabic).Our professional team will reply to you within one business day.Please feel free to contact us!