Southeast Asia is the important origin of natural rubber, oil palm, coconut and other tropical economic crops. At present, Thailand's natural rubber and palm oil production, exports are ranked first in the world. The Philippines is the world's largest producer of coconuts and exporter of coconut oil, followed by Indonesia, Malaysia, Papua New Guinea and guinea. Coconut oil is extracted from the dried coconut. Fresh coconut meat contains 30% to 40% oil and 50% water, while the dried coconut contains 60% to 70% oil and 4% to 7% water. Coconut oil has a special fragrance. In 2015, the world output of coconut oil was 5.31 million tons. (Related Post: Coconut Oil Production in Philippines>>)
The World Main Coconut Oil Producers
| Country | Production | Country | Production |
| --- | --- | --- | --- |
| Philippines | 1,758 (1000 MT) | Sri Lanka | 44 (1000 MT) |
| Indonesia | 890 (1000 MT) | Papua New Guinea | 42 (1000 MT) |
| India | 467 (1000 MT) | Thailand | 31 (1000 MT) |
| Viet Nam | 180 (1000 MT) | Malaysia | 25 (1000 MT) |
| Mexico | 137 (1000 MT) | Côte D'ivoire | 20 (1000 MT) |
Coconut Oil Expeller Machine
Coconut oil can be obtained from the traditional or modern method. But, modern method for coconut oil extraction mainly depends on the coconut oil making machine. For commercial purpose, the coconut oil production machine is indispensable to adjust the pressure, temperature and friction. In some cases, the coconut oil obtained may also need some further process to make it better, the most common one is coconut oil refining process. (Related Post: Coconut Oil Refining Machine>>)


Coconut Oil Expeller at Factory Price
Coconut oil expeller machine is the screw type oil press machine that is suitable for oil extraction or oil pre-pressing. For small or medium size coconut oil mill plant, the screw coconut oil expeller is the cost effective machinery in the from these aspects, including oil yield, investment cost, operation and maintenance. Coconut oil expeller machine is now the most commonly used machinery for coconut oil extraction. It makes use of the mechanical pressure to squeeze the oil out from the coconut meat, and discharge the coconut oil and coconut cake. Normally, the coconut meat should be pretreated before loaded into the coconut oil expeller machine, including dry, clean, heat and more. For more convenient use, the coconut oil expeller can be designed with filters or electric control cabinet to ease the operation or simplify the process. Coconut oil expeller is desired for small and medium scale coconut oil factory.
Coconut Oil Expeller Features
Built with high quality carbon steel and stainless steel for durable and clean operation
Designed with simple structure for easy operation and high oil output
Small size takes less space to set up a mini coconut oil mill
Also suitable for a variety of oil-bearing seeds, including soybean, sunflower, cottonseed, peanut, palm kernel and more.
Where to Buy Coconut Oil Expeller in Philippines
Starting a complete coconut oil processing plant in Philippines would be a profitable endeavor for investors, small business start-ups and farmers. Before that, there are many important factors must be understand it clearly, including the coconut oil production process, coconut oil mill machinery, coconut oil processing plant setup cost and local coconut oil production situation and the world and local coconut oil market. ABC Machinery, has been in vegetable oil processing industry for decades, provides the advanced oil processing technology and equipment to lead the success of coconut oil production business in Philippines. (Read more: Coconut Oil Press Machine>>)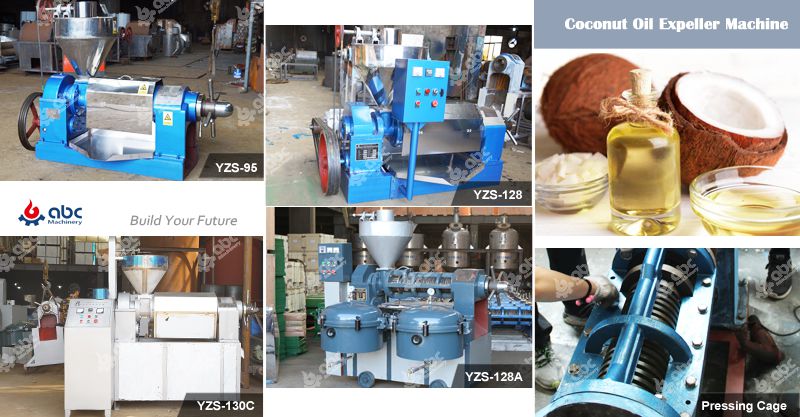 Screw Coconut Oil Expeller for Philippines Market
Philippines Coconut Oil Processing
The Philippines takes the highest market share in the production and exportation of the coconut oil in the world or other words in the oleochemical industry. Due to a rapid increase in the petroleum prices in the world, Philippines took advantage of this and shifted to the natural based raw materials, specifically the Coconut Oil Production. It came with a high-value addition leading to its rapid growth in the coconut industry.


Coconut Oil Processing in Phillippines
There are several factors behind the success of the coconut industry in the Philippines one being the increase in the price of petroleum products. The coconut trees occupy approximately 3.3 million hectares of land. The industry supports a population of 23.5 million farmers and another livelihood. In a year, there is an average total of 2.4 million MT copra production and total 4.9 million copra crushing. Moreover, a total of 1.4 million MT coconut oil production per year. It exports 82% and consumes 18% of the coconut oil produced. The oil has an approximate of $1 billion gross income per year to the country.
Philippines government as taken as action towards coconut oil production. In 2007 the government set a goal to raise output to 3.0 million metric tons of coconut oil. In 2009 the coconut oil production was at 1.4 million metric tons. A phase two of the government goal was to raise the output to 4.5 million metric tons in by the end of 2010 financial year, which was a success.
In conclusion, coconut oil production industry in Philippines has brought a lot of benefits to the economy. It has increased the foreign exchange through increased export, enhanced farmers' purchasing power among others. If you are interested in the small coconut oil expeller or other types coconut oil mill machinery, please contact us for more information!
Request a Quote
We receive enquiries in English, Español (Spanish), Русский язык (Russian), Français (French) and العربية (Arabic).Our professional team will reply to you within one business day.Please feel free to contact us!