Copra and Coconut Oil
It is known to all of us that the dried meat of coconut is called copra and coconut oil is extracted from copra. Philippines is the world's largest supplier of coconut oil, followed by Indonesia, Malaysia, Papua New Guinea and Guinea. The oil content of coconut pulp is up to 60%~ 65%. Coconut oil contains 20% free fatty acid, 2% linoleic acid, 7% palmitate, 9% sheep fat acid, 5% fat wax acid, 2% oleic acid, 45% lauric acid. The sterol of coconut oil was 4.5%, and the soybean sterol and the phytosterol were 31.5%. Coconut oil takes up about 2.5% of global vegetable oils production. Now, the most popular method to extract coconut oil is by oil press machine. Copra oil press can achieve higher oil output while is very affordable.


Copra Oil Press at Low Cost
Most people feel headache about how to choose a suitable oil press machine to extract coconut oil. Now, the copra oil machine developed by ABC Machinery will perfectly solve your coconut oil extracting problems. Most importantly, we offer the factory prices to ensure you get the most cost effective copra oil machine.


Our copra oil press is of state-of-the-art appearance. What makes it different from other copra oil machine is its complete new design, including the hoper, pressing cage, oil cake output design. Firstly, the improved feeding system ensures stable and timely material feeding. Secondly, the pressing cage, designed with stainless steel oil drip pan (if you require), extracts oil out from the copra efficiently. Lastly, the copra oil press can be equipped with new device in its oil cake output to crush the oil cake or oil meal. (See more models and specifications of coconut oil processing machine at Single Screw Oil Press Machine>>)
How to Use Copra Oil Press Extract Coconut Oil
Usually the coconut is dried and turned into copra, and the coconut oil is extracted from copra. Fresh coconut meat contains 30% - 40% oil and 50% moisture, while, dry copra contains is 60% to 70% oil, and 4-7% moisture. The process of mechanical method by copra oil press to extract coconut oil is as below.
Copra →Deiron→Flaking →Cooking→Pressing→Filtration→Crude Coconut Oil
The moisture of copra for coconut oil extracting is about 10% -20%, and grinding diameter of copra is better about 0.3cm in diameter, and the granules are pressed into thin flakes to expand the surface area of coconut oil pressing. Generally, the oil cake of coconut oil is about 6% to 7%. The features of oil cake coming out from a good copra oil press machine are the cake is light brown and the highest residual oil is 8%. And, the thickness of the coconut cake is approximately 0.6cm and the fine powder is no more than 6%. That's what our copra oil press can easily achieve. (If you are interesting in setting up small coconut oil production factory, please find out more information at Small Oil Processing Lines>>)
Magical Effects of Coconut Oil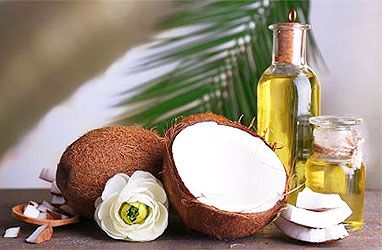 Body and Hair Care: Replenish collagen, reduce fine lines, achieve anti-wrinkle effect, deep discharge makeup, exfoliate, strengthen hair roots and more functions.
Baked Goods: Add coconut oil to your favorite baked goods to make it taste new. It's a perfect choice for vegetarians, and health substitutes butter, shortening and vegetable oil.
Cooking: Coconut oil can go with any ingredients: substitute butter for whole wheat bread, healthy and tasty. Stir-fried and sauteed with a few drops of flavor. It is a wonderful choice for healthy oils. Add fruit and vegetable salad, fresh and tasty.
Fashion and Health: Coconut oil contains a large number of medium chain fatty acids, which can stimulate the metabolism and promote the function of the thyroid gland. The body can quickly burn and produce energy.
Clean Mouth: Coconut oil is rich in lauric acid is a natural antibiotic, effectively kill oral bacteria to achieve the whitening teeth to protect the gums health effects, let you breath fresh and pleasant.
If you are interested in our copra oil press, please don't forget to contact us by below inquiry form or just call us directly. We will reply your questions or inquiry immediately.
Request a Quote
We receive enquiries in English, Español (Spanish), Русский язык (Russian), Français (French) and العربية (Arabic).Our professional team will reply to you within one business day.Please feel free to contact us!