5~10TPD vegetable oil pressing line connects a series oil processing machinery equipment to facilitate oil production from different oil seeds. It is adaptable for many kinds of vegetable seeds and nuts, like palm kernel, groundnut, cotton seeds, sesame, soybeans, and more. It maintains consistent and stable vegetable oil production for optimal efficiency. (You may be also interested in Vegetable Oil Processing Projects>>)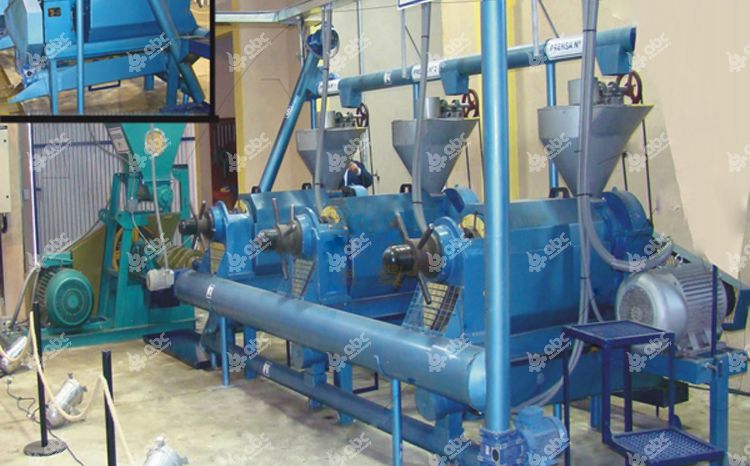 5~10T/D Vegetable Oil Pressing Line
Vegetable Oil Pressing LineSuperior Highlights (5~10T/P)
Easy operation process only requires several staff
Be able to process a great deal of vegetable oil seeds
Simple and short installation, commissioning won't add extra cost
Compact equipment and reasonable layout of every processing stage save much place
The processing stages are similar with large scale vegetable production factory, but the price is much cheap and the oil yield is high.
Automated and continuous pressing ensure high efficiency, stable materials feeding and pressing, effortless production
Customized oil pressing line maximize the oil output based on the specific properties of your raw materials and local conditions.
Vegetable Oil Pressing Line
If you have ambitions in vegetable oil production business, small vegetable oil production line is rather a good investment. A complete vegetable oil pressing line should contain raw material pretreatment machinery, vegetable oil press equipment and crude oil refinery machine. The complete set of vegetable oil pressing generally is cleaning equipment, elevators, cooker, vegetable screw oil expeller, oil filtering machine, and oil refinery equipment. It is not exact machine lists since some raw materials may vary in shapes, size and oil contents. Based on your desirable capacity and raw materials, we will offer the perfect specifications on starting a vegetable oil line.

Vegetable Oil Pressing Line on Installation
Raw material pretreatment: use cleaning equipment to clean out foreign impurities, such as debris, stones, dirt, etc. Use cooking machine to soften and heat the raw materials so as to maximize the oil output.
Vegetable oil pressing: oils are extracted out from oil-bearing seeds in this stage. The vegetable oil pressing line adopts screw oil press to attain oils. Compared to other oil milling machine, screw oil press has considerable advantages. It is easy to operate but maintain high oil yields. It is relative cheap but can achieve the same oil making purpose compared to other types.
Vegetable oil refining: there are about at least four stages of vegetable oil refining, including degumming stage, neutralizing stage, bleaching or decoloring stage, and deodorizing stage. For some materials or usage standards, some vegetable oil processing plant also contain the dewaxing stage in the refining process, but dewaxing should be based actual situation, not oil production line is needed. Degumming is to remove impurities, neutralizing is to remove free-fatty acids (FFA) from the vegetable oils. Then, it comes to decoloring stage to remove pigments and deodorizing stage to remove foul odors to make the vegetable oils fresher and smell.
When all the processes are completed, the vegetable oils pressed and refined can be packed into professional bottles and for market selling. Is that very simple to start a vegetable oil pressing line to deal with many raw materials. If there are any questions or want to know the specific cost and equipment, please contact us!
Request a Quote
We receive enquiries in English, Español (Spanish), Русский язык (Russian), Français (French) and العربية (Arabic).Our professional team will reply to you within one business day.Please feel free to contact us!