YZS-150 Screw Oil Press Machine for Sales
YZS-150 oil press machine is Single Screw Oil Press that is designed with cycloidal reducer for optimized material feeding mechanism. In actual operation, the cycloidal reducer move smoothly with lowest noise. It can be easily installed on YZS-150 screw oil press and can withstand overload and impact so as to ensure the material move more uniformly and stably, guarantee the pressing chamber pressure, and get higher oil output rate. It's very proud that the design of cycloidal reducer on feeding mechanism has been patented the "Utility Model Patent Certificate" (Patent No.: ZL 2011 2 0552143.5) by the State Intellectual Property Office of the People's Republic of China on August 8th, 2012. In addition, the whole design of YZS-150 oil press machihas also been patented "Utility Model Patent Certificate" (Patent No.: ZL 2 0551503.X). The gear box is designed with helical gear, which makes the screw press more stable, the transmission efficiency is high and the noise is low during the whole oil extraction process.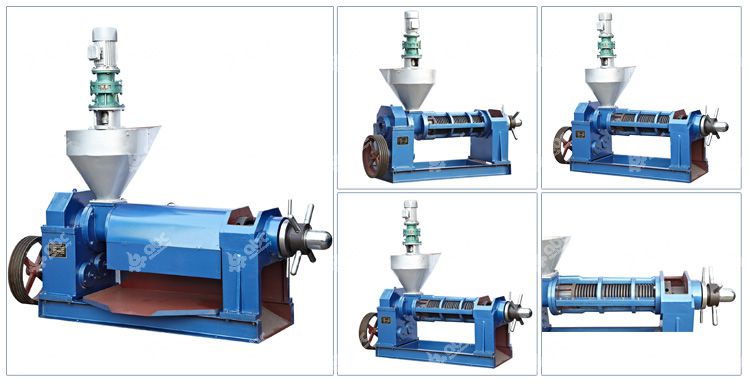 YZS-150 Oil Press Machine
Technical Data of YZS-150 Oil Press Machine
Model
Capacity
Power
Weight
Outline Dimension
YZS-150 Oil Press Machine
750-850kg/h;
18-20T/24hrs
30Kw-6P
1380kg
2180*790*1790 mm3
Among our product range of
oil mill machinery
,
YZS-150 oil press machine outstands out for its high oil yield, simple operation and stable performance. It is very suitable for bulk oil processing, and large and medium oil pressing and refining plants to process various oil-bearing seeds, such as sesame, peanut, cottonseed, coconut, palm kernel, corn germ, flaxseed, canola, sunflower seed and more.
Below we will offer an example of YZS-150 to process palm kernel, and get crude palm kernel oil.
Palm Kernel Oil
Palm kernel oil is derived from the kernel of Palm fruit. Palm kernel oil contains a lot of low - grade fatty acids, so its properties are very different from palm oil, but similar to coconut oil. Fresh palm kernel oil is milky white or yellowish, like solid consistency, with a pleasing aroma of walnut. Palm kernel oil is easily oxidized and decomposed in storage, and then its taste becomes spicy. Palm kernel oil is a common condiment. It is widely used in the growing food business because of its low cost. Its high oxidation stability and the properties of non-cholesterol and trans fatty acids are particularly popular in the refining of the product (saturation), which is good for health. Palm kernel oil contains less saturated acid than coconut oil, so its iodine value is higher. Fresh palm kernel oil is edible. Palm kernel oil can also be divided into solid and liquid by crystallization and crushing. Solid fat of palm kernel oil can be used as cocoa butter, liquid palm kernel oil for baking food, hydrogenation or making soap.

Palm Kernel Oil
How to Use Palm Kernel Oil Press to Make Palm Kernel Oil?
Pressing palm kernel by screw oil press is to separate the oil directly from palm kernel by physical pressure, without any chemical additives, so as to ensure the final crude palm kernel oil safety, sanitation, pollution-free and natural nutrition. The main process of palm kernel oil pressing by palm kernel screw press contain crushing, cooking and pressing. But this is only the palm kernel oil pressing process, the final product is crude palm kernel oil. If you are going to get pure or edible palm kernel oil, the refining or clarification process is necessary.


Palm Kernel Oil Pressing Process
Palm Kernel Oil Pressing Working Video
Advantages of Palm Kernel Oil Press

Palm Kernel Oil Press at Factory Price
Compared with other palm kernel oil extraction methods, extract palm kernel oil with palm kernel oil press by mechanical force is efficient and effective. The pressing process is simple and requires less supporting equipment, at the same time, our palm kernel oil press machine can fit various other oil-bearing seeds, the production of palm kernel oil is flexible. And the quality of palm kernel oil is great, the color is shallow, the flavor is pure and more.
Improved material feeding system of our palm kernel oil pressing machine speeds up palm kernel oil processing process and increases the whole oil pressing efficiency.
It is small in size, easy in operation and stable in performance. This type of palm kernel oil press is absolutely the best choice for small scale or medium scale palm kernel oil production.
If you have any interests in our palm kernel oil press or refinery equipment, please get in touch with us now! we can offer the most competitive price for you!
Request a Quote
We receive enquiries in English, Español (Spanish), Русский язык (Russian), Français (French) and العربية (Arabic).Our professional team will reply to you within one business day.Please feel free to contact us!