ABC Machinery is professional oil refinery machinery supplier in China, the small scale oil refinery plant, with capacity of 5 ~10 tons per day, has been the area of excellence of our company. It is available for palm kernel oil, corn germ oil, peanut oil, soybean oil, sunflower seed oil, rape seed oil, rice bran oil, coconut oils and more. The simple and compact structure, easy operation, less maintenance, excellent refining results have been well recognized by our worldwide customers.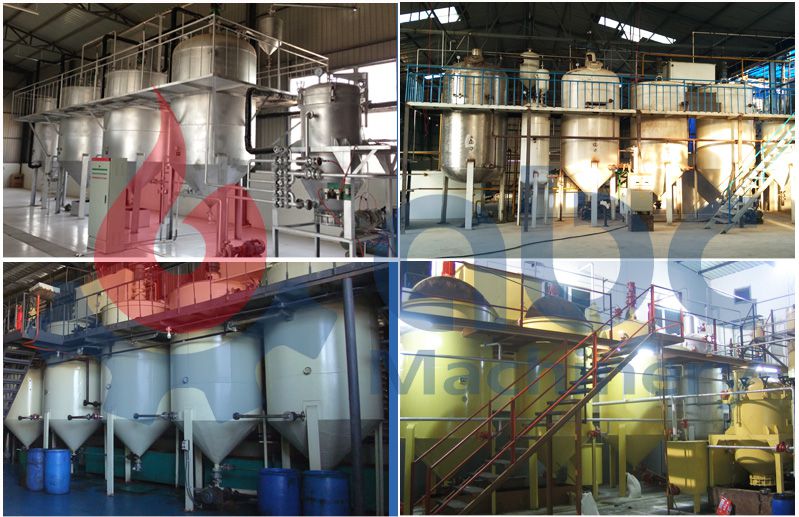 Small Scale Oil Refinery Plant (5~10T/D)
Basic Principle of Small Scale Oil Refinery Plant - Palm Kernel Oil
Below is the detailed information of a small scale oil refinery plant for palm kernel oil. Oil palm usually can produce two completely distinctive oils, palm oil obtained from fresh palm fruit and palm kernel oil derived from the kernels. Palm kernel oil contains a lot of low - grade fatty acids, so its properties are very different from palm oil, but similar to coconut oil. Crude palm kernel oil, extracted by pressing process, is to be refined within in oil refinery plant through a series professional process to get final refined palm kernel oil, including degumming stage, deacidification stage, decolorizing stage and deodorization stage. After refining, palm kernel oil is edible and can be stored for a longer time. (You may be also interested in Palm Kernel Oil Press>>)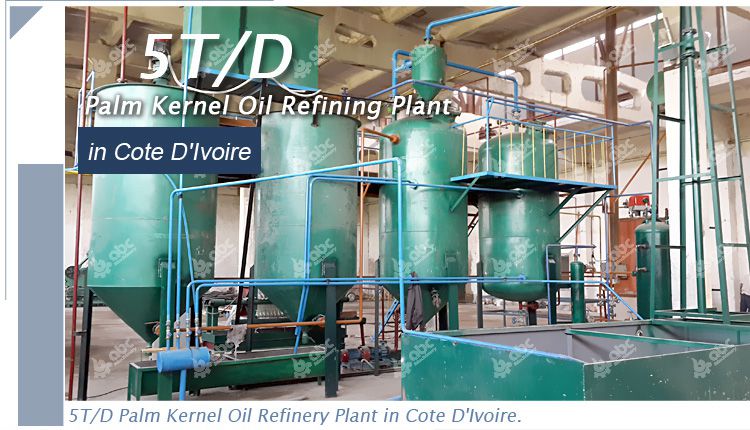 Palm Kernel Oil Refinery Plant (5TPD)
Degumming Stage
The methods for palm kernel oil degumming include hydration degumming process, acid degumming technology, basic training methods, adsorption method, electric method, the thermal fusion method, etc. But the mostly used is hydration degumming. It mainly utilizes the hydrophilicity of colloidal impurities, such as phospholipids, to condense colloidal impurities under stirring after adding hot water or dilute alkali, salt, phosphate, such as electrolyte aqueous solution, further settling separate palm kernel oil and colloidal impurities. In the process of hydration degumming, the material that can be coagulated and precipitated is mainly phospholipids, and the protein, glycosylated glycerin diester, mucous and trace metal ions are combined with phospholipids to be refined.
Deacidification Stage
Crude palm kernel oil contains a certain amount of free fatty acids (FFAs), and the process of removing free fatty acids in palm kernel oil refining process is called deacidification.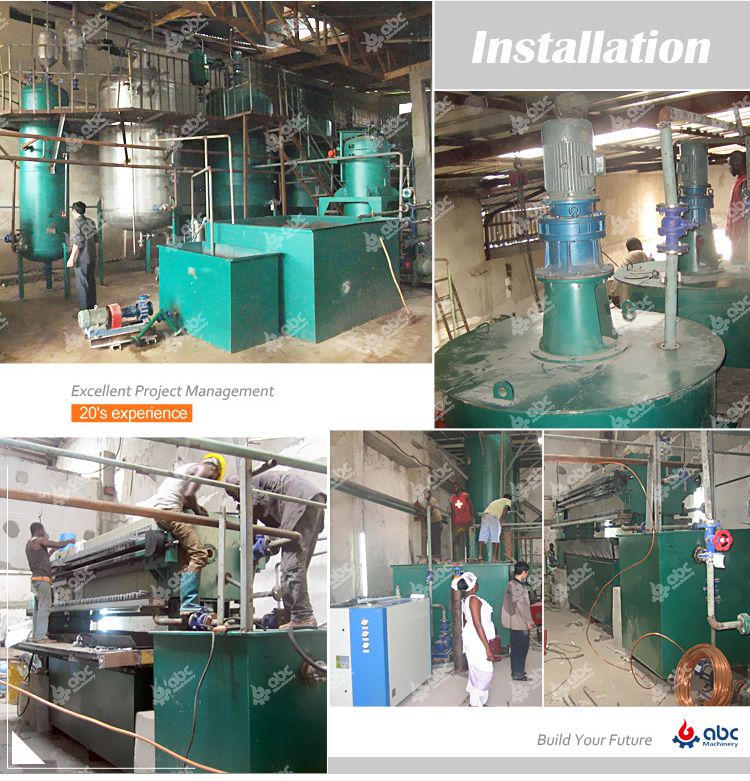 Decoloring Stage
Decoloring is necessary to produce high quality palm kernel oil. It can remove chromaticity, peroxide, trace metals in oil, soap residue, and lecithin, etc., and can prevent back color, improve the shelf life of refined palm kernel oil.
Deodorization Stage
Deodorization is a refining process using the volatility difference between odors composition and triglycerides, under the condition of high temperature and vacuum, to remove odor materials by using steam distillation. Deodorization not only can remove the odor, improve the smoke point, improve the flavor, but also improve the stability, color and quality of palm kernel oil. Because deodorization also can remove free fatty acid, peroxide and some heat-sensitive pigment, eliminate mildew oil protein decomposition of volatile content, remove small molecular weight pahs and residual pesticide, and fell to within the safety degree. Therefore, deodorization is highly valued in the production of high-grade palm kernel oil.
Advantages of Palm Kernel Oil Refinery Technology (5~10TPD)
The bleaching clay is mixed with crude palm kernel oil under vacuum condition, avoiding the influence of the air, make the utmost use of bleaching clay, getting better effect of decoloring. Under the same decoloring effect, our palm kernel oil refining machine uses less clay.
The palm kernel oil refinery line can add bleaching clay accurately and automatically based on the measurement and requirements of decolorizing.
All the bleaching clay particles are perfectly contacted with oil evenly for optimal results.
The temporary storage tank for colloform oil is designed with negative pressure, which effectively avoiding the contact between oil and air, so that the quality of intermediate products and final products are of more stable properties.
Fully automated filtration system is easy to operate and contributes to more stable palm kernel oil refining
ABC Machinery has been dedicated to designing, manufacturing and exporting
various oil refinery plant
for our customers. We are leading manufacturer and exporter in the field oil
small oil refinery plant
.
Anytime you feel interested in oil refinery, please get in touch with us for more detailed information!
Request a Quote
We receive enquiries in English, Español (Spanish), Русский язык (Russian), Français (French) and العربية (Arabic).Our professional team will reply to you within one business day.Please feel free to contact us!