ABC Machinery enjoys great reputation among vegetable oil production sector by supplying quality guaranteed oil processing machinery at factory price, helping our customers establishing efficient factory to start their business. In recent years, it starts to hold the #1 oil processing machinery share position in China. We manufacture and distribute screw oil press machine, integrated oil extraction machine, oil mill plant, oil refinery machinery and oil-seeds pretreatment equipment for customers all over the world.
Small Scale Coconut Oil Extraction Machine
The small scale coconut oil extraction machine provided by ABC Machinery is screw type oil press expeller that makes use of the mechanical pressure to extract oil out from the raw materials. It is easy to operate and maintenance, which makes it the TOP choice for small scale oil making business workshops. The main structure of coconut oil extraction expeller is feeder, gear box, pressing cage and machine base.
Mechanical Coconut Oil Extraction Process: the dry coconut with 10% ~ 12% moisture is transported to the automatic scale to remove the broken iron through the magnetic chamber, and is ground into particles of about 0.3 cm in diameter, and the particles are pressed into a thin sheet to enlarge the surface of the dried coconut oil extracting.
Pre-treated dry coconut material was steamed and tempered in a frying pan at a temperature of 115°C for 20 min. Under this condition, the phospholipid precipitated due to rupture of the fat cells, and the water content was reduced to 3%. The whole size is uniformly steamed and the raw material is sent to coconut oil extraction expeller press for continuous pressing and oil extraction. The inner section of pressing cage is the core part of coconut oil extraction. And the oil is mostly discharged according to the uniform decreasing characteristic curve. In general, the pressed coconut oil cake residual is about 7%.
The characteristics a well-maintained coconut oil screw press are as follows:
Oil color is light 8/50 (R/Y is measured by Lovibond method)
The cake is light brown, the highest residual oil is 8%
The thickness of the coconut cake is the same, about 0.6cm fine powder does not exceed 6%
Different Small Coconut Oil Extraction Machine Parameters

Oil Yield Rate of Various Oil-bearing Seeds & Oil-Rich Plants
Small coconut oil extraction machine can be used to produce vegetable oils from a variety of oil-bearing seeds and oil-rich plants, including canola, peanut/groundnut, palm kernel, sesame seed, sunflower seed, castor seed, cotton seed, camellia seed, moringa seed, niger seed, black cumin seed and more. The multi-purpose coconut oil extraction machine is popular among customers at home and abroad.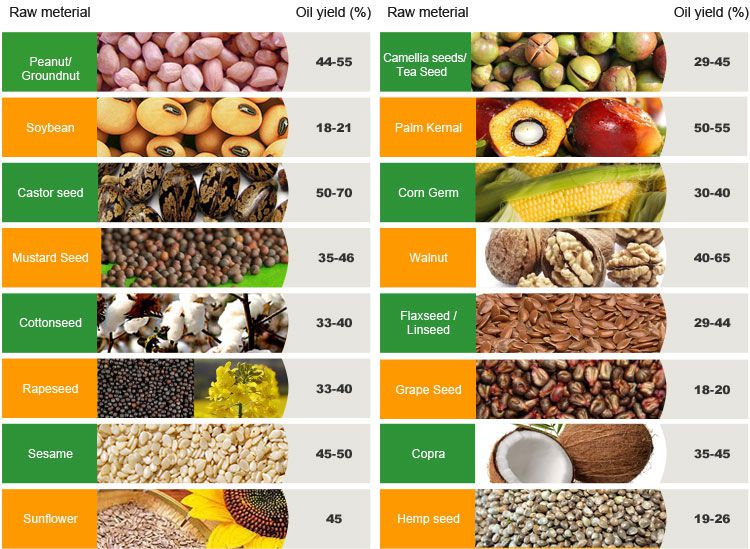 What's Coconut Oil?
The main production areas of coconut trees are located in Asia, the islands in the Pacific Ocean, Africa and the south-central Americas. And the production of coconut trees is high. Usually coconut meat is dried and turned into copra, and coconut oil is extracted from copra. The fresh coconut meat contains 30%-40% oil and 50% water, while the dried coconut/copra has 60% -70% oil. Coconut oil, with 4%-7% moisture, has a special aroma. The Philippines is the world's coconut oil supplier, followed by Indonesia, Malaysia, Papua New Guinea and Guinea.
Due to the high content of low-carbon fatty acids in coconut oil, although its saturated fatty acid content is above 90%, the melting point of coconut oil is still only 24-27 °C, which is semi-solid at room temperature. The main component of coconut oil is lauric acid, myristic acid and palmitic acid and their melting point is respectively 44°C, 54 °C and 63°C. The difference between the highest melting point and the lowest melting point is only 19°C. The melting point of the constituents of the triglyceride is also small, resulting in a narrow plastic range of coconut oil. The hard portion of coconut oil fractionation is often used as a raw material for cocoa butter and margarine. The flavor of coconut oil is mainly attributed to trace amounts of δ-lactone and γ-lactone, giving coconut oil a creamy aroma.
Low-carbon fatty acid triglyceride is one of the ingredients in medical foods and baby food formulas. Coconut oil is not only rich in C12 fatty acids, but also contains more than 15% C6, C8, C10 fatty acids, and is the most abundant source of low-carbon fatty acids. Coconut oil also contains about 0.5% of unsaponifiables, including sterols, squalene, pigments, carbohydrates and trace amounts of vitamin E (mainly δ-tocopherol, alpha-tocotrienol and δ-fertility).
In addition to single coconut oil extraction machine, ABC Machinery also supply turnkey solutions for compelet coconut oil production plant. And, we have gained rich experices in coconut oil mill plant setup in Philippines, countries in Africa, such as Ivory Coast and more. If you have any interests in coconut oil extracting, filtration and refining, please do not hesitate to contact us!
10TPD Coconut Oil Refining Plant in Philippines
20TPD Semi-continuous Coconut Oil Refinery Plant in Philippines
10TPD Small Scale Coconut Oil Refining Factory in Ivory Coast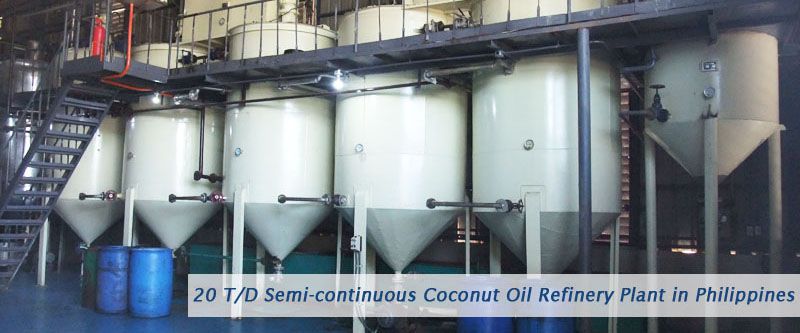 Good afternoon, looking at investing in coconut oil production through fractionation.
Interested with information on a small 1TPD system operating 12 hrs per day, equipments needed and the cost. We will setup the mill in Negros, Philippines with high humidity raw materials.
Hello, thanks for your interests in our coconut oil processing machines. We have rich experiences in set up complete coconut oil mill plant in Philippines. We have arranged the engineers who is in charge of Philippine Market to contact you for details of the capacity, machinery, price, etc.
Please send me quotation for 1 complete set of coconut oil processing machine using copra as raw materials.
Hello, sir. Our coconut oil extraction machine are ideal choice to process copra for edible oil. The detailed types and price list have send to you. Please check it and any questions, do not contact us without hesitation.
Hello,
I'm planning to start a mini coconut oil mill. please send me a qoutation and information it. Thanks
Hello, dear,
For a mini coconut oil mill, the capacity is normally about 1 ton per day to 20 tons per day;
The general cost of a 5tpd mini coconut oil mill plant is about $7,000 or above.
But, this is not the fixed cost, the exact price should be based on the capacity, equipment and requirements for final coconut oil;
Please send the quick inquiry to us to get the customized factory design, equipment list and detailed price. Thanks.
Request a Quote
We receive enquiries in English, Español (Spanish), Русский язык (Russian), Français (French) and العربية (Arabic).Our professional team will reply to you within one business day.Please feel free to contact us!