What is Black Cumin Seed Oil?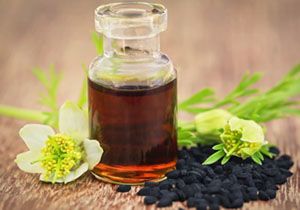 Black seed oil, also called black cumin seed oil, is sourced from the seeds of Nigella Sativa Plant. Black cumin seeds are small, black and crescent. Backed to ancient times, the black seeds oil was first found that has great effects on digestive problems. Black seed oil contains rich Omega fatty acids and active compounds, including myristic acid, palmitic acid, stearic acid, palmitoleic acid, oleic acid, linoleic acid, arachidonic acid, proteins and vitamins B1, B2,B3 and more. Due to its beneficial effects on human health, black seed oil has been increasingly popular.
Screw Black Seed Oil Press
In order to maintain the active components and get the most natural black seed oil, Screw Oil Press is the most cost effective machine for black seed oil extraction. The whole oil pressing process by screw oil press is no chemical additions since it involves a mechanical press instead of using chemical extraction process. Extracting black seed oil with screw oil press is easy and convenient, a normal people whole are lack of any technical background can operate proficiently. (You may also like Sunflower Seed Oil Machine >>)

YZS-85 Screw Black Seed Oil Press
Small Black Seed Oil Press Working Principle
Generally, the small screw black seed oil press is made of feeder, gear box, pressing cage, screw axis and stand. The screw oil expeller enforces grinding pressure to the materials by making use of the pushing force of the pressing screw, the turning force of the chamber of the grinding rol, the mutual abrasion and pressing between the materials and the charges in the volume of the grinding roll, consists of three parts: Compressing Force, Cookie Release Resistance and Abrasion Resistance. During the grinding, rather great abrasion resistance will grow between the materials and pressing ring and pressing bars, the materials and the grinding screw and the materials. The heat resulted from this will help improve the thermal change of protein in the materials, damage the colloids, improve plasticity, reduce the viscosity of the oil and improve the pressing effects.
Process of Black Seed Oil Pressing
Before starting oil pressing, the black seeds should pretreated to get the most favorable oil yield, which including cleaning, crushing, softening or cooking.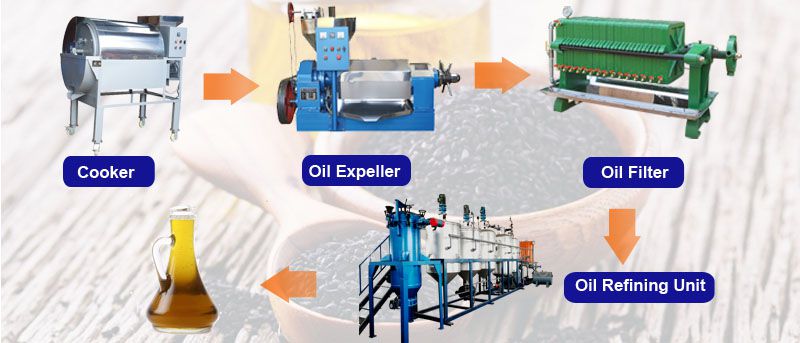 Small Scale Oil Pressing Plant for Black Seed Oil
Cleaning: This is a very basic process for any oil pressing. This process is to remove any dirt and foreign impurities from the seeds so as to get the clean and pure oil.
Cooking: Cooking is great process highly recommended for screw oil press, since it will help the the control the moisture and temperature of the raw materials for better oil pressing results.
Pressing: Oil Pressing is pretty easy with our YZS Series Oil Press Machine, which enables you easily set up a small scale oil pressing plant.
Filtration: Uses plate and frame oil filter to remove the impurities of extracted crude oils to improve the purity and quality of pressed oil.
Refining: For scale oil pressing, especially for edible oil making, oil refining process is also necessary for a oil processing plant. The quality of the oil can be greatly improved and more fit for storage after oil refinery.
BEST Black Seed Oil Machine for Sales
Oil Press with Auto-Temperature Control & Integrated Oil Press with Filters
ABC Machinery Offer BEST oil making machine for black seed oil extracting. All of our oil machine are very suitable for small or medium scale oil production, not just black seeds, but also sunflower seeds, soybeans, mustard seeds, palm kernel, groundnuts and more. For more detailed technical specifications and latest price list, please contact us direclty!
I wanted to buy black seed pressing machine. Am from Ethiopia means that impossible to get dollar easily here. Hence, do you have an agent in Ethiopia just to buy here from your customer supplier.
Best regards
Dear Sir/Madam,
I am sorry we haven't agent in Ethiopia at present. But, we have been exporting oil processing equipment to Ethiopia. Our service team will try to help you on money matters. Thanks.
Dear sir/madam, i want to have small scale black seed oil milling and refining machine. Can you help me?
Hello, we are very happy you choose our company.
We not only can provide you with single oil processing machine, but also offer turnkey project, including machine selection, equipment installation and commission, technical training and more. Our professional team will provide you the over-all service to have you setup an efficient black seed oil production plant.
Thanks.
Request a Quote
We receive enquiries in English, Español (Spanish), Русский язык (Russian), Français (French) and العربية (Arabic).Our professional team will reply to you within one business day.Please feel free to contact us!