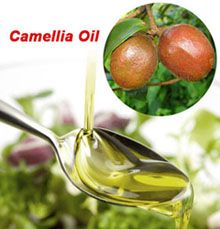 Camellia seed oil, also known as tea seed oil, camellia oil, is extracted from the seeds of theaceae camellia genus. Camellia oil is pale yellow golden in color, high quality, clear transparent and pure flavor. It is a senior natural edible vegetable oil since camellia oil is stable in quality, has long shelf life, high temperature resistance, good oxidation resistance and easy digestion and absorption. Camellia oil is one of the world's four woody vegetable oils. The noble quality of camellia oil is in line with the requirement of people advocating nature and improving the quality of life. (You may als like Cheap Vegetable Oil Production Line>>)
Camellia Oil Press Machine – Premium Quality
Camellia oil press machine is a new model ABC Machinery designed to extract oil from camellia seeds. It has all the advantages of screw oil press, but also has many outstanding new features, which makes it the most suitable oil press machine for camellia oil production.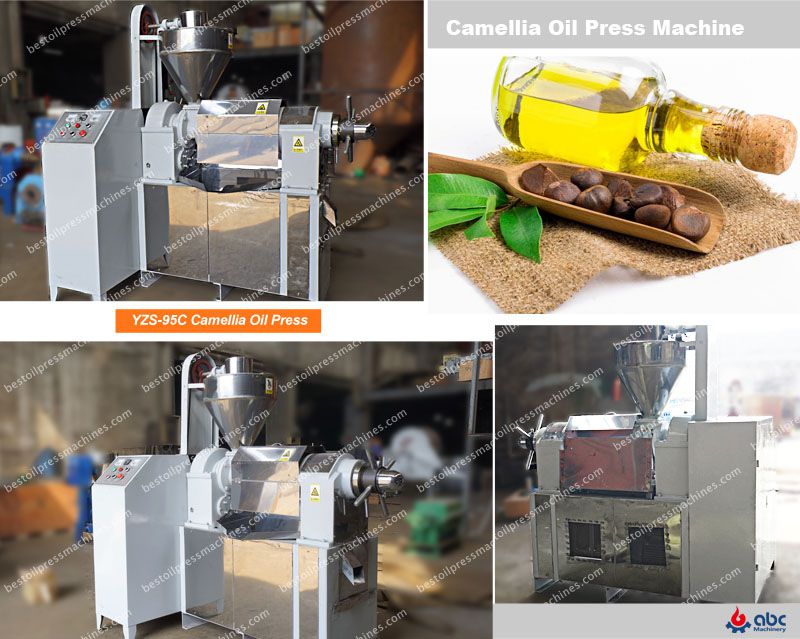 Internal Electric Heating Pipe in the screw shaft and pressing cage provides pre-heating for the main machine and pressing parts, which saves the time of machine pre-heating, further makes a difference on the oil yield

Electric Control Cabinet

is designed to monitor the temperature of pressing cage automatically, so it can ensure reliable heating and improve the oil yield.
The

Motor

is installed beneath on the pressing chamber and covered with protective stainless steel, which not only saves the space, but also improve the height of the whole machine and avoid to building a base for the oil press machine.
High quality Stainless Steel is used to build for upscale and clean oil press machine.
It is also suitable for other oil-bearing seeds, both normal and rare materials, such as peanut, soybean, palm kernel, niger seeds, black seeds, jojoba and more.
Technical Data of Camellia Oil Press Machine
| Model | Capacity | Pressing Power | Electrical Heater Power | Weight | Size |
| --- | --- | --- | --- | --- | --- |
| Camellia Oil Press | 150-200kg/hour | 11Kw | 0.8Kw | 750kg | 1.67*1.00*1.61m |
How to Make Camellia Oil?
Normally, the process of camellia oil making involves a series of steps.


First, the camellia seeds should be cleaned to remove all the impurities. There have many methods for cleaning, such as selection by winnowing, screening cleaning or magnetic separation. (Read more about Seed Cleaning Equipment >>)
Second, it is necessary to get rid of the shell of camellia seeds, which can be achieved by sheller, fan or camellia seed shell separator. (Read more about Sheller Machine >>)
Third, it is better to cook or fry the camellia seed for highest oil yield. For example, if using the frying pan to cook the camellia seeds, when the embryo has glossy and touched hot by hand, and the temperature is controlled between 115 ~ 125 ℃, the water content reaches about 3%. The quality of steaming and frying will directly affect the yield efficiency of on any account. So, paying attention on the cooking of camellia seeds is vital. (Read more about Cooking Machine >>)
Fourth, it comes to camellia oil pressing. And it is suitable to have the rotate speed of camellia oil press of 40~42. (Read more about Wholesale Oil Making Machine >>)
However, it is not over when the oil coming out from camellia oil press machine, since there are many impurities contained in the crude oil. So, we suggest plate and frame oil filter press to remove the impurities for pure camellia oil. It is also recommended to have oil refining equipment for higher quality of camellia oil. (Read more about Edible Oil Refinery Machine >>)
Camellia Oil Pressing
Camellia Seed Oil Benefits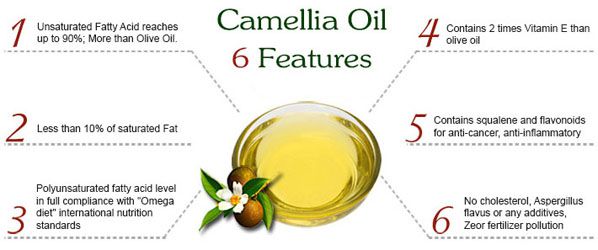 The benefits of camellia seed oil has many, which can be seen from its camellia oil compositions. The monounsaturated fat is more than 80% higher than olive oil. The content of saturated fatty acids is less than 10%. The content of polyunsaturated fatty acid conforms to the nutrition standard of "omega diet". And it is high in vitamin E, twice as much as olive oil.
ABC Machinery is professional oil press machine and oil processing machinery supplier. Besides, we have an unrivalled expertise in providing turnkey projects of oil mill plant, both small and large. If you are interested in our camellia seed oil press machine or other oil extraction equipment, contact us without any hesitation, we are always here for you!
Request a Quote
We receive enquiries in English, Español (Spanish), Русский язык (Russian), Français (French) and العربية (Arabic).Our professional team will reply to you within one business day.Please feel free to contact us!