ABC Machinery enjoys great reputation in offering premium quality oil mill machinery for various oil bearing seeds. With the aim to better meet the demands of the changing market, we not only provide a wide variety of oil processing machines, but also boasts strong capacity to set up complete vegetable oil mill project in all scales. Our professional technical staff and up-to-date oil processing equipment makes us the BEST choice for our customers. If you are going to set up a mini or small size oil mill plant for commercial purposes, this article will detail the specific steps about how to start a mini oil mill for business.
What is Mini Oil Mill?
Oil mill is an processing factory that designed to extract oil from various oil-bearing seeds and oil-rich plants. The produced oil can be used for food industry as cooking oil, or other industry to make lubricants, biofuels or other products. At the same time, there will have oil cake or oil meal left after the oil is squeezed out from the raw materials. These oil cake or meal can be used in food or fertilizer. (You may also like Mini Oil Press >>)


Vegetable Oil Mill Plant
Mini oil mill is a complete set oil processing factory with small capacity. Different from large scale oil mill plant, mini oil mill is more likely to enter local market and provide more possibilities for investors to step into vegetable oil production business. From efficiency and investment aspect, mechanical pressing extraction and batch oil refining are the most cost effective methods for a complete mini oil mill plant to ensure the profits. Mechanical pressing means to adopt small screw oil press machine to extract crude oil, while batch oil refining method means to produce high quality edible or non-edible oil through small size equipment.


Mini Oil Mill Plant
Why Choose to Setup a Mini Oil Mill?
Low investment cost, high oil profits
Easy to install, commission, operate and maintain, one or two operator can complete daily oil production capacity
Simple equipment selection and small factory land requirements
Suitable to process a very wide range of raw materials.
What the Mini Oil Mill can Process?
Most of the oil-bearing seeds and oil-rich vegetable plants can be extracted oil at
mini oil mill
, including peanut/groundnut, palm kernel, sesame seeds, sunflower seeds, mustard seeds, black seeds, moringa seeds, rice bran, rape seeds, soybean, copra, cottonseeds, grape seeds, tea seeds and more.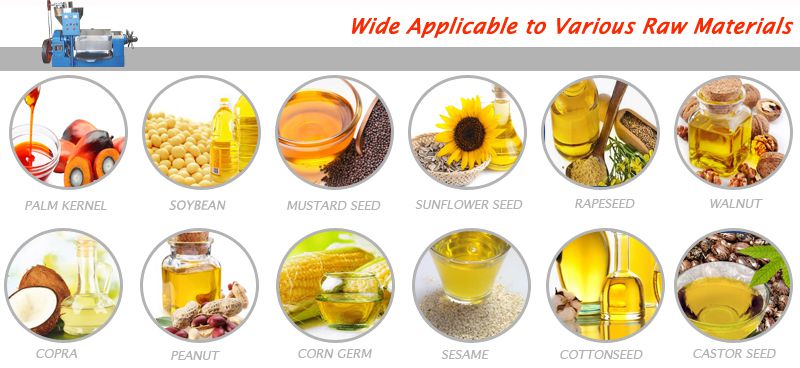 What Equipment is Needed for a Mini Oil Mill?
Although different raw materials may require different processing equipment, there are some equipment that is the basic for an oil mill. Firstly, some of oil processing auxiliary equipment used to treat seeds may be needed for best oil pressing results, such as cleaning sieve, destone machine and more. For example, if the raw material is peanuts with shells, it is needed to have a peanut sheller. Secondly, screw oil press is one of the most important unit since it the core part to get oil. Now, screw oil expeller is not limited to single screw oil press, the integrated oil press with filters are also popular for mini oil mill. Thirdly, the crude oil extracted from the oil press should be filtered to remove organic impurities, so the oil filter machine is also favorable for oil mill. Besides, oil refining unit is now more and more popular in small scale or mini oil mill plant, because it can help to get high quality and edible oil for human beings.
Oil Press Machine
Screw oil press is used in a mini oil mill to extract oil out from raw materials through mechanical pressure. It is small in size, efficient in oil pressing. Very cost effective oil mill machine!
Oil Mill Cooker
Cooker is used in oil mill plant to increasing the oil output by warming up the raw materials before loading into oil press machine. It is energy-saving and can distribute heat evenly.
Mini Oil Filter Machine
Mini oil filter machine is to purify or filter the crude vegetable oils. It is equipped with oil pump and motor, so it is easy to operate. It is also suitable for high temperature oil filtration.
Mini Oil Mill Refinery Unit
Mini oil refining unit is to remove the FFAs, phospholipids, colors, odors and other substances and make the vegetable oils edible for human or useful to make other products.

You may have a little confused about all the equipment in a mini oil mill plant, don't worry, just tell us your raw materials, your capacity, your requirements, we will offer you the customized equipment selections to maximize the investment and profits!
How to Set up an Efficient Mini Oil Mill with Low Investment?
Before starting, it is necessary to check out all the factors related to oil mill plant so as to eliminate problems caused by thoughtless decision. (You may also like Mini Oil Mill India >>)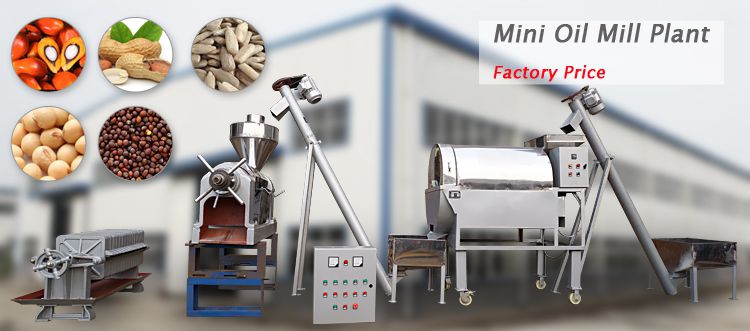 Decide the raw materials, ensure the raw materials supply
This is the first step before starting, you must have a clean idea about which kind of vegetable oil is needed in your market, is the supply of the raw materials is stable.
Raise as much money as you can
If you have enough capital, you can ignore this step. But if not, please find more ways to get much more money. Money can be a very important factor for the production capacity, the quality of final oil.
Seek, select & evaluate supplier according to the production requirements
A reliable oil mill machinery manufacturer and supplier will help you greatly save the cost and solve problems quickly and effectively.
Market the final product to gain profits
The marketing plan catering to local market needs is also important steps of the mini oil mill business.
Setting up mini oil mill plant is easy if you have full understanding about its working processes, the equipment. More importantly, a trustable supplier will save much of your money while ensure the quality for long-term working. If you are really interested in commercial mini oil mill, please get in touch with us directly for more technical parameters and other information!
we are considering a small start up cold seed oil procession production.
we have only 3 to 4 labour personsal for production. we intend to produce about 1000 kgs of seeds a day . we intend to produce moringa seed oil, cotton soya beans, palm kennel oil, coconut oil and many other tropical seed oil .
please feel free to recomend a mashine of this type for a start up bussines. Thanks.
Dear sir/madam,
3~4 staff is totally enough to operate a mini scale oil mill plant. It is available for a mini oil mill plant to process various oilseeds, but the detailed equipment and design are needed to adjust accordingly. Detailed information has been sent to you, please check your email inbox in time. Thanks.
I want to establish a mini mustard oil mill in my village . Please send your valuable suggestions.
Dear sir/madam,If you are planning to set up mini mustard oil mill plant in your village for home use or business us, it is a great choice to try Automatic Mustard Oil Extraction Machine that takes up small space. More importantly, it is equipped with oil filter machine for oil purification. For more detailed information, please contact us directly. There are various types and models available for a mini oil mill.
Request a Quote
We receive enquiries in English, Español (Spanish), Русский язык (Russian), Français (French) and العربية (Arabic).Our professional team will reply to you within one business day.Please feel free to contact us!