What is Automatic Mustard Oil Machine?
Automatic mustard oil machine is a new type screw oil press that was developed to adapt to market changes and facilitate people's operation in oil making workshops or oil mill. The raw material can be automatically pressed and filtered. One person can operate it easily. Automatic mustard oil machine is advanced in design, reliable in performance, simple in operation and convenient in maintenance. It also has the features of energy-saving, high oil yield, manpower-saving, wide usage, small footprint. More important, it produce relatively pure oil. For those who do oil making business in market, this is absolutely the BEST choice.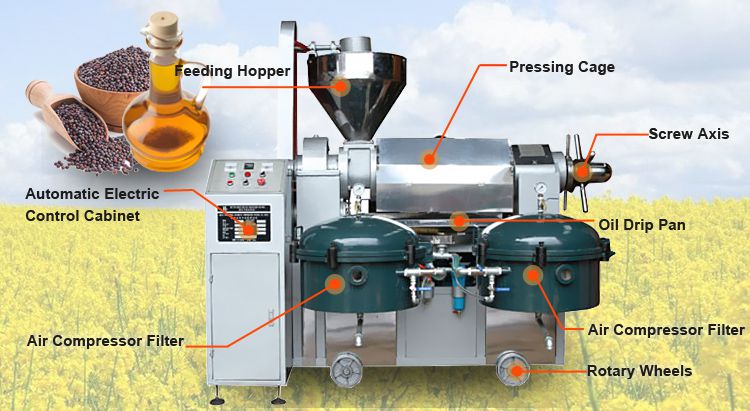 Automatic Mustard Oil Press Structure
Advantage of Automatic Mustard Oil Machine
The main mustard oil machines with automatic system and filters are YZS-95A, YZS-125A, YZS-128A and YZS-130A. The economic benefits of automatic oil press machine are considerable since they have many outstanding features in dealing with mustard oil pressing. (Read more about Mini Mustard Oil Mill Plant Setup in India >>)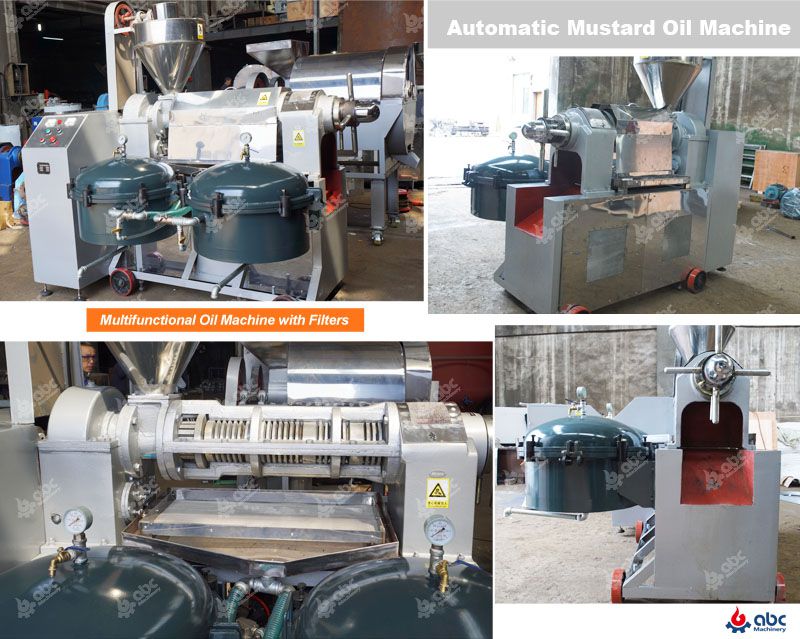 Reasonable Pressing Chamber & High Oil Yield
By adopting multi-stage progressive pressing, the pressure of the pressing chamber is rapidly increased, the oil is separated by fission once. Automatic temperature control system automatically control the temperature and moisture of oil pressing, so the raw material can directly soften and activate the oil molecules for maximum oil output.
Premium Quality Steel & Precise Technology
High-carbon steel, through high-frequency quenching, heat-resistant treatment, ensures high hardness, high strength, good wear resistance. So oil machine can adapt to high temperature and high pressure continuous operation, which improve the service life of oil press, generally the service time can be up to several decades.
The two-in-one multi-functional mustard oil machine only requires one or two to operate. A workshop of about 10~20 square meters is enough for its normal operation.
Wide Applications to Plant Seeds
It adopts multi-stage oil pressing for high oil output and can be used to process a very wide range of oil-bearing seeds, including mustard seeds, soybeans, peanut/groundnut, rapeseed, palm kernel, copra, black seeds, castor seed and more.


If you want to know more detailed technical parameters of automatic mustard oil machine, please contact us directly.
Automatic Mustard Oil Expeller in Working
Mustard Oil Machine in Medium-size Oil Mill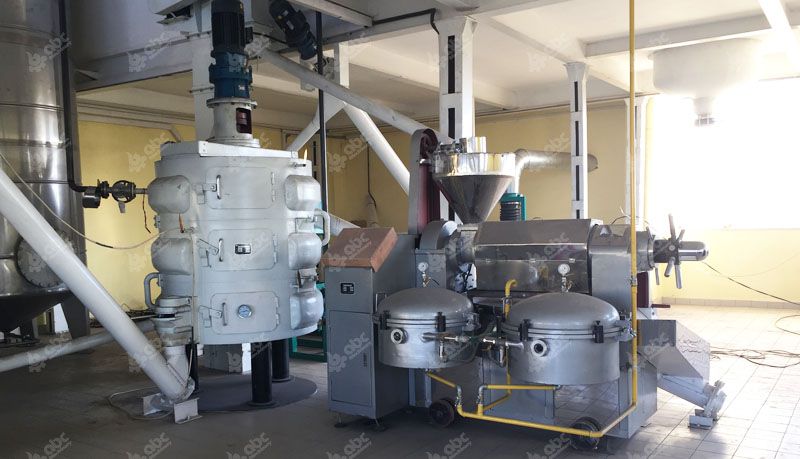 Something of Mustard Oil in India
Mustard oil contains up to 60% monounsaturated fatty acids, 21% polyunsaturated fat and 12% saturated fat. In the Indian tradition, mustard oil has important cultural significance. For example, a housewife will visit a mustard tea for the first visit of an important visitor, such as when a boyfriend or a girl meets a parent, a newlywed couple, or a child who has not returned for a long time, when the election or the test is successfully returned. Mustard oil is used in many important days in India, such as the wedding ceremony.
Request a Quote
We receive enquiries in English, Español (Spanish), Русский язык (Russian), Français (French) and العربية (Arabic).Our professional team will reply to you within one business day.Please feel free to contact us!