Project Name: Small Scale Mustard Oil Mill Plant
Project Location: MANIPUR STATE, INDIA
Project Capacity: 5T/D Oil Pressing & 1T/D Oil Refining
Raw Material: Mustard Seeds
Main Equipment: Elevator, Mustard Seeds Cleaning Machine, Cooking Machine, Mustard Oil Press Machine, Plate and Frame Oil Filter Press, Edible Oil Refinery Unit, Heat Conducting Cil Furnace, Oil Filling Equipment and more.
Small Scale Mustard Oil Mill Project Brief Introduction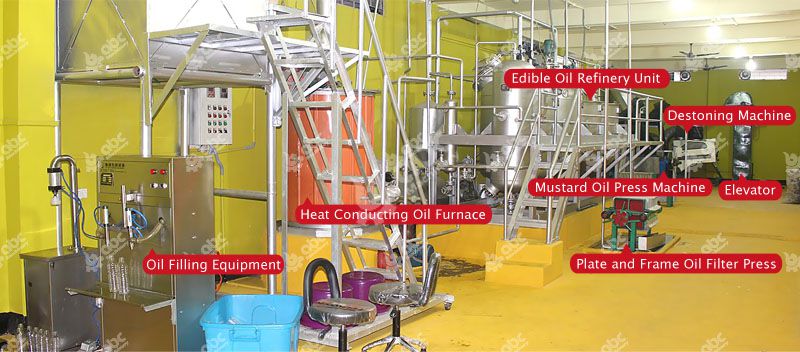 Small Mustard Oil Mill Plant (5T/D)
This 5TPD mustard seed oil pressing and 1TPD oil refinery plant invested by a local company was built in Manipur, a north-east state in India. This small mustard oil mill plant was the first mustard oil processing plant in the seven states of Indian North-East region, where has the richest soil in India to produce high quality mustard seeds. The set-up and effective operation of this mustard oil mill plant helps our client add more product category and expand sales. The CEO of this company spoken highly of our oil pressing machine and mini crude oil refinery equipment, and the quality of produced mustard oil. After this small scale oil mill plant operated for about two years, he decided to establish a medium scale mustard oil processing plant in another state of India, with a capacity of 60TPD mustard pressing and 10TPD crude oil refinery. This time, he also chose us as his solely supplier. And, our company ABC Machinery and his company have signed MOU for deepening cooperation.

Mustard Seeds Pretreatment Section



Mustard Oil Pressing Section (Mustard Oil Press & Mustard Oil Filter Machine)



Mustard Oil Refining Section (Mini Edible Oil Refinery Unit & Heat Conducting Oil Furnance)



Picture of Onsite Installation with Our Customer
Main Processing Process of Mustard Oil Mill Plant
Mustard Oil Processing:
Mustard Seed Selection→Destoning→Cooking→Pressing→Filtration→Crude Mustard Oil (More information about oil pressing at
Small Oil Pressing Line
>>)
Mustard Oil Refinery: Alkali Refining→Degumming→Decolorizing→Deordorization→Mustard Oil (More information about oil refinery at Edible Oil Refinery Plant>>)
Superiority of Small Mustard Oil Mill Plant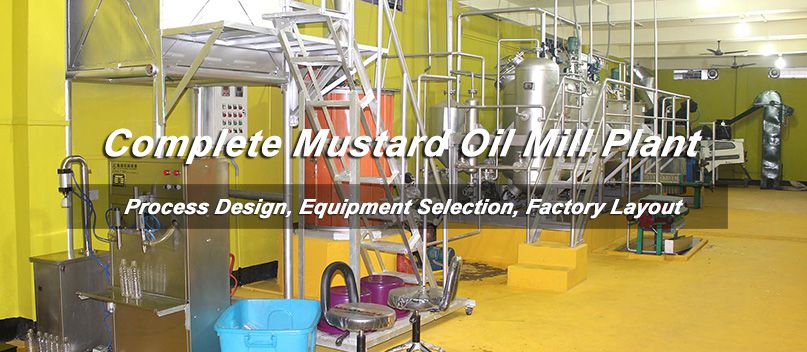 Mustard oil contains 60% of monounsaturated fatty acids (42% of erucic acid and 12% of oleic acid), 21% of polyunsaturated fat (6% of the omega-3 alpha linolenic acid, omega - 6 and 15% of linoleic acid), and 12% of the saturated fat. Mustard seed oil mostly contains linolenic acid, about 9%, which is 9 times than that of olive oil. Linolenic acid exists in dark green plants, in the form of glyceride, and constitutes the main component of human tissue cells in the body and can't synthesis, metabolism, but can transfer into DHA and EPA active factors for body needs. However, it cannot be synthesized in the body and must be ingested in vitro. Therefore, using mustard oil as the cooking oil is one of the best way to get linolenic acid. Once the human body is lacking of linoleic acid, which can lead to the body's lipid metabolism disorder, resulting in weakened immunity, forgetfulness, fatigue, vision loss, atherosclerosis and other symptoms. At present, using screw oil press machine to squeeze mustard seeds to extract mustard oil is one of the most cost effective way to produce mustard oil. Besides, the whole mustard oil pressing process is free from any chemical additives, so the final mustard oil is healthy and of premium quality.
Mustard oil is a popular cooking oil in India. It is estimated that the mustard oil production of India is going to reach 34 lakh tonnes by the year of 2020 with the continuous increase of crop acreage. Since the mustard acreage is keeping rising and new developed hybrid varieties of mustard are available in plantation, the production of mustard oil is likely to increase. The major mustard oil producing states in India are Rajasthan, Gujarat, Madhya Pradesh, Haryana, Maharashtra and more. But, how to set up your own oil mill plant to produce mustard oil? There are many factors you should take into consideration if you have the plan to build a mustard oil production plant, such as the supply of mustard seed, the financial source, the capacity, the market outlet of final mustard oil, and more and more questions. If you have tight budgets, the small mustard oil mill plant is definitely a great choice to step into mustard oil production industry in India. There are many outstanding advantages to set up a small mustard oil mill.
It requires less investment cost, so you are free from financial pressure. Surely, if you have enough capital a large scale mustard oil extraction plant is great. But the small oil mill plant we designed for mustard seed pressing and crude mustard oil refining has all the functions of large one.
It takes up less factory space, so you don't need to pay extra for renting or buying new lands.
It is easy to operate and maintain, only several operator can complete the mustard oil processing labors and ensure its normal operation
It contains complete mustard oil production process, including mustard seeds pretreatment, oil pressing, oil refining, oil packing and filling. So you are totally worry-free.
We have gained rich experience in setting up oil mill plant in India, both in small scale and large scale, including mustard seeds, cotton seeds, coconut, rice bran and more. We can supply the exclusively service for your needs and requirements. We can solve all your problems instantly, relating to oil machinery selection, oil mill plant installation and commissioning, operator training, and more. More importantly, there you can get the competitive price mustard oil press to achieve setting up your own oil mill plant at lowest cost.
You are very welcomed to contact us for any questions! We are looking forward to be your partner!
Request a Quote
We receive enquiries in English, Español (Spanish), Русский язык (Russian), Français (French) and العربية (Arabic).Our professional team will reply to you within one business day.Please feel free to contact us!