Generally speaking, the methods of edible oil refining can be divided into mechanical refining, chemical refining and physical chemical refining according to the differences in the selection of raw materials and the different ways of operation. These three ways seem to exist alone, but in actual operation, they cannot be completely separated. The use of sinlge edible oil refining machine will have catalysis chemistry or physical chemistry in some extent. For example, chemical refining method of neutralization of free fatty acids in the way in its operation will appear in the physical and chemical process. Therefore, there is a close relationship between the three methods and can't be separated compulsorily. Edible oil refining is a more flexible process, so it is necessary to pay attention to the changes of the oil in operation and accordingly adopts the most suitable oil refining method based on the proper technical conditions and economic conditions. (You may also like Soybean Oil Expeller Machine >>)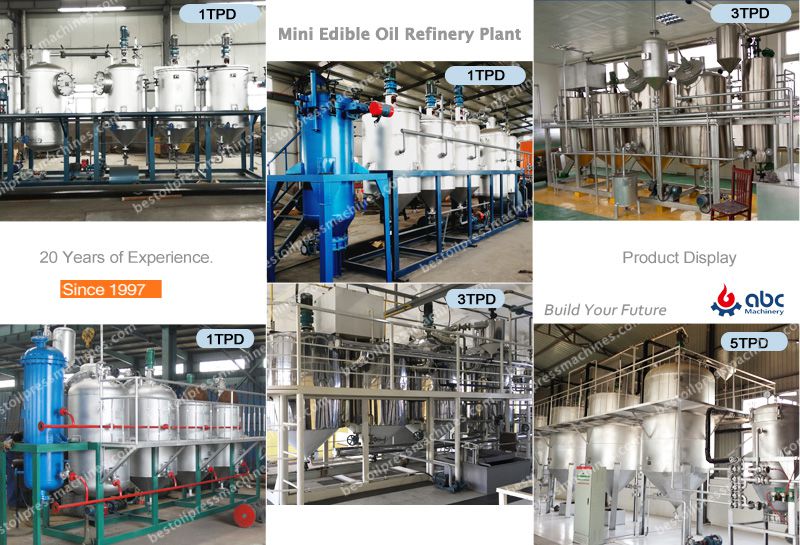 Mini Oil Refining Machine for Edible Soybean Oil
ABC Machinery has focused on the manufacturing and developing of edible oil refinery machinery for more than 30 years. We have built many edible oil refining plant projects for our client across the world, among which the small oil refinery plant, like mini soya oil refinery plant, is well welcomed by our customers. Our edible oil refining machine is suitable for various crude oils, including mustard oil, sunflower oil, soybean oil, palm oil, palm kernel oil, rapeseed oil, canola oil, peanut oil, seal oil, fish oil and other vegetable oil and animal oil. If you are interested in building soybean oil mill with refinery, please contact us for more information!
Main Process of Soybean Oil Refining Machine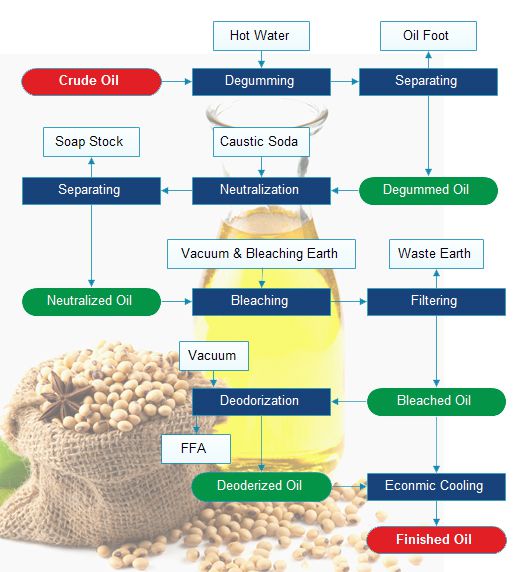 The main process in high quality soybean oil production plant is oil refining that is to refine the crude oil by removing substances that may have an effect on the quality of soybean oil and harmful impurities that may do harm to people's health. There are a lot of impurities in crude soybean oil, including harmful and beneficial ones. The main purpose of soybean oil refining process is to produce soybean oil that meets the quality standard or requirement so as to ensure the safety for edible soybean oil. Impurities removal is not to remove all the impurities in the crude oil, but to remove impurities that is harmful for oil refining and storage, such as gossypol, mucus, moisture and more. Soybean oil refining machine is to obtain high quality oil that is suitable for different people requirements by removing harmful impurities and retaining beneficial substances.The process from filtration of crude soybean oil to the filling of oil is called soybean oil refining that is completed in professional oil refining equipment. The processes of precipitation filtration, plate frame filtration and filtration produce oil soap, accounting for 0.01% of the crude oil, which is used to make soap. The main process of soybean oil refining line is degumming, alkali deacidification, decolorizing and deodorizing. (Read more about Soybean Oil Expeller >>)
Degumming: the hydration (degumming) process is water washing oil to achieve the purpose of water precipitation, and water and oil separation automatically. Hydration is the removal of hydrating substances from crude soybean oil. Usually, a certain amount of water is added to crude oil to hydrate the phospholipids, and the hydrate - gelatin is removed by centrifugal separation. Degumming removes not only phospholipids, but also carbohydrates and other sticky substances such as proteins, plant gels and gels. The presence of these impurities in crude soybean oil will increase the loss of oil in the refining process.
Alkali Deacidification: a certain amount of free fatty acids are contained in crude oil. The process of removing these fatty acids is called deacidification. The usual method of deacidification is alkali refining, which refers to adding alkaline water solution to oil (crude oil or hydrated degumming oil) for neutralization and chemical reaction to achieve the purpose of deacidification.
Decolorizing: various oils have different colors because they contain different pigments. Chlorophyll, for example, is grease that turns dark green, and carotene that turns grease yellow. In storage, the sugar machine breaks down the protein and turns the fat brown. The process of decoloring is to repeatedly wash with water, to achieve decoloring purposes. The process is carried out in a vacuum environment.
Deodorizing: different oils have different degrees of odor, some people like, some people do not. Generally, various odors brought by oil are called "stink", and the main substances causing the "stink" in oil are fatty acids, while the content of other stink ingredients is very small. The deodorization process is to remove fatty acids from oil. Oil deodorization makes uses of the differences of fatty acid in oils and fats and other substances in different steam pressure, temperature on the difference of volatility. Under the condition of high temperature and vacuum with the help of the process of water vapor distillation out bad smell. Deodorizing removes unpleasant odors that are volatile in oil.
Four Reasons to Choose Our Soybean Oil Refining Unit

Small Soya Oil Refining Unit 3D Modeling

The main soybean oil refining machine are refining pot, decolorining pot, deodorizing pot, hot water tank, air compressor, pumps, filters, valves and more. Many customers choose us as their soybean oil refining machine supplier due to the following reasons.
Reputable Industrial Brand
ABC Machinery has devoted to the research, development and manufacturing of grain and oil machinery for over 30 years. We have a large number of customers at home and abroad.
Cost Effective Oil Refining Machinery
ABC Machinery has its own factory production base. And our product has passed through ISO9001 quality management system. All the soya are sold directly from the factory, eliminating all the middles. It is affordable and cost effective.
Strong Technical Supports
Our experts will offer the perfect design based on every oil production plant. We have a team of experts with rich experience in the oil industry and they can offer on-site technical guidance for the installation and commissioning of your soybean oil refining machine.
We can supply 1-1000T/D turnkey project of oil mill plant, including oil pressing and oil refining. The small soybean oil refinery unit we can supply is 1T/D to 30T/D, the medium or large scale oil refinery plant we can supply is over 30T/D.

Stainless Steel Soybean Oil Refinery Plant Working Video

ABC Machinery is your relible soybean oil refining machine supplier. Besides, we can supply high quality soybean oil pressing machine to help you bulid complete edible oil processing plant. If you are truly interested in soybean oil production, please contact us directly.
Request a Quote
We receive enquiries in English, Español (Spanish), Русский язык (Russian), Français (French) and العربية (Arabic).Our professional team will reply to you within one business day.Please feel free to contact us!