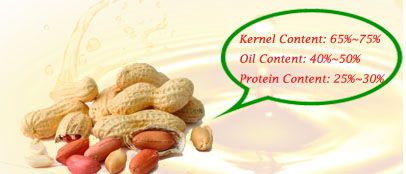 Peanut, also called groundnut, consists of two parts: shell and kernel. The rate of kernel in hull is about 65~75%. The oil content of kernel is about 40~50%. Peanut oil consists of 20% saturated fatty acids and 80% unsaturated fatty acid, mainly oleic acid, linoleic acid and palmitic acid. And the iodine value of peanut oil is about 80 ~ 110. Peanut oil belongs to the drying oil. Peanut oil has a yellow transparent color and fragrance and is a kind of high quality cooking oil around the world. (You may also like Cooking Oil Pressing Line >>)
How Much Needed to Start Peanut Oil Production Plant ?
One of the main use of peanuts is to produce oil. At present, oil pressing is the most important consumption way of peanuts. Peanut oil processing is mainly composed of hot pressing method, since hot pressing process can get the full-bodied fragrance and maintain the nutritional composition and physiological active components in peanuts to the most. Through more advanced processing technology and peanut oil production equipment, the quality of peanut oil can be improved, and the capacity of peanut oil production can also be increased.


Small Peanut/Groundnut Oil Prdocution Line
ABC Machinery is the China leading oil press machine manufacturer and complete oil production plant supplier. Every year, we will export hundreds of oil expeller machine and setup many oil processing plant, including oil extraction and oil refining, for various oil-bearing seeds, including peanut/groundnut, sunflower, soybean, palm kernel, mustard, rapeseed, hempseed, corn germ, rice bran and more, to many countries, such as Nigeria, Zambia, Ghana, Tanzania, South Africa, India, Philippines, Korea, Australia, Mexico, America, Turnkey and more. Therefore, we are absolutely the professional designer for your peanut oil production plant.
The general capacity we can provide for peanut oil processing plant ranges from 5 to 400 tons per day. Taking the smallest peanut oil production line (5TPD) as example, the totally investment for a complete automatic peanut oil production line is $ 8,500 around (Not include the oil refining equipment). Please note all the equipment included in the complete oil production plant is decided by your actual production requirements, so All the price just for reference, please contact us for confirmation!
Peanut Oil Production Process
Pretreatment of Peanuts
Before oil production, there are certain requirements on the technical properties of oil, so raw materials (peanut) must be pretreated. Pretreatment for peanut oil extracting generally includes: cleaning, crushing, embryo rolling, steaming and stir-frying, etc. The equipment for peanuts pretreatment are cleaning sieve, flaker, cooker and more. All the equipment can be connected by seed conveyor to transfer all the materials automatically, saving labors and eliminating wastes. (Read more about Auxiliary Equipment >>)
Peanut Oil Pressing - Screw Oil Press
Pressing is the process of squeezing oil out of the material embryo by mechanical force. It is the way of physical pressing, and it comes from the traditional method of oil making in the workshop. Due to the rotation of the screw axis in the bore in squeeze boost, the pressed material continuously forward, at the same time, due to the squeezer spiral lead to shorten or root diameter increase gradually, make the pressing chamber volume shrinking and squeezing effect, in the process, on the one hand, push press material, on the other hand the pressed material compressed oil from a crack in the press gathering extrusion flow, at the same time, the residual oil cake is pressed out from the end of the screw shaft continuously. (Read more about Peanut Oil Making Machine>>)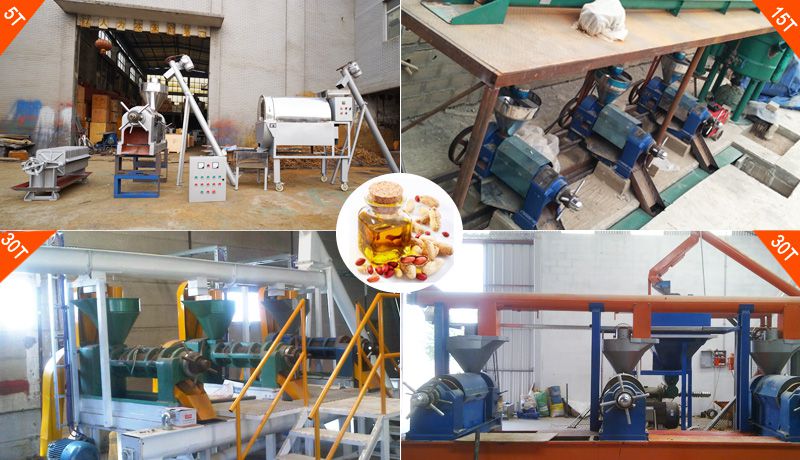 Small Peanut Oil Production Line Designed by ABC Machinery
Peanut Oil Refining
The purpose of oil refining is to remove harmful components from oil and minimize the loss of neutral oil and beneficial components according to different USES and requirements. The impurities in crude peanut oil can be divided into four categories according to its dispersion state: (1) suspended impurities (2) colloidal impurities (3) oil soluble impurities (4) water. The methods to remove the suspended impurities from crude oil usually adopts sedimentation, filtration and centrifugal separation. The basic peanut oil refining process are degumming, deacidification, decolorizing, deodorizing and dewaxing. (More knowledge about Edible Oil Refining Line >>)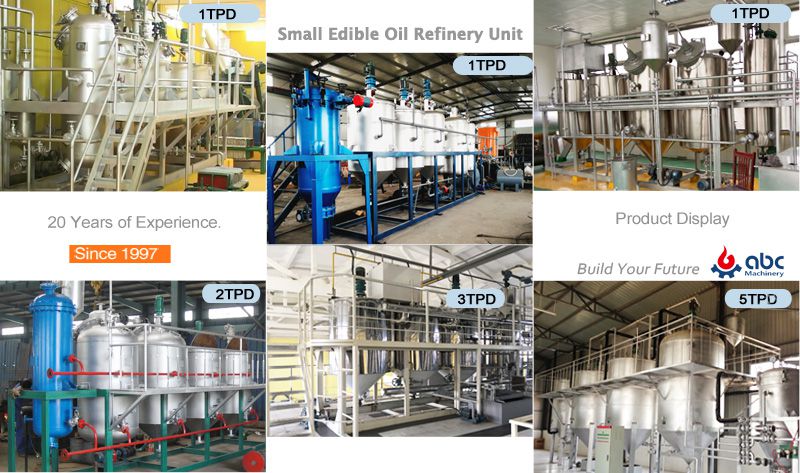 Small Peanut & Groundnut Oil Refining Plant for Sales
Start peanut/groundnut oil production business is relatively easy compared other unconventional raw materials, since it is relative easy to get the raw materials and easy to sell it to the market. The most important factor for this business is how to choose the ideal peanut oil production equipment. Our company has many successful cases and projects about peanut oil processing. If you have any interests, please contact us for more information and the latest prices!

Latest Peanut Oil Production Plant Project:
15TPD Peanut and Soyean Oil Pressing & 3TPD Oil Refining Line in Togo
Request a Quote
We receive enquiries in English, Español (Spanish), Русский язык (Russian), Français (French) and العربية (Arabic).Our professional team will reply to you within one business day.Please feel free to contact us!