What is the processing technology of soybean oil? This is one of the biggest concerns for many investors who are new to the edible oil processing industry. Starting a soybean oil factory is not a trivial matter. Before starting, you must understand the processing steps, and then do a series of preparatory work, such as: procedures, plant site selection, capital investment, supporting processing equipment and so on.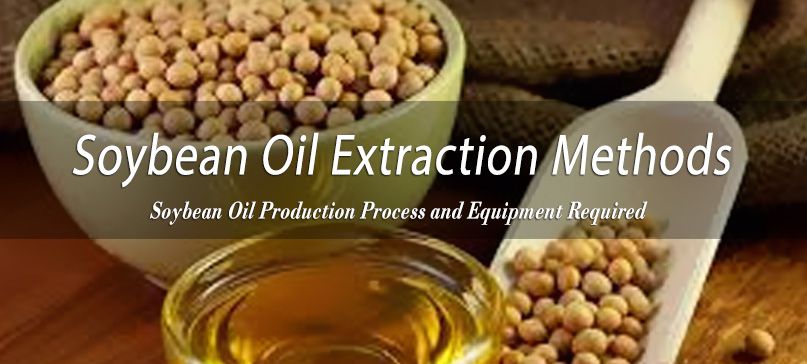 Soybean Oil Extraction Methods
There are two common production methods for soybean oil: pressing and extracting. This ultimate guide will take you to understand the methods and differences between the two production processes, and teach you how to choose soybean oil extraction equipment to help your soybean oil production business run smoothly.

Introduction of Soybean Oil Production Process
Pressing Technology
The pressing method uses the physical action of mechanical extrusion to produce soybean oil from oilseeds. The standard soybean oil pressing production process includes multiple steps such as cleaning, crushing, softening, embryo rolling, steaming, pressing and filtering. Different types of oilseeds have different pressing production processes. The residual oil rate in the oilseed meal after pressing is generally about 6%. The pressed soybean oil can be directly sold or further processed according to the oil composition and market requirements.


Small Scale Soybean Oil Pressing Line
If the processing capacity of soybean oil is less than 10 tons per day, it is only necessary to open a small soybean oil pressing production plant and choose an integrated oil press with automatic temperature control and vacuum filtration to meet the pressing requirements of soybean oil. If the processing capacity of soybean oil is more than 10 tons/day, it is more suitable to choose a soybean oil pressing production line for pressing production, so that the oil quality is better and the output is more.
Extraction Technology
The extracting method uses the principle of mutual dissolution of solvent and oil to produce soybean oil. Oilseeds with an oil content of about 20% are more suitable for extracting production and processing. For oilseeds with high oil content, we can first press the oilseeds with a pre-press machine, so that the oil content in the oilseed cake reaches about 15%, and then use the extraction methods, so that the leaching effect is better, and the oil yield is also more.
The production of soybean oil by extraction methods requires pretreatment of oilseed raw materials, including cleaning, steaming, frying, and puffing. Different raw materials have different pretreatment steps. After pretreatment, we can use solvent for extracting production. After extracting, we get gross cooking oil and a cake meal. Among them, the residual oil rate in the cake is less than 1%, which can be used as a raw material for animal feed processing for sale. Crude soybean oil needs to be refined before it can be sold or eaten.


Soybean Oil Extraction Technology illustration
Usually, when the processing capacity of oilseeds is more than 20 tons/day, the extraction methods can be selected to produce soybean oil, which can reduce the production cost of soybean oil and obtain more profits.
The Difference Between Soybean Oil Extraction Methods and Pressing Methods
In fact, the pressing method and the extraction method are only two different oil production processes, and the different characteristics of oil production raw materials determine different oil production processes. Next, ABC Machinery will take you to understand the difference between pressed oil and extracted oil and some common misunderstandings from the three aspects of processing technology, nutrients and raw materials.
Different processing technology
The processing technology of pressed oil is the physical pressing method, while the processing technology of extracted oil is the chemical extraction method, and it adopts edible-grade solvent.
Pressed oil retains the original flavor of the oil to the greatest extent, with complete color, aroma and taste, and retains various nutrients in the oil; while the extracted oil is colorless and odorless, and some nutrients may be destroyed or removed after processing.
Different processing materials
The two oil production processes, the pressing method and the extraction method, are suitable for different raw materials. Generally speaking, most of the raw materials with high oil content adopt the pressing method, such as sesame and peanuts. The extraction method is suitable for most raw materials. For some raw materials with low oil content, such as rice bran, the direct extraction process is adopted; for some raw materials with high oil content, such as peanuts, the process of first pressing and then extracting can also be used to obtain more oil and good economic benefits!
Misunderstanding description: Crude oil obtained by either pressing or extraction method cannot be eaten directly. It needs to be further refined and processed to remove impurities and become soybean refined oil. (Related post:Edible Oil Refining Line>>)

The Advantages And Required Equipment of Soybean Oil Extraction Methods
The production process of extracted oil has a high degree of automation and low labor cost. The residual oil rate in the cake after extracting is less than 1%, and the loss of soybean oil is small. In addition, the quality of the cake can also be controlled by the process to obtain additional economic benefits. The extracting method can reduce the loss of soybean oil and ensure production efficiency. If you plan to open a soybean oil production plant with a production capacity of more than 20 tons per day, the engineers of ABC Machinery recommend choosing the extraction method to produce soybean oil, which has high oil output efficiency and will also increase economic profits.
Soybean oil extraction equipment mainly includes a extraction system, wet meal desolvation system, mixed oil treatment system and solvent recovery system, and is used for large-scale edible oil production plants with oil treatment capacity of more than 20 tons per day.


20TPD Soybean Oil Extraction Workshop
Hope that through the detailed introduction of this article, it can help you to establish a more in-depth understanding of the process of pressing oil and extracting oil. If you still have any questions, please feel free to contact us. No matter what kind of oil production process you adopt, the engineers of ABC Machinery can provide you with suitable processing solutions and supporting equipment, so that the limited capital can exert greater economic value!
Request a Quote
We receive enquiries in English, Español (Spanish), Русский язык (Russian), Français (French) and العربية (Arabic).Our professional team will reply to you within one business day.Please feel free to contact us!