Sunflower Oil Refining Machine not only can be used to refine crude sunflower oil, but also ideal for other crude edible oil refining, including soybean oil, palm oil, palm kernel oil, coconut oil, cottonseed oil, groundnut/peanut oil, mustard oil etc., (Related Article: Edible Oil Refinery Plant Setup Cost >>). Sunflower oil refining machine has standard refining process, high refining speed and can produce high quality refined cooking sunflower oil. Now, more and more sunflower oil manufacturer or producers have adopted it for sunflower oil production. However, how much do you know about sunflower oil? Here, we will offer a detailed introduction of sunflower oil refinery machine and its detailed process. (you may also like: Sunflower Oil Making Machine >>)


Sunflower Oil Refinery Plant
Sunflower Oil Refining Process
Sunflower seed oil has a light color. The degumming, deacidification, decolorization and deodorization process of sunflower oil processing are basically similar to soybean oil refinery plant. But sunflower oil usually generally needs dewaxing process to reach the national standards for edible cooking oil. (related article: How to Make Sunflower Oil >>)
Acid Degumming: sunflower oil should be treated with a diluted solution of citric or phosphoric acid to hydrate the lecithins or phospholipids
Alkaline Neutralization: the mixture obtained must be treated with caustic soda to neutralize the acidity produced by the acid used and even the acidity that emanates from the oil itself, which comes from free fatty acids.
Washing and Drying: the neutral oil must be washed with abundant water to be able to eliminate the remains of the soaps created in the previous stage. The wet oil must be passed through a drying tower, in which any remaining moisture will be removed at 90℃ under a partial vacuum.
Bleaching: The neutral oils contain minimum amounts of pigments that are colorants, traces of phospholipids, soaps and minerals, all of which must be removed to obtain an oil that is stable and lasting overtime in its functional and organoleptic characteristics.
Deodorization: The volatile substances that are responsible for flavors, as well as odors, are removed in this process. This is done by employing an injection of steam that passes through the oil taking away the volatiles and condensing them separately.
Dewaxing: The refined oil must be cooled down to 5~8℃ with slow agitation, it must at that temperature for a certain number of hours. The small crystals that are formed from the wax will grow so that they can later be separated by filtration or centrifugation, which can remove the wax and make the color bright.
Sunflower Oil Dewaxing Process Flow: Crystallization → Crystal Growing → Filtration → Cold Water Circulation

1~30TPD Small Scale Sunflower Oil Refining Machine at Factory Price
Small scale sunflower oil refinery machine is designed for small and medium scale Sunflower Oil Processing Plant. It is the batch type oil refining equipment, but has all the functions of continuous oil refinery plant. (Related Machine: Mini Oil Refinery Plant Cost >>)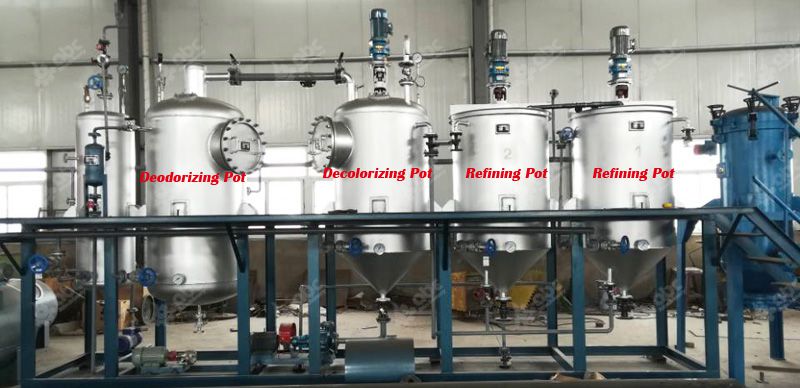 1TPD Small Scale Sunflower Oil Refining Machine
Hot Sale Capacity of Small Sunflower Oil Refinery Plant (batch design): 1TPD, 2TPD, 3TPD, 5TPD,10TPD,15TPD,20TPD, 30TPD.
Mini/Small Sunflower Oil Refining Plant Advantages
Takes up small space areas, saves labors and efforts, easy and flexible operation
Suitable for different oil refining, which is helpful for business development and expanding
The combination of chemical and physical refining process can greatly improve the quality of refined oil
The independent design of each refining stage is conducive to expanding the production scale in the later stage
Quick return on investment, suitable for small and medium scale cooking oil production business, factory and users
Setup Small Scale Sunflower Oil Refinery Projects at Low Cost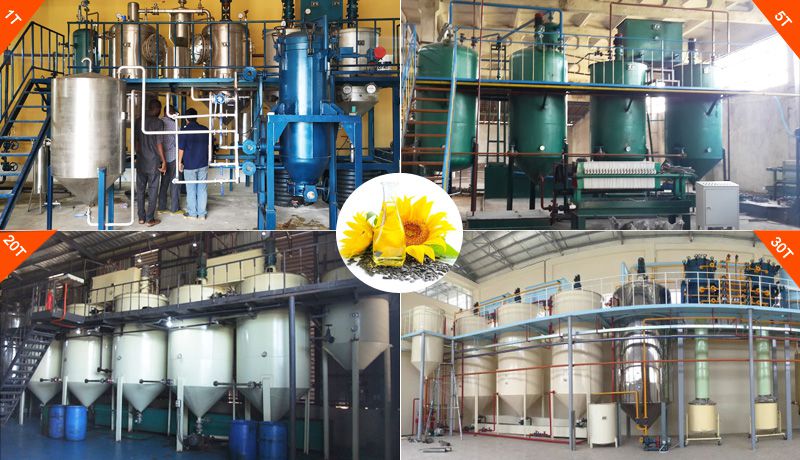 Small Scale Sunflower Oil Refinery Plant
Sunflower Oil Produciton Plant Projects ABC Machinery Built Worldwide
► 1TPD Sunflower Oil Refining & Filling Plant to Tanzania
► 10TPD Sunflower Oil Production Line with 3TPD Sunflower Oil Refining Machine in Uganda
► 10TPD Sunflower Oil Manufacturing Plant with 3TPD Sunflower Oil Refinery Plant in Moldova
► 100TPD Automatic Sunflower Oil Extraction and Refining Factory Setup in Kazakhstan
Small Scale Sunflower Oil Refinery Machine Functions
Two refining tanks work interactively or work simultaneously to speed up the refining time
The decolorization tank works under vacuum and automatically inhales adsorbent (white soil)
Automatic slag filter can filter the white soil mechanically, no manual operation
Soap foot salting out tank is used for refining foot to get part of clean oil and reduce the consumption of refined oil.
Heat conduction oil furnace is equipped with steam generator, without the need for steam boiler
Other auxiliary equipment compressors, vacuum pumps, infusion pumps, electronic control cabinets and operating platforms for installation materials are all included; Users do not need to purchase other equipment to use.

Sunflower Oil Processing Machinery Manufacturer - ABC Machinery
ABC Machinery has been engaged in the manufacturing of oil processing machinery for more than 20 years. Our company focuses on the design, development and research of machinery, aiming at providing users with equipment of good quality, high efficiency and easy operation. Over the years, our factory has developed advanced high-tech Sunflower Oil Milling Machine to meet the market demands.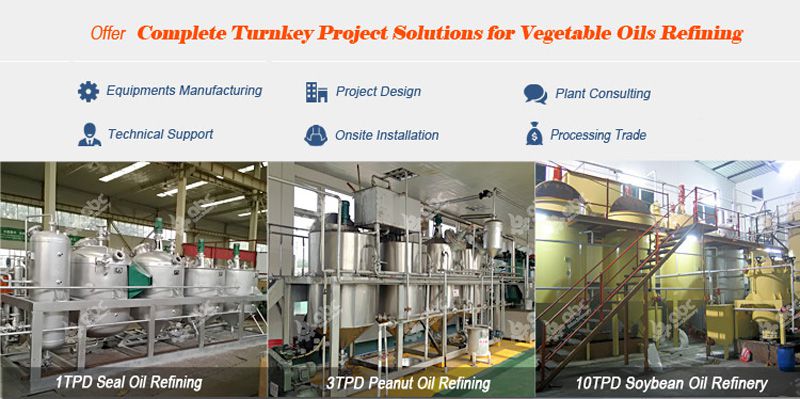 ABC Machinery - Reliable Edible Oil Refinery Machine Manufacturer
ABC Machinery boasts strong capacity to undertake the construction, reconstruction and extension of all scales sunflower oil processing plant projects, from small scale to large scale. And, we also provide technical instruction and consultancy for all customers. Our factory is located in Anyang city, Henan province, we wholeheartedly welcome all new and old customers to visit us.
Request a Quote
We receive enquiries in English, Español (Spanish), Русский язык (Russian), Français (French) and العربية (Arabic).Our professional team will reply to you within one business day.Please feel free to contact us!