Why Sunflower Oil Needed to be Refined?
Edible Oil Refinery usually refers to the refining of crude oil. The presence of impurities in the crude oil not only affects the edible value and safe storage of the oil, but also brings difficulties to deep processing of oils. However, the purpose of oil refining is not to remove all the impurities in the oil, but these impurities that are harmful to eating, storage or industrial uses, such as gossypol, protein, phospholipids, mucilage, moisture, etc.. While, some beneficial impurities, such as tocopherols, is retained. Therefore, the purpose of oil refining is to remove harmful impurities to obtain refined oil that meets certain quality standards. Sunflower oil refining is to obtain better quality vegetable oils and make it more conducive to human consumption. (You may also like Sunflower Seed Oil Press Machine >>)

How to Make Refined Sunflower Oil?
Sunflower oil is rich in linoleic acid (54% to 70% of total fatty acid content) and oleic acid (about 39%). The nutritional value is high, but the crude oil contains trace amounts of wax (about 0.10%) and oxygen acid, which affecting its quality and storage stability. Sunflower oil refining process basically includes degumming, deacidification, decolorization and deodorization, which is similar to soybean oil refining. Besides, in order to remove the wax contained in sunflower oil, there often has the process of dewaxing to get higher-grade edible oil. (Read more about Sunflower Oil Production Line >>)

Sunflower Oil Refining Process
Sunflower Oil Refining Equipment - 1~30 T/D Batch Type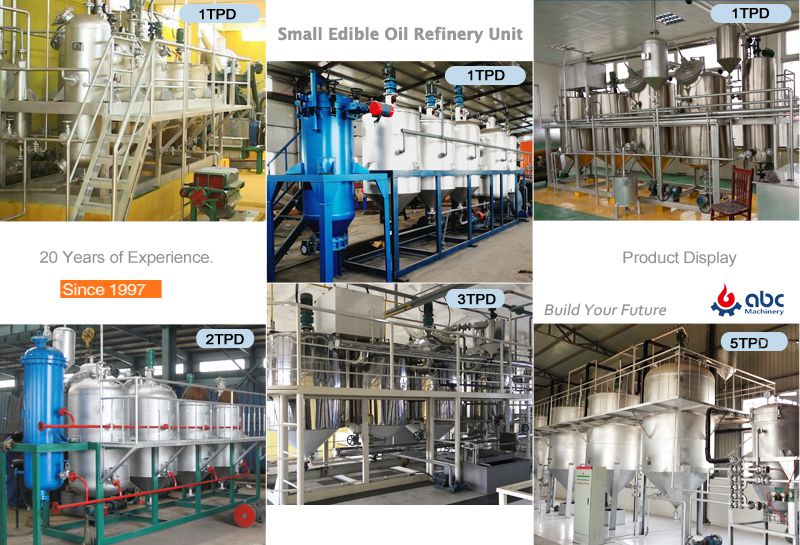 Suitable for small oil refining (under 30 tons)
Low investment, easy operation and small floor space
The electricity and equipment maintenance cost are low, and the production batch and output can be adjusted at any time according to the production needs, and the electricity consumption in each region and season can also be adjusted to achieve timely peak-avoidance electricity consumption.
Sunflower Oil Dewaxing Equipment
Sunflower oil contains high wax fat. By wintering dewaxing, the wax fat content can be reduced, the oil quality can be improved, the unsaturated acid content can be increased, and the high quality sunflower seed dewaxed oil can be produced. The advantages of sunflower dewaxing equipment of our company is as following:
Professional design, installation, debugging engineers ensure the quality of equipment or project. And the dewaxing result is better.
Increase the yield of refined sunflower oil by flexibly controlling the cooling and crystallization of oils and fats.
Improve the filtration efficiency, so that the production cycle is reduced by one tenth compared with the peers, greatly improving the efficiency of sunflower oil dewaxing
The content of unsaturated fatty acids (beneficial components in oil) in the obtained dewaxed oil is increased by 0.5-1% relative to the same industry, and the content of wax fat (bad component) is lower than that of the same 2%, which greatly improves the quality of the oil.
The obtained dewaxed oil can be sold as a high-grade nutritional edible oil
Edible Refined Sunflower Oil Features
Helps reduce the body's blood cholesterol levels, and help protect cardiovascular health;
Contains multi-vitamin E, has a good function of delaying human body cell aging, strengthening the body
Contains more vitamin B3, the treatment of mental illness such as neurasthenia and depression is obvious
Request a Quote
We receive enquiries in English, Español (Spanish), Русский язык (Russian), Français (French) and العربية (Arabic).Our professional team will reply to you within one business day.Please feel free to contact us!