ABC Machinery is leading small oil extraction machine supplier in China. Our single oil extraction machine and complete oil mill project has been exported to at least 40 countries around the world. According to the actual needs of customers, we will offer the right equipment with accurate specifications. And, we also offer the customized design to reduce your edible oil manufacturing plant cost based on customers' requirements.
Oilseeds or Oil Crops for Edible Oil Processing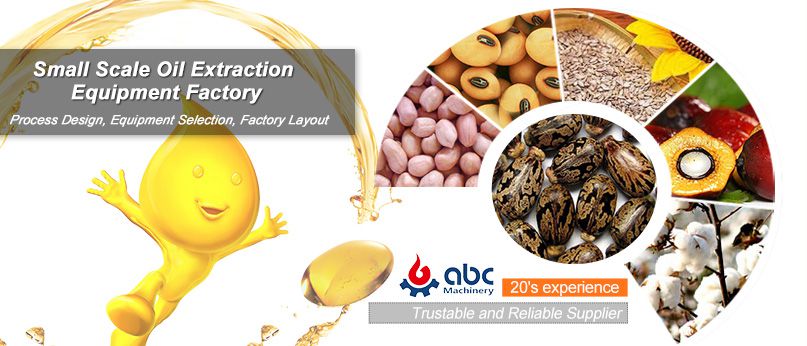 Edible Oil Extraction Business
The most common raw materials for edible oil production include sunflower seeds, soybean, castor seeds, walnuts, rapeseed, peanuts, mustard seeds, rice barn, cotton seeds, hemp seeds, sesame seeds, palm kernel, flex seeds, coconut, etc.
Edible vegetable oil is essential for human and there are always high demand for high quality edible oil. So, it is never later to invest on oil mill business. If you are interested in buying the efficient oil production equipment for your oil factory, just send us massages to get the latest price list and equipment specifications!

Buy Oil Extraction Unit for Edible Oil Extraction
If you are interested in starting your own small scale oil milling business, then our small scale oil extraction machine could be the one that you are looking for. The good thing is it does not consume much of the energy yet it produces oil in a good amount. The oil also has good quality which meets the market standards. You may also like cold pressed oil machine for business.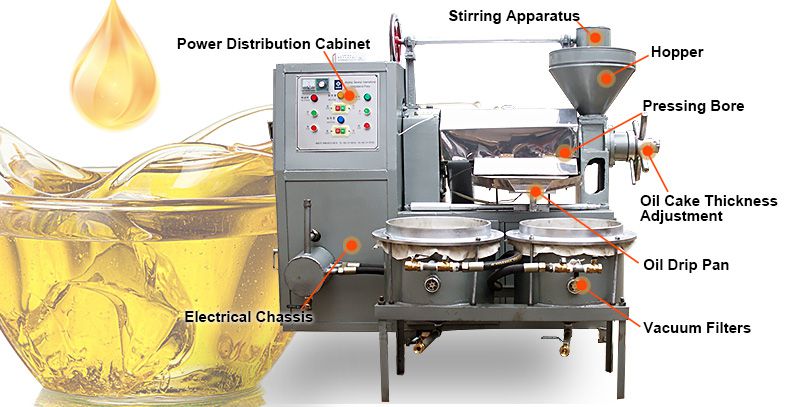 Small Scale Oil Extraction Machine
Usually, its main components include gear part, stand feeder, screw axis, press cage and electrical cabinet. In fact, it is also a automatic oil extraction machine since the electrical cabinet can control the temperature of oil pressing automatically. (Latest news: Sunflower Seed Oil Extraction Machine to Kazakhstan >>)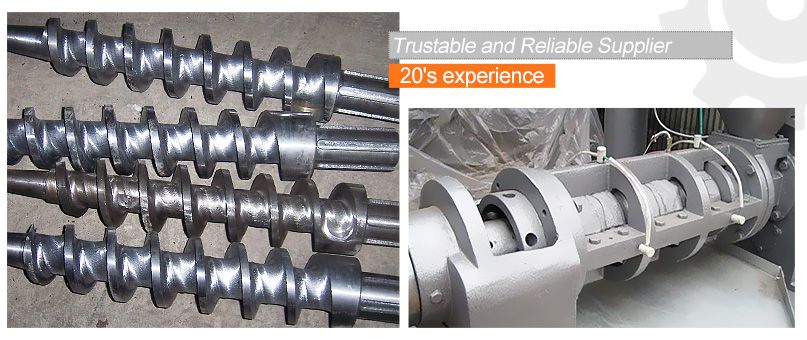 Oil Extraction Unit Screw Axis
The component of our small oil extraction unit is its screw axis. Its features like rotation speed, building material, etc. determine its yield and quality of oil that it extracts by putting a lot of pressure. It is superior oil production machine for small scale edible oil factory. (Read more: Groundnut Oil Processing Plant Cost >>)

How Our Oil Extraction Machine Extracts Oil?
First the seeds are fed into the edible oil press machine and enter the squeeze chamber where they are pressed with a screw. When pressure is build resistance between material flake and screw worm, and friction between material flake and pressing bore rises due to which relative motion starts. When screw rotates, material flakes move ahead. A relative motion will establish between the particles of material flake. Heat will also be produced due to friction. This heat will make the protein et denatured which will actually reduce the viscosity of oil.
Buy Small Scale Oil Extraction Machine to Start Your Own Business
Find out good small scale oil extraction unit – factory price oil extraction machine for edible oil making: Buy high quality small scale oil extraction machine from oil mill machinery manufacturer or supplier at factory price, get FREE technical instruction of edible oil manufacturing process and business plan to set up small edible oil extraction plant project in in Mexico, Panama, Pakistan, Thailand, Kazakhstan, etc., at low cost.
Notable Features of Small Scale Oil Extraction Machine
There are a number of features of small scale oil extraction machine that are unmatchable. It has a high yield, does not let oil get wasted. It is available at an affordable price! (Read more: Soya Processing Plant Cost >>)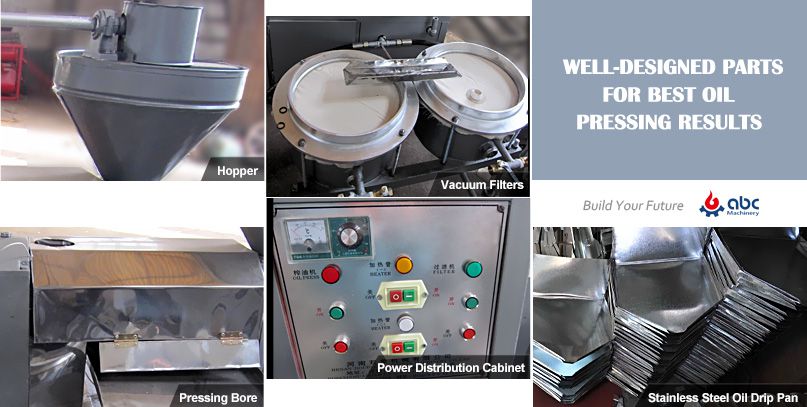 Detail Drawing of Oil Extraction Machine
The materials that are used for constructing different parts of the equipment are of high quality. Screw axis is made up of the topmost quality material that improves its pressure and yields the overall yield of the machinery.
Produces Oil of Market Standards
All parts of our edible oil processing machine are designed by keeping in mind its function. As its construction material is also of high quality so the oil produced is of good quality. It does not require much processing after getting extracted which also saves labor. The overall quality of oil makes it of market standard.
Yields More Oil – High Efficiency
If you compare our oil extraction machine with the traditional and old fashioned oil mill machine then you will come to know that using it more beneficial as it yields more oil than a traditional oil extraction machine does. Its yield is generally 5 to 8 times higher than the yield of traditional machines. For example, if you feed this machine 50 kg of soybean you may get 3.5 to 4 kg of extracted oil. This high yield will help you save money.
Set up Small Scale Oil Extraction Plant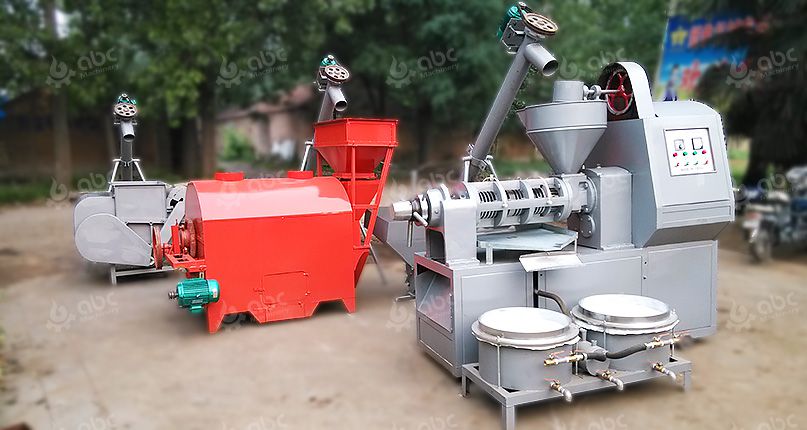 Setup Oil Extraction Plant

Before starting oil production process, if you select the accurate and suitable gear ratio then you can improve the efficiency of this machine. It will also help you save electricity which will actually save your investment cost.
Can be Used for a Long Time
To improve the life of different parts of this machine, its heat treatment equipment is updated and there are many other changes that are brought into it to make it perform for a long time. It will again help you save a lot.
The size of machine is small and it does not cover a lot of area. It may only need a piece of land that has a size of 10 sq. ft. to perform its function perfectly.
Raw material parameters

| Name | Peanuts | Soybean | Sunflower seeds | Sesame | Repeseed |
| --- | --- | --- | --- | --- | --- |
| Oil content | 40%-48% | 10%-17% | 50%-55% | 45%-60% | 30%-48% |
| Kilogram (kg) | 1 | 1 | 1 | 1 | 1 |
| Litre (L) | 0.2 | 0.075 | 0.25 | 0.225 | 0.175 |
Request a Quote
We receive enquiries in English, Español (Spanish), Русский язык (Russian), Français (French) and العربية (Arabic).Our professional team will reply to you within one business day.Please feel free to contact us!