Castor oil is obtained from the castor bean seed. Castor oil extraction process is usually achieved using the same method as other vegetable oils, such as groundnut/peanut oil, soybean oil, palm oil, sunflower oil, mustard oil, cottonseed oil, coconut oil and more. And, the cost-effective castor oil extraction method is by mechanical pressing. In this case, castor oil processing is done by screw oil press machine. (Read more: Vegetable Oil Processing Machine >>)

Starting Castor Oil Manufacturing Business
There are various castor oil processing machinery for sales in the market. But, buying suitable oil extraction units for castor oil produciton should take many factors into consideration. If you are planing to start castor oil manufacturing business, setting up a complete castor oil mill plant can be a great commercial investment. (Related Post: Oil Extraction Machine for Small Business >>)
Castor Oil Processing Plant Setup Tips
How to extract oil from castor seeds? Castor oil production plant makes use of the screw oil pressing technology which is mechanical in nature and the oil is extracted continuously via a connection or a series of oil extraction machines. There are many benefits using screw oil extraction for the oil processing plant, including:

Castor Oil Processing Machines at Factory Price
The machine and equipment save energy and reduces the cost of castor oil production.
The cost is relatively less compared to other types of castor oil plant machinery. But the exact cost is decided by the capacity or the production size of castor oil. (Read more: Cottonseed Oil Mill Project Cost >>)
Most castor oil processing plants are versatile. They can be used for the extraction and processing of oil from other seeds like sunflower, peanut, soya beans, palm kernel, cottonseed, moringa seed, etc. (Related news: 2TPD Mini Groundnut and Castor Oil Processing Machines Exported to Nigeria >>)

Please Note: Although starting castor oil business by setting up a complete castor oil extraction plant seems profitable and avaialble, it still have many things you should take into consideration, including plant location, technology and equipment selection, factory layout and functions partitioning, onsite installation and commissioning and more. If there are any questions about how to set up a commercial castor oil mill plant at low cost, just contact us directly to get more information!
Complete Castor Oil Extraction & Refining Process

Castor Oil Processing Machines for Sale
Castor Seed Collection: Castor plants are processed when they are ripe. First, ripe castor plants are placed outside on a hot day for drying. At some point, the plant will split open and the seeds can then be gathered.
Castor Seed Dehullling: The gathered seeds are set aside for dehulling which can be done manually or with the use of a hulling machine. The

D

ecorticating

M

achine

(Dehulling Machine) can also be used.
Castor Seed Cleaning & Cooking: The dehulling process is very important and must be done with caution. After dehulling, the seeds are then cleaned and cooked. Cooking of the seeds is helpful in coagulation of the protein. In addition to this, cooking of castor seeds allows the pressing to be done easily and efficiently. (See More: Auxiliary Equipment in Cooking)
Castor Oil Pressing: Pressing of the castor seeds is done in two phases; the initial pressing and the castor cake pressing. The initial pressing is a high-pressure pressing. It is continuous and it utilizes castor oil extraction machine in sieving oil from the seed. (See more: Castor Oil Machine Price >>)
Castor Oil Filtering: The extracted oil is not clean and as such, must be filtered. The by-product of the extraction; the castor cake contains about 15% of castor oil and further pressing can be done on the castor cake for more castor oil extraction. Impurities are removed during the filtration and purification process. The filtration process is by the Oil Filter Machine. During filtration, castor oil is treated to get rid of all the solid particles, strange gases, water, and foreign substances.
Castor Oil Refining: The filtered oil is crude and unrefined. Then, the oil is refined to get rid of phospholipids which are fatty in nature. Neutralization and bleaching process removes all colouration and oxidation substances from the oil. Lastly, the oil is deodorized. The deodorization stage is the stage where all strange odours are removed from the oil. (Read More: Mini Oil Refinery Plant Cost)
Build Your Own Oil Mill Plant for Castor Seeds
How to setup castor oil processing plant for commercial uses? Factory price oil extraction machine for castor oil business: buy efficient castor oil processing machines from professional oil extraction equipment manufacturer or supplier at factory price, get FREE technical instruction of castor oil production process and business plan to set up castor oil processing plant project in Mexico, Panama, Pakistan, Thailand, Kazakhstan, etc., at low cost.

Castor Seeds Oil Extraction Business Plan
Over the past few years, castor oil has gained a lot of popularity all over the world. If you are aware of the market demand for castor oil and know it's worth then you might get interested in starting your own castor seeds oil extraction business. If so then here is an easy to understand castor seeds oil extraction business plan for you!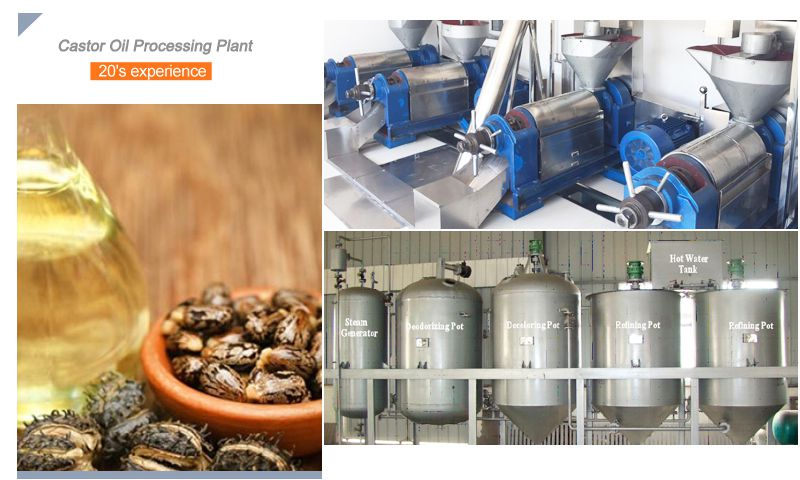 Setup Castor Oil Processing Plant
Designing Business and Assigning Roles
The first thing is to design oil mill business plan based on the available budget. Keep in mind the essentials like castor seeds oil extraction machines, land, workers, transport, etc. consider how much equipment and workers you will need. (Latest news: 10TPD Castor Oil Manufacturing Unit Exporte to Zimbabwe >>)
Define the objectives of the business. Determine how much return on investment (ROI) you want to achieve in the first year and where do you see your business in the next five years. Also, determine the quality and price of your product that you are going to provide to your audience. (Read more: Automatic Oil Extraction Machine >>)
Castor Seeds Oil Extraction Business Market Analysis
Analyze what is the demand for castor seed oil in your market and who is your target audience to whom you will sell your product. Also, look for your competitors in the market. Find their weaknesses and make sure you do not have such weaknesses. Look for the strategic plans that they use to compete in the market. You can use them to design your marketing plans as well.
Defining Sales and Marketing Strategy
Design sales and marketing strategies to increase profit from castor oil extraction business at your local as well as an international market if you are planning to make your business grow more in the coming years.

Castor Oil Manufacturing Business Potential Worldwide
Which Country Produce Castor Oil Seeds Most?
Castor seed is cultivated around about 30 countries in the world. Among them, India produces the most castor seeds and castor oil. The castor seed production accounts for up to 85%. China and Brazil contribute 7% and 5% separately. Then, followed by Russia, Thailand, Ethiopia, Philippines, Jamaica, Nigeria, etc. (Latest Project: 10TPD castor oil processing plant in Colombia )
| Rank | Country | Value as Numner | Rank | Country | Value as Number |
| --- | --- | --- | --- | --- | --- |
| 1 | India | 1,568,000 | 2 | Mozambique | 79,944 |
| 3 | China | 55,000 | 4 | Brazil | 13,481 |
| 5 | Burma | 12,575 | 6 | Ethiopia | 9,287 |
| 7 | Vietnam | 7,000 | 8 | Paraguay | 7,000 |
| 9 | South Africa | 6,461 | 10 | Angola | 4,129 |
| 11 | Mexico | 3,478 | 12 | Ecuador | 3,027 |
| 13 | Tanzania | 3,000 | 14 | Kenya | 3,000 |
| 15 | Madagascar | 2,736 | 16 | Pakistan | 2,496 |
| 17 | Indonesia | 1,696 | 18 | Syria | 1,693 |
| 19 | Haiti | 1,556 | 20 | Cambodia | 1,281 |
Which Country Importing Castor Oil Most?
Castor oil, extracted from the castor seed, is widely used in many industries, such as biofuel oil, paint, lubricant, pharmaceutical, textiles and more. The major importing areas for castor oil is European Union, the United State, Japan, China, Thailand and more. Castor oil has very strong export demands around the world. Therefore, there are great potential to start castor oil manufacturing business in these countries where cultivates castor seeds.
Request a Quote
We receive enquiries in English, Español (Spanish), Русский язык (Russian), Français (French) and العربية (Arabic).Our professional team will reply to you within one business day.Please feel free to contact us!