Reliable Cottonseed Oil Processing Machine Manufacturer - ABC Machinery
ABC Machinery is now the leading oil press machine manufacturer and supplier in China with years of development. Backed by innovative research and development team, strong technical supports, we can supply the high quality Commercial Oil Press Machine, complete turnkey Cooking Oil Manufacturing Plant for customers around the world. We have exported a large number of cottonseed oil press machine to many countries. In addition, we also undertook many cottonseed oil mill project worldwide, like Afghanistan. If you want to know the cost to setup a copmlete cottonseed oil mill plant, or the price of a single cottonseed oil processing machine, please contact us directly. Here, you can only the a satifying feedback.

Factory Price Cottonseed Oil Press Machine for Sales
Cotton Seed Oil Machine at Low Cost
To extract oil out from the seeds of cotton plants, cotton seed oil processing machine is needed whatever the capacity is small or large. The cottonseed oil machine designed by ABC Machinery is Screw Oil Press Machine that is now the most popular cooking oil processing machine in market since it can process various plant seeds or oilseeds such cottonseeds, sunflower seeds, peanut/groundnut, soybeans, palm kernel, sesame seeds, flaxseed, almond, moringa, coconut/copra, and more. By the way, we have rich experiences in setting up edible oil mill plant that can process different raw materials. such as 10TPD Edible Oil Production Line in Uganda for Cottonseed Oil & Sunflower Oil & Soybean Oil. (Read more about Cost Setting up Edible Oil Plant >>)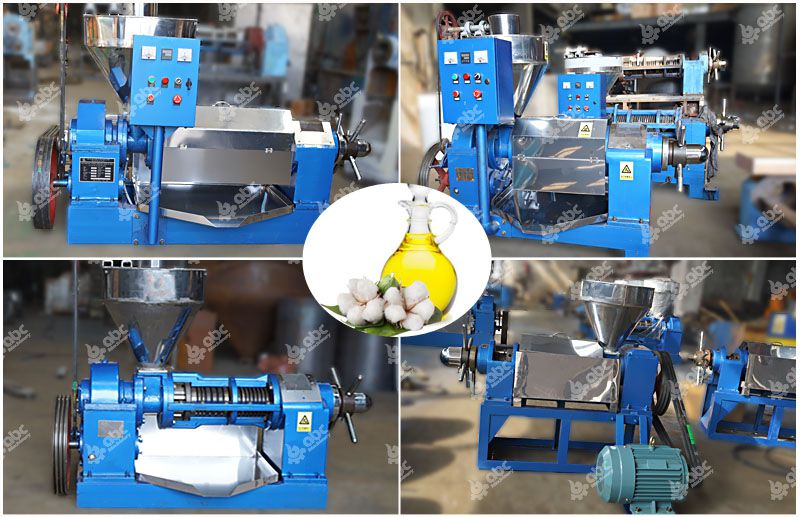 Cotton Seed Oil Processing Machine (1~20T/D)

Different from traditional screw oil press, our cotton seed oil machine is available with heating device. Therefore, you have the choice to save preheating time of the machine itself. More importantly, it can greatly improve the oil output as well as quality of crude cotton seed oil. On the other hand, the whole materials feeding system of Cotton Seed Oil Press Machine is improved for more smooth, quiet and efficient cotton seed oil cake feeding. It is the newly cottonseed oil mill machinery combined with the superiority of our technical experiences, which makes it definitely the BEST choice for mini, small and medium scale Cotton Seed Oil Mill Plant.
Cottonseed Oil Press Machine Type and Technical Data
Cotton Seed Oil Press Machine Features
Higher Oil Output: It ensures the stable and higher oil output of cotton seed oil production with the improved design on the feeding system and heating device
Cost Effective: It requires less investment, but can get the same oil extracting results with most oil extraction machine.
Wide Application: It provides the possibility to enrice the oil production by processing other raw materials, such as sunflower seeds, soybean, peanut, and more.
Outstanding Performance: It is easy operation, less maintenance, compact size, less space occupation, and more.

Cottonseed Oil Processing Technology
Generally, cottonseed oil processing is done by a several process that can be simply divided into seeds cleaning, dehulling, flaking, softening, pressing, filtration or refining. Based on different cotton seed oil production capacity, the machinery may include cleaning machine, shelling machine, cooking machine, oil press machine, oil filter machine, oil filter and oil refinery machine. But, all the actual oil processing equipment should be based on the capacity and actual oil production conditions. Below details the cottonseed oil processing steps for your reference. (Read more about: Cottonseed Oil Manufacturing Process >>)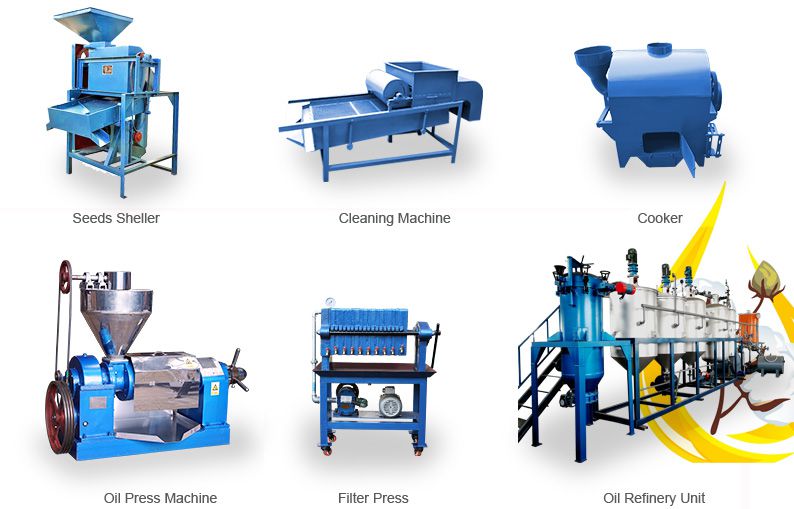 Mini Oil Mill for Cottonseed Oil
Cottonseeds Pretreatment - Cleaning, Dehulling, Softening, Flaking
Cotton seeds are cleaned by air, magnetic separation or cleaning machine, and then fed evenly into the dehulling machine (sheller) by quantitative feeder. The husking process requires neat cotton kernel size and low level of husked powder. After kernel separation, the hull content of in the cotton kernel should not exceed 10%. The softening effect will have direct effect on the oil extraction process as well as the quality of final cottonseed oil. So, it is very important to control the softening temperature, time and moisture. Cottonseed generally USES three or four layers of vertical steam frying pan. The flaking process requires the flake thickness should not exceed 0.5mm and lower fines content. The final flakes are dried. (Read more about: Oilseeds Pretreatment Equipment >>)
The pretreatment for cotton seeds is almost similar for both small or large scale cottonseed oil mill plant.
Cottonseed Oil Pressing - Small to Medium Scale Oil Mill Plant
Most of small and medium cottonseed oil mill plant uses screw oil press machine to press oil out from the cottonseed kernels by mechanical pressure so as to improve the oil yield and reduce the investment cost. Screw oil mill plant is also used to pre-press oil before starting solvent extraction. (Related Post: Oil Mill Project Cost >>)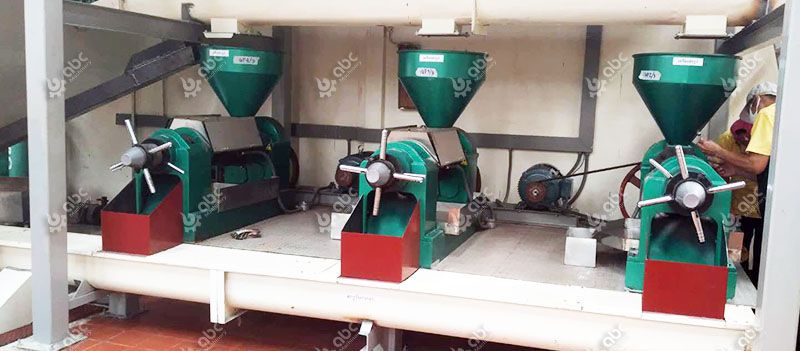 Small Cottonseed Oil Mill Plant
Cottonseed Oil Extraction - Medium to Large scale Oil Processing Plant
For large scale cottonseed oil processing plant, the most widely used method for cottonseed oil extraction is solvent extraction, which can meet the large production demand for cottonseed oil. But it usually requires very large investments.

Cottonseed Oil Refining Machine and Steps
Both mechanical pressing and solvent extraction only provide the crude cottonseed oil that contains non-triglyceride and other materials. For food processing or other purposes, the crude oil should be refined to remove non-triglyceride materials and other impurities. This process is called Edible Oil Refinery. The detailed cottonseed oil refinery process is as below.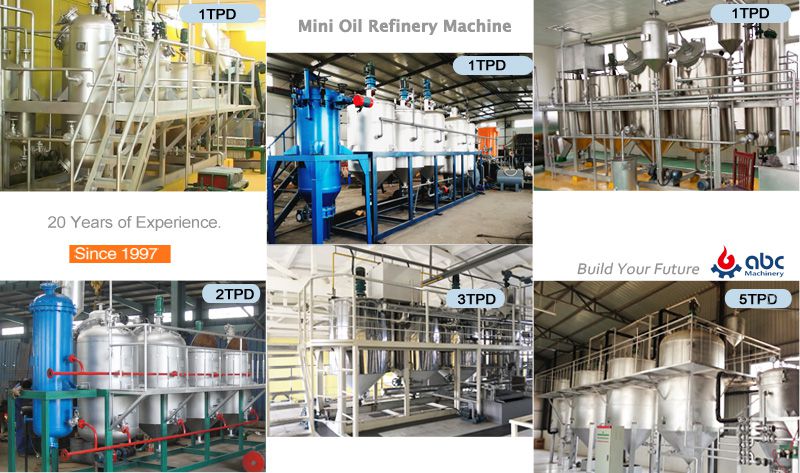 1~20TPD Small Cottonseed Oil Refining Machine for Sales
1) Alkali Refining: This process is to remove free fatty acids, glycerol, carbohydrates, resins, metals, phosphatides and protein meal. The step is to mix crude oil and alkali, then free fatty acids and alkali is able to become soap. After centrifuging, the soapstock is removed.
2) Bleaching: This process is to remove colors, pigments and the trace metals. The step is to use bleaching clays to absorb the impurities and make it colorless.
3) Winterization: This process is to protect the oil from cloudy when it is chilled.
4) Hydrogenation: This process is to improve the taste, stability, melting point, lubricating qualities, so the refined cottonseed oil can better be used for food processors. The procedure is to treat oil with hydrogen gas when there is catalyst. This process is adjustable since it change the hardeness of the oil, from very slight to almost solid.
5) Deodorization: This process is to eliminate volatile compounds, residual pesiticides, metabolites and more. In the end, there is low level of free fatty acids and no peroxide value in the oil.
6) Interesterification: This process is to rearrange or exchange fatty acids on the glycerol backbone so that the properties of the cottonseed oil can be improved.
Cottonseed Oil Refinery Plant Project ABC Machinery Built


30TPD Cottonseed Oil Refinery Plant Setup in Afghanistan
ABC Machinery has rich practical experiences in cotton seed oil processing, both in oil extraction and oil refining sectors. We have built many cottonseed oil manufacturing plant in many countries, including India, Afghanistan, Pakistan, etc. If you want to start a cotton seed oil production business, contact us now and let us know your requirements and capacity. We are sure you can get more than you expected.

Cottonseed Oil Knowledge
Cottonseed oil is one of the most important vegetable oils in the world and cotton seed oil is derieved from the seeds of cotton plants. Cottonseed oil has been used in foods for many years, such as potato chips. Since it is cheaper than olive oil or canola oil, cottonseed oil is also popular frying oil in food processing sector. Due to its rich compositions, cottonseed oil has many outstanding advantages, such as inhibitting the rise of cholesterol in human body blood. And, cottonseed oil is very easy to absorb by human body.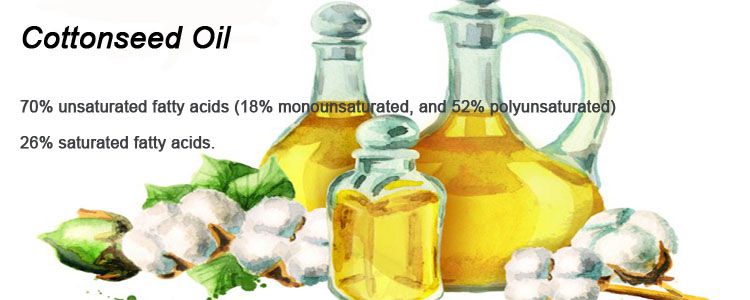 Request a Quote
We receive enquiries in English, Español (Spanish), Русский язык (Russian), Français (French) and العربية (Arabic).Our professional team will reply to you within one business day.Please feel free to contact us!