Now, more and more people seek to open a mini oil mill plant, which requires less investment cost and simple technical process, especially in areas with relatively small scale of agricultural development. Here is a typical design for a small scale oil extraction plant, capacity ranges from 5~20tpd. (Read more: Small Oil Mill Project Report >>)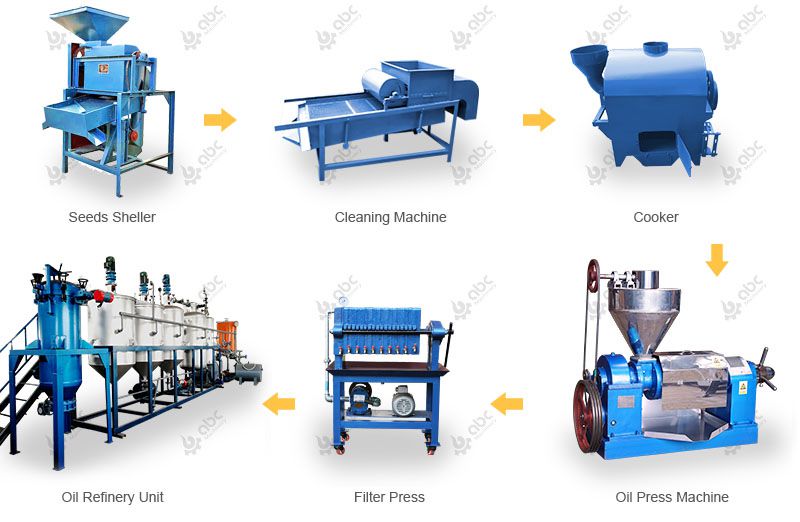 Raw Materials Suitable: This mini oil mill plant can be adopted to process most oilseeds, including groundnut, sunflower seed, palm kernel, soyabeans, sesame seeds, cottonseeds, rapeseeds, etc.
Price: If you are interested in buying our oil extraction machines, please just contact us by clicking below button and describe your demands clearly. Then, our professional technical will offer you the best price and business plans.

Small Scale Oil Extraction Machine for Almond, Niger Seed and Neem Seed to Ghana
Recently, one customer from Ghana just bought the oil processing machines and pellet mill machine from ABC Machinery to process the almond, niger seeds and almond into vegetable oil. (Read more: Vegetable Oil Production Costs >>)


5TPD Oil Extraction Machine to Ghana
Technical Parameters of Oil Press Machine and Pellet Mill
| Equipment | Model | Capacity | Power | Raw Materials |
| --- | --- | --- | --- | --- |
| Oil Extraction Machine | YZS-105 | 5~7T/D | 15KW-4P | Almond, Niger Seed, Neem Seeds |
| Pellet Mill Machine | ZLSP-230B | 300~400KG/H | 11KW | Corn, Rice Husk, Bagasse |

Cooking Oil Milling Projects Setup by ABC Machinery in Africa
ABC Machinery is specialized in cooking oil mill machinery for many years and mainly focus on providing screw oil press machine for oil extraction, oil refinining machine for edible oil refinery and grains processing equipment for pretreat process of oilseeds. And we have helped our customers set up oil mill plant to faciliate their business. Here some oil mill projects we built in Africa in recent years. If you are interested in more about the cost, equipment list, technical parameters, just contact us any time.

Onsite Installation of Oil Mill Plant in Africa by ABC Machinery
Small Oil Press Machines for Sales in Ghana


Screw Oil Press Designed by ABC Machinery

Neem Oil & Almond Oil & Niger Seed Oil Benefits
Almond oil, yellowish transparent, fragrant, not only is a kind of excellent edible oil, or a kind of advanced lubricating oil, can withstand the low temperature below -20℃, can be used as an important raw material for advanced paint coatings, cosmetics and high-quality soap, but also can extract essence and vitamins. Because almond has south apricot (sweet almond), north apricot (bitter almond) of, there is sweet almond oil. Almond oil is rich in protein, unsaturated fatty acids, vitamins, inorganic salts, dietary fiber and trace elements needed by the human body. It has the function of moistening lung, strengthening stomach and replenishing physical strength. Its amygdalin is a natural anti-cancer active substance.
Niger seed looks like smallest sunflower seeds and it also contains rich oil. Niger seed oil extracted from niger seeds has high nutritive value. It can reduce the cholesterol levels when cooking. And, it is also a kind of massage oil due to it can prevent aging, reduce inflammation and improve healing. Some studies show that niger seed oil has positive affect on the treatment of asthma, coughing and wheezing.
Neem oil contains a chemical called Azadirachtin, which has strong antimicrobial and insecticidal activity and is used as a natural insecticide and is also added to commercial insecticide products. By spraying neem extract, plants become unpalatable and insects are discouraged from feeding. If the insect continues to feed, it will inhibit the ability of oviposition and molting. Harmless to people, animals, birds, non-toxic, completely environmental protection. But because neem is a mild and environmentally friendly substance, it is not a common chemical pesticide or insecticide, so it does not immediately poison the insects. It slowly kills them as they cannot eat, grow and reproduce. The main mechanism of action is that the insect does not like to stay in the sprayed area and leaves the plant in need of protection, and absorbs neem and becomes underdeveloped, so it takes a while (insect development cycle is about 7 to 14 days).
Request a Quote
We receive enquiries in English, Español (Spanish), Русский язык (Russian), Français (French) and العربية (Arabic).Our professional team will reply to you within one business day.Please feel free to contact us!