ABC Machinery deals principally in the manufacturing and exporting of screw oil making machines. We have different models with various capacities for different oil making needs. The almond oil making machine is easy to operate and highly efficient, which makes it BEST oil machine for small scale almond oil making. (You may also like High Quality Peanut Oil Making Machine >>)

Why Choose Our Almond Oil Making Machine?
The method of almond oil pressing has a long history. According to the type of pressing method, it can be divided into three types: soil pressing, hydraulic press and screw press. With the advancement of the technological process, soil pressing and hydraulic presses have been eliminated. At present, spiral screw oil press is widely used, which have the advantages of large processing capacity, continuous production, low labor intensity, and high oil yield. Our almond oil making machine is new type screw oil press machine. It has the same working principle of screw oil press, but has many improvements in the designs so as to get the BEST oil pressing results. (Read more about Screw Oil Press Machine Suppliers)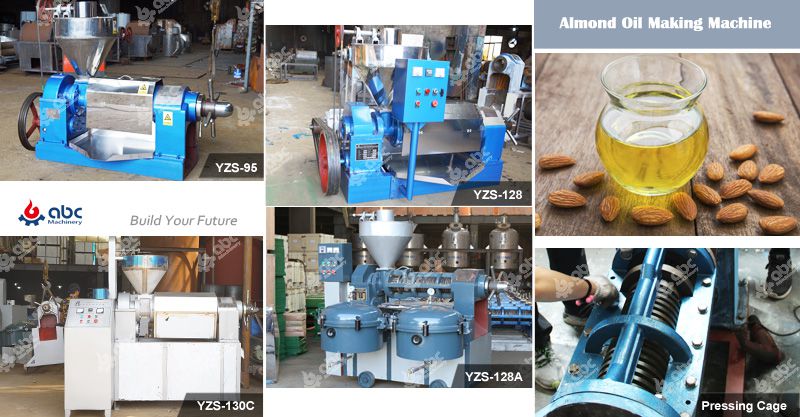 YZS Series Almond Oil Making Machine
Different models sit your almond oil making needs perfectly
High quality steel materials for long operating life
Also applicable for other oil-bearing seeds, such as groundnut, coconut, palm kernel, sunflower seeds, tea seeds and more.
Compact design with efficient performance for low cost almond oil making
Can be customized for hot pressing or cold pressing
The biggest advantage of the cold-pressing process for almond oil is that it can avoid the destruction of unsaturated fatty acids in the almond oil by high temperature, and effectively retain the natural nutrients without adding any chemical components.
How to Make Almond Oil?
Almond oil making is not a simple process, it also requires some of steps if you want to get high quality almond oil while maximizing the oil output rate. Below is the main steps of making almond oil.

An Example of Small Almond Oil Pressing Line
Seeds Cleaning: Like other oil pressing process, cleaning is the most basic step for all types of oil-bearing seeds, since it can ensure the quality of oil and oil cake by removing the foreign impurities that add mixture for the oil and may damage the machine. (Equipment recomended: Cleaning Sieve)
Pre-conditioning and flaking: Cleaned almond can be adjusted its moisture and temperature by cooker or other conditioning machine. Then get flaked for next oil pressing step. (Equipment recomended: Cooker)
Oil Pressing: Pre-treated almond is conveyed by screw conveyor electric conveyor into the screw oil press to extract oil out from the materials. (Equipment recomended: Single Screw Oil Press or Auto Oil Expeller with Filters)
Filtration: The almond oil extracted from the screw oil press is crude oil, generally, it can't be directly used since it also contains many other substances that may be harmful for human body or doesn't reach the usage standards. The filtration is to get some of the substances removed. (Equipment recomended: Plate and Frame Oil Filter)
Refining: Oil refining is very professional process to remove compounds within the oil, such as phospholipids, mucilaginous gums, free fatty acids, colour pigments and fine meal particles. It usually includes degumming, deacidification, decolorizing and deodorizing. (Equipment recomended: Edible Oil Refining Machine)
However, the almond oil making process is flexible and selectable based on actual oil making requirements. If you don't have clear idea about it, or want to make sure which process is the BEST one for you, please contact our technical staff for professional support!
Benefits of Almond Oil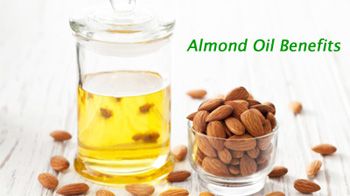 Almond oil is divided into bitter almond oil and sweet almond oil. Bitter Almond Oil is extracted from the dried mature seeds of Rosaceae apricot, apricot apricot and Siberian apricot, and contains amygdalin, which is generally used in medical applications. Sweet almond oil is obtained from the mature nuts of the sweet almond tree (Papaya). Sweet almond oil is rich in olein and is one of the most widely used vegetable oils and a neutral base oil. It is produced in Greece, Italy, France, Portugal, Spain and North Africa in the Mediterranean area.
Antioxidant, prolong life
Increases brain activity and memory
Great for beauty and thermal insulation
Relieves muscle fatigue and enhances body functions
Softens blood vessels and prevents cardiovascular and cerebrovascular diseases
Request a Quote
We receive enquiries in English, Español (Spanish), Русский язык (Russian), Français (French) and العربية (Arabic).Our professional team will reply to you within one business day.Please feel free to contact us!