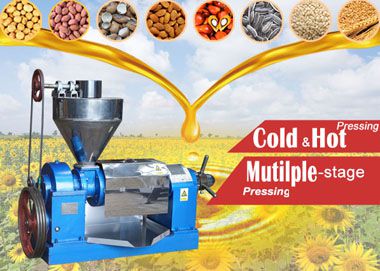 Sunflower seeds is also harvested for edible oil making. Sunflower oil, yellow and transparent, is healthy edible oil that can low cholesterol, boost energy, improve skin clarity, moisturize skin and reduce inflammation. The production of sunflower oil in the world ranges from 1 to 12 million tons, being one of the most important edible oil in Asia, Africa and America. The production of sunflower oil starts by the cleaning of seeds, cooking, pressing, refining and packing. As the heartbeat of sunflower oil pressing, the performance of screw oil expeller plays important role in sunflower oil making. (Read more about Edible Oil Production Line >>)
Screw Sunflower Oil Press Expeller for Sales
ABC Machinery provides different sunflower oil expeller models to fit different oil making needs. Screw oil press expeller is now the most popular equipment due to its superior versatility and stable performances. Through simple mechanical pressing force, the oil-bearing seeds are pushed towards to the pressing chamber where equipped with pressing rings and pressing bars, the start of oil expeller automatically pushes the materials into pressing chamber to squeeze oil out. And, the oil is collected through the oil tray and the oil cake is expelled out from the machine. (See detailed paramaters at Screw Oil Press >>)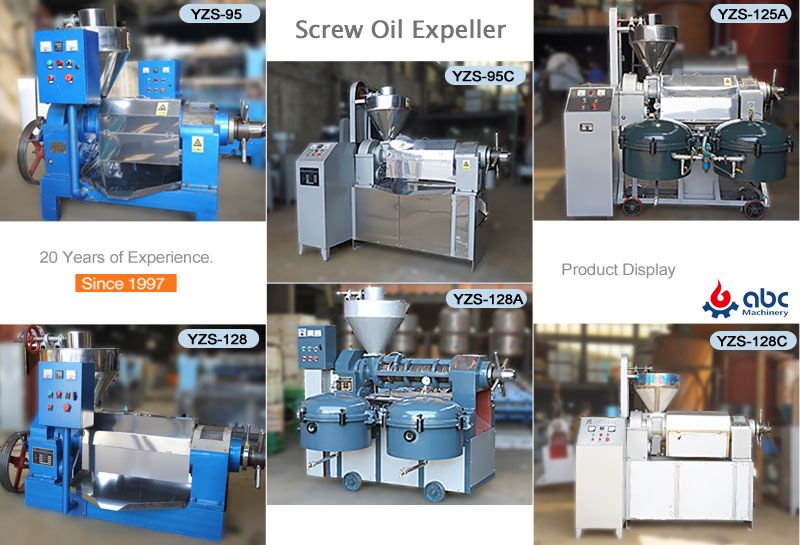 Sunflower Oil Machine for Sales
Features of Sunflower Oil Expeller
High quality steel fabricated base and bodies for long-term life
Well-designed components for smooth and stable oil pressing
Easy operation, less maintenance, small footprint, low cost
Superior quality of oil and cake with less residual oil
Control handle to adjust the cake thickness as required
Can be customized based on the specific sunflower oil production process
Reliable Screw Oil Expeller Supplier
ABC Machinery is a leading screw oil press expeller supplier in China. We are backed with strong leadership, dedicated workforce and progressive updated technology. That is why we can won the trust of our customers. Now, let us take a look about how the sunflower oil expeller is manufactured?

Screw Sunflower Oil Press

Quality Inspection and Packing of Oil Expeller


Sunflower Oil Expeller Spare Parts for Sales
Our oil expeller is guaranteed with factory low price, which will help you lower the cost of the setup of oil mill plant. As the most important part of oil processing, oil expeller is strongly connected with the oil processing capacity, automatic scale, the quality of final vegetable oil and other factors.

Complete Sunflower Oil Production Process
ABC Machinery is dedicated to supply the most advanced screw oil expeller press for our customer by investing greatly on the tapering of the screw and design of the pressing worm with the aim to maximizing the final oil yield. In addition, we also supply turnkey services for vegetable oil processing. The Oil Pressing Pressing Projects are robust, flexible, versatile, safe, reliable and efficient. These plants are based on the commercially proven technologies, which are not only energy efficient & environment friendly, but also cost effective! (You may also like Sunflower Oil Processing Plant >>)
Request a Quote
We receive enquiries in English, Español (Spanish), Русский язык (Russian), Français (French) and العربية (Arabic).Our professional team will reply to you within one business day.Please feel free to contact us!