Sunflower oil is one of the three main edible oils in the international market. The production of sunflower oil ranks behind palm oil, soybean oil and canola oil. Africa is the main producing area of sunflower seeds in the world. The global production of sunflower seeds is 605,000 tons, of which Africa accounts for 94.3% of the total production, and other regions account for 5.7% of the global production.


Sunflower Seeds Production Proportion in Africa
How to Make Sunflower Oil – Sunflower Oil Production Process
Sunflower Seeds Selecting and Cleaning
In order to ensure the quality of final sunflower oil, it is better to select sunflower seeds with oil content of 30~50% above. Then, clean the impurities contained in the sunflower seeds, including straws, metal iron, stones and more. (Related Equipment: Oil Seeds Cleaning Machine >>)
Sunflower Seeds Shelling and Crushing
Shelling process is to get the sunflower kernels. It is better to control the shell content in sunflower kernel is less than 10% and the sunflower kernel content in the shell is less than 1%. Then, adopting the crushing equipment to squeeze the sunflower kernels into small pieces, which is to smooth the following sunflower oil processing and increasing oil yield.
Sunflower Seeds Flaking and Steaming or Cooking
The sunflower kernels after crushing can be still broken into embryonic flakes to damage the cell tissues for easy oil extraction. Then, steaming or cooking equipment is used to adjust the moisture and temperature of the sunflower embryos. (Related Equipment: Steam Cooker Machine >>)


Sunflower Oil Manufacturing Process
Using the screw oil press machine, according the capacity, to press the sunflower oil out from the processed embryos. Now the sunflower oil press machine varies from the functions, but most sunflower oil making machines still belong to mechanical sunflower oil extraction method, which ensures the oil yield and lower the cost. (Related Equipment: Sunflower Oil Press Machine >>)
Sunflower Oil Refining and Dewaxing
The oil refining machine is to remove most of the impurities contained in the crude sunflower oil so as to improve the quality. It is worth noting that sunflower oil, unlike other vegetable oils, has high wax content in the crude sunflower oils. Therefore, most of the edible oil refining plant is also equipped with dewaxing process for sunflower oil production. (Related Article: Sunflower Oil Refining Process >>)
Sunflower Oil Production Equipment Cost
From above mentioned sunflower oil manufacturing process, it is obvious that sunflower oil production line involves a series equipment, mainly including cleaning machine, shelling equipment, sunflower oil extraction machine, sunflower oil refining equipment and more. The equipment selection is decided by the sunflower oil production process. So, the exact equipment of a complete sunflower oil production line is flexible, which is favorable to control the cost of sunflower oil production. Surely, the sunflower oil production cost doesn't only contain the equipment, also include the factory area cost, labor cost and operation cost and more.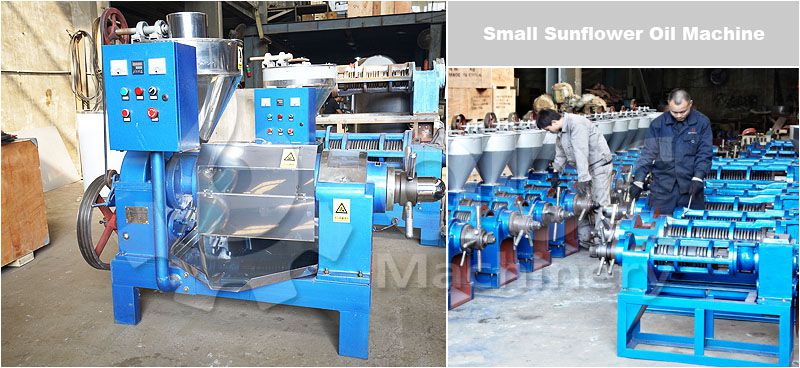 Small Sunflower Oil Production Machine at Low Cost
The main equipment for a small scale sunflower oil production line, capacity 5 tons per day, is cleaning machine, shelling machine, cooker, small oil press and oil filter machine. The lowest cost is about $7,000 above. Surely, all the equipment configuration is relatively low. It may not work on every condition. For detailed and exact sunflower oil production equipment cost, please offer us all your requirements, so we can help you have a custom-made sunflower oil production line and to lower your purchasing cost. (Read more about Sunflower Oil Making Machine >>)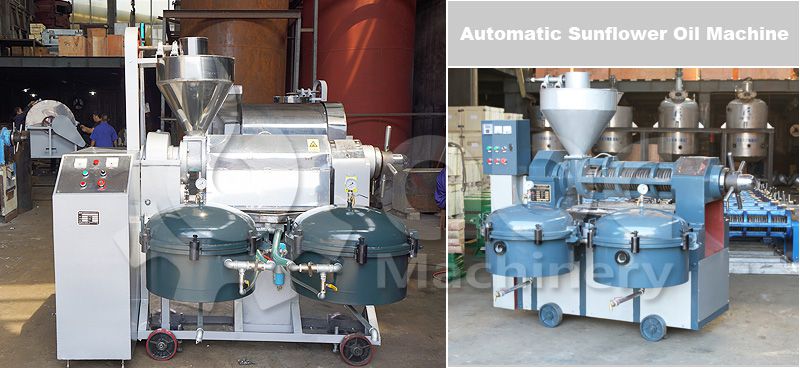 Low Price Automatic Sunflower Oil Making Machine
Tanzania Sunflower Oil Production Industry
Tanzania is an agricultural country in Eastern Africa, where half of the farmers grow sunflowers seeds countrywide. Sunflower farming mostly involves small-scale farmers, but also comprises of large scale farmers so as to supply raw materials for the high demand of sunflower seed oil, which is about 13% of edible oils in the entire world. From the high demand of sunflower seed oil locally and internationally, here comes sunflower seed oil market in Tanzania. The major market centers of sunflower oil are Dodoma, Tabora and western Tanzania, which is said to demand 75,000 plus tons per year.


Small Size Sunflower Oil Production Process
The Tanzanian government in collaboration with other units is trying to help the farmers to uplift their household businesses through implementations of agricultural projects. To increase the supply of sunflower seed oil, small and micro sunflower oil producers are advised to form groups that are more effective in storage, cleaning, refining and joint marketing. (Related Project: 1tpd Sunflower Oil Refining & Dewaxing & Fillling Line in Tanzania >>)


Sunflower Oil Processing Industry in Tanzania
Sunflower oil processing in Tanzania are completely processed and refined by sunflower oil factory. Chamwino industrial park is one of the processing areas. In the recent past, there were many sunflower oil processing plant distributed all over the country to provide high quality refined sunflower oil at affordable prices. In fact, processing more than one million tons of sunflower oil, only about ¼ of that is clean and refined sunflower oil that is ready for the market. Why does this happen? This is mainly because of the low quality sunflower oil processing machinery and low quality sunflower seeds. If you choose ABC Machinery, you can solve such problems since we only provide high quality oil production machinery. (Read more about ABC Machinery Visited Tanzania in 2018 >>)
Sunflower Oil Production in Africa
| No. | Country | Sunflower Oil Production | No. | Country | Sunflower Oil Production |
| --- | --- | --- | --- | --- | --- |
| Top 1 | South Africa | 254100 Tons | Top 6 | Zambia | 7000 Tons |
| Top 2 | Tanzania | 152850 Tons | Top 7 | Mozambique | 5953 Tons |
| Top 3 | Uganda | 80300 Tons | Top 8 | Zimbabwe | 5200 Tons |
| Top 4 | Egypt | 20200 Tons | Top 9 | Angola | 4007 Tons |
| Top 5 | Morocco | 12400 Tons | Top 10 | Kenya | 3199 Tons |
Tips for Tanzania Sunflower Oil Production Industry
Choosing the qualified sunflower seeds for the sunflower oil production process to ensure the quality of final produced sunflower oil.
The purely refined sunflower seed oil is has much higher economic values.
Introducing advanced sunflower oil production equipment to meet the challenges of Tanzania sunflower oil processing industry.
Has close cooperation with sunflower oil processing plant owners to join their efforts for more sufficient edible sunflower oil production.
Government provides more financial and technical supports, such as coming up with industrial policies, to motivate sunflower oil production industries.
I would like a quotation for a mini sunflower refinery equipment to be established in tanzania. I will buy crude oil from local processors and do the final refinery, packaging and labelling. Please give me the range of products, capacity and prices so that I can decide which one I will purchase finally. Also give me the contacts of anybody who has purchased such a machine from Tanzania so that I can visit for more information.

Hello, sir.
We can supply high quality sunflower oil refinery plant that ranges from 1tp to 400tpd, the hot sale capacity is 1tpd to 50tpd.

The sunflower oil refinery machine price is decided by the capacity, construction materials and more. Typically, the 1tpd to 30tpd small sunflower oil refining plant may cost $21,000~$115,000. However, the exact cost should be based on the capaicty and the equipment requirements.

We have exported many sunflower oil processing machines to Tanzania, including sunflower oil extraction machine, sunflower oil refining machine, sunflower oil dewaxing machine, sunflower oil filling and labelling machine. Please contact us to get detailed information so than you are able to visit the factory installed by our Tanzanian customers.
Request a Quote
We receive enquiries in English, Español (Spanish), Русский язык (Russian), Français (French) and العربية (Arabic).Our professional team will reply to you within one business day.Please feel free to contact us!