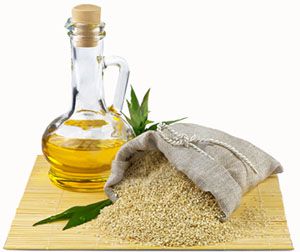 Sesame oil is one of the most common vegetable oils in the world. It can be widely used as cooking oil in Asia and used as a flavor enhancer in Africa, Middle Easter, Asia and more. ABC Machinery is a TOP Chinese manufacturer and supplier of sesame oil making machines and we have the best sesame oil pressing machine factory. If you are preparing for vegetable oil making business, our oil machines in different models and capacities would be a BEST choice. All the oil pressing machines are guaranteed with high quality steel materials. (You may also like Wholesale Oil Making Machine >>)
BEST Sesame Oil Making Machine for Sale
For a long time, sesame oil was mainly extracted by water extraction method. However, the water extraction is outdated and can meet the modern sesame oil processing requirements for its poor equipment, low efficiency production. And the screw oil expeller press for sesame oil is a newly type of sesame oil extraction machine that is gradually replaced the traditional water extraction ways and now the most popular oil processing machine for sesame oil making business. Here, we will has a brief introduction of the principle and process of screw sesame oil making machine. (You may also like Soybean Oil Expeller Machine >>)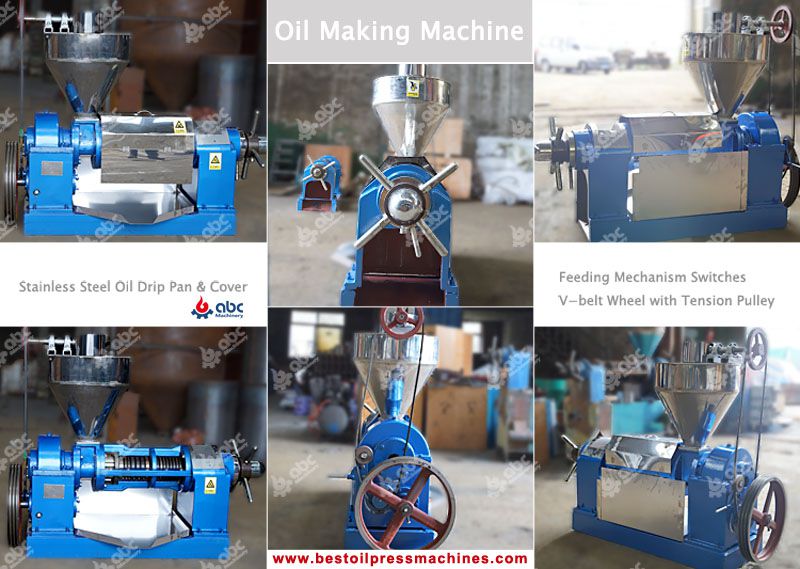 Sesame Oil Machine for Sales
The new type spiral sesame oil machine is characterized by the ability to maintain the special flavor of sesame oil. In order to achieve it, it is very important to have appropriate heating of the sesame seeds. When pressing, it will have positive effective on the final sesame oil by increasing the inlet pressing temperature. In order to achieve it, our sesame oil making machine is designed with electric heating pipe in the pressing cage and main screw shaft. For user's conveniences, the installation of the heating pipe is based on your requirements. Increasing the inlet pressing temperature not only maintain the flavor, but also can easily and quickly separate the sesame oil, and further increasing the oil output. (You may also interested in Corn Oil Processing Machine >>)
Tecnical Data Of Sesame Oil Expeller Making Machine
| Model | Capacity | Power | Weight | Size |
| --- | --- | --- | --- | --- |
| YZS-85 | 60-80kg/h | 5.5kw | 200kg | 1200×400×900mm3 |
| YZS-95 | 150-200kg/h | 7.5-11kw | 530kg | 1600*700*1350mm3 |
| YZS-105 | 210-300kg/h | 15kw | 550kg | 1825*700*1350mm3 |
| YZS-128 | 300-375kg/h | 15Kw | 775kg | 2000*600*1170 mm³ |
| YZS-130 | 450-500kg/h | 18.5kw | 850kg | 2010*800*1380 mm3 |
| YZS-150 | 750-850kg/h | 30Kw | 1380kg | 2180*790*1790 mm3 |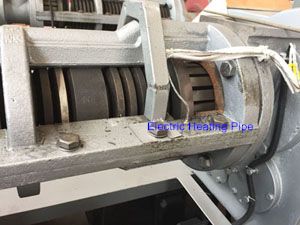 Keeping the special flavor of sesame oil is very important for sesame oil processing. Appropriate temperature adjustment of the oil extraction machine will increase the aroma of sesame oil, but too high temperature can lead to adverse consequences, such as dark sesame oil. Therefore, the operator should pay special attention to the control and adjustment of temperature when processing sesame oil. As a professional and leading oil extraction equipment manufacturer, ABC Machinery has always focused on designing the most suitable sesame oil machine for customers, and never stop studying and improving our sesame oil making machines. (You may be also interested in Buy Peanut Oil Press >>)
Screw Sesame Oil Machine Making Process
Sesame seeds has high oil content, up to 45%~63%. Screw sesame oil machine is generally extracting sesame oil by hot pressing. The process flow is as follows: Sesame Seeds - Cleaning - Softening - - Flaking - - Pressing -- Filtering


After the sesame is cleared, cook it in a pan, and then go directly into the oil expeller to press it. When the sesame is roasted, the fire should be in good command. When the temperature is too high, the sesame will become black and the cake will be burnt. The temperature will be controlled at about 110 to 120 degrees. At the beginning of pressing, the sesame oil machine is required to slow down a bit, until the temperature of the chamber is about 80 degrees. Control the thickness of the cake at about 1.5-2mm when pressing. How much sesame seed water content directly affect the use effect of oil mill, experienced oil expeller user can master sesame seed moisture content according to the pie out of the high and low, the soft and weak in cake, oil bubble. It means the water moisture of sesame seeds is heavy. We have experienced and professional engineer to help our customer get hold of the sesame oil making machine operational keys. Surely, all the operational steps and standards are decided by the actual pressing situation and requirements.
In addition to higher oil yield and easy operation, the screw sesame oil making press expeller can also improve the utilization and storage of the oil cake from both technical level and the production efficiency. That is why more and more customer choose them to start or expand their sesame oil production. If you are looking for an ideal oil making machine for sesame oil production, please contact us directly for the latest factory price and more specifications!
Why Sesame Oil is Popular Globally?
Sesame oil is basically used in three different ways: culinary, cosmetic and medicinal. Though it is clear that these three are connected due to the properties of sesame oil, some of which are listed below.
High in unsaturated fat
Regulates blood-sugar levels
Anti-inflammatory
High in antioxidants
Good for sinus problems
Contains calcium
Helps fight depression and stress
Excellent for oral health
Anti-ageing properties for skin
Antibacterial
Helps fight against Rheumatoid Arthritis
It is no wonder that in some parts of India it is known as 'Healing Oil'! Aside from the obvious health benefits through consumption of sesame oil, it is also being widely recognized as a key ingredient in skin and hair products, providing a more natural, healthier alternative. The pharmaceutical industry, especially in India, is seizing upon this opportunity to produce a wide variety of sesame oil products that it sees as being a lucrative and popular market.
Request a Quote
We receive enquiries in English, Español (Spanish), Русский язык (Russian), Français (French) and العربية (Arabic).Our professional team will reply to you within one business day.Please feel free to contact us!