With the development of society, sesame has evolved from the traditional stone mill to today's machine-pressed sesame oil, that is, the sesame oil extraction machine, which is mainly used for small and medium-sized individual oil mills. Sesame oil can use a screw press or a hydraulic press, so which sesame oil processing equipment is good? ABC Machinery is here to briefly analyze the processing characteristics of the two machines and introduce the background of sesame oil production in the world to help you start the sesame oil processing business at the lowest cost.

Sesame Oil Machine Price In Turkey
ABC Machinery stands by the legacy of high performance, durability and quality, and focuses on developing efficient and powerful Seed Oil Extraction Machine to meet the needs of oil making at factory price. We designs equipment that empower our customers to tackle oil making problems with ease. Our sesame oil press machine is one of the most cost effective oil processing machine make high quality cooking oils. (Read More: Sesame Oil Processing Plant Setup Cost >>)

What's Sesame Oil Press Machine?
The sesame oil press is a new type of Screw Oil Press Machine hat makes use of the pressing rings or pressing bars to extruder oil out from sesame seeds. Compared to other sesame oil presses in the market, screw sesame oil presses we supply can squeeze sesame materials evenly, which can optimize the oil output. In addition, the oil extracted by our sesame oil machine is of high quality, bright color and full fragrance. Our sesame oil press machine boasts strong capacity, stable and efficient performance. Most importantly, it is priced lower than other types of oil production machinery, but can achieve the same sesame oil production results.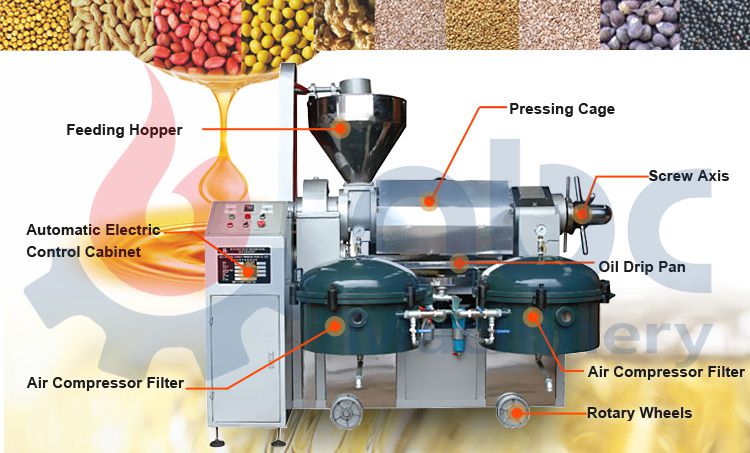 Sesame Oil Press Machine Structure
♦ Technical Specifications at Automatic Oil Press Machine ♦
Reasons to Choose Our Sesame Oil Press Machine
Higher Oil Yield: improved feeding system and updated pressing cage for oven oil squeezing
Easy Operation: automatic oil pressing machine requires less efforts and labors for stable oil pressing
Cost-saving: less maintenance, longer service life, high quality, and highly efficient oil production all for low cost sesame oil production.
Lowe Prices: we are the original manufacturer of sesame oil press machines, there are no more medium price. You can get the most competitive factory direct supply price.
Wide Application: this oil press machine is not only suitable for sesame oil production, but also can process a very wide range of vegetable seeds, such as mustard seeds, sunflower seeds, rape seeds, hemp seeds, prickly pear seeds, soybean, copra, castor, and more.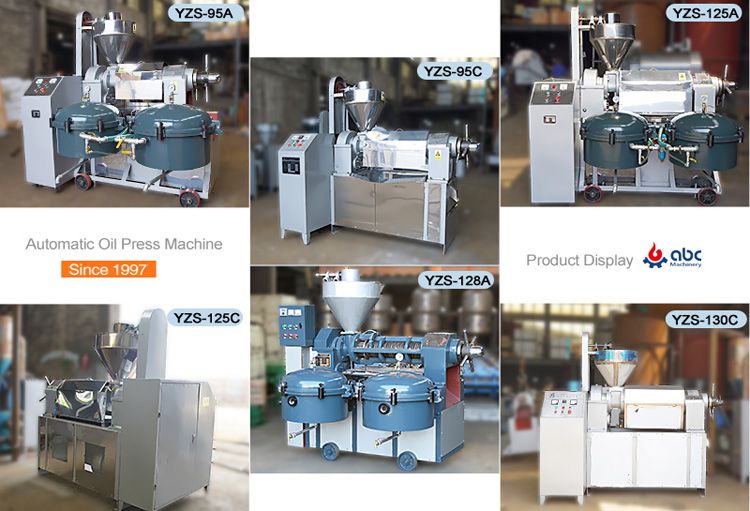 Sesame Seeds Oil Press Machine at Factory Price

If you have any questions or needs related to edible oil production equipment and projects, please click the button abolve to contact us, ABC Machinery will arrange professionals to communicate with you as soon as possible and provide you with suitable solutions.
Sesame Oil Cold Press Machine - Hydraulic Oil Press
Hydraulic oil press extracts oil from oilseeds by making use of hydraulic principle. The whole oil extraction process is visible. It is suitable for home use of small cooking oil mill. Compared to screw oil press machine, hydraulic sesame oil press machine is a little expensive. Hydraulic oil press is also well known as sesame oil cold press machine.


Hydraulic Sesame Oil Press Machine
Features of Sesame Oil Cold Press
At present, many small or household oil press mills use hydraulic press machines to press sesame oil, especially vertical hydraulic presses, which are favored because they do not take up space, press fast, and are easy to operate. The hydraulic oil press machine achieves great pressure through the principle of hydraulic pressure. Because it is statically pressed, the pressure directly acts on the raw material cake embryos, without relative movement and friction, and no additional heat generation, so it will not produce burnt smell. The oil produced is lighter in color, preserves the original flavor, and has higher nutritional value.


Sesame Oil Cold Press Machine
High oil extraction efficiency allows high oil yield, especially for sesame oil
Low energy consumption, low maintenance cost
Easy operation, one can operate several sets of hydraulic oil press at the same time
Built with stainless steel, hard chromium plating technology for long-term use
No high temperature (Cold Pressing) processing in the oil extraction process, the oil is great in color, taste, smell
Suitable for various oilseeds such as sesame seeds, perilla seeds, walnut, almond, pine nut, mustard seeds, etc.
♦ Turnkey Porject: 10TPH Automated Sesame Oil Manufacturing Plant Setup in Thailand ♦

Setting up a Sesame Oil Mill
Sesame oil has been used since ancient times for cooking, medicine, and religious rituals. It is used in recipes as varied as salad dressing, Persian candy, or matched with soy sauce in Asian cuisine. A very healthy oil packed with essential fatty acids and one of the most highly used oils in the world. As world cuisine spreads to new places and people become ever more health-conscious, sesame oil will continue to increase in popularity and demand. So, how to start a small sesame oil production business? Setting up a small scale sesame oil mill would be great choice. For small scale sesame oil mill factory, physical oil pressing method is BEST choice due to the low investment cost and the pressed sesame oil is a golden color and has a nuttier flavor for sauces and dressings. (Read more about Small Scale Oil Mill Plant Project >>)


Sesame Oil Mill Plant at Low Cost
Working Video Of Sesame Oil Pressing Plant Taken By Abc Machinery
Small Sesame Oil Production Steps
Sesame Seeds Cleaning & Washing
In order to remove mud, stones, grass, and other debris, the sesame seeds are run through a series of seed cleaning machines. They are then put into a winnowing machine and rinsed and washed.
Sesame Seeds Cooking & Roasting
Sesame seeds are put into a roaster which very carefully heats and tumbles the seeds at a high temperature. They are then cooked in a steam boiler that heats them up to a very high temperature without causing burning. On the way out, the seeds go through a dedusting machine that removes smoke and cools it down.
Cooked seeds are pressed by screw oil pressing machine or hydraulic oil pressing machine to squeeze the oil out, which have to go through three times in order to get enough of the oil out. A large hydraulic press squeezes out 45% of the total mass of the seeds. Each time through, the seeds have to be lifted back to the top using a bucket elevator and a screw conveyor. Finally, the oil goes into a precipitator to remove the sediment. The remaining seed cake will be sold as animal feed or seed meal for agricultural uses.
Sesame Oil Filtration & Refining & Filling
The oil goes through another machine called an Oil Filter Press Machine which will filter out any remaining impurities. The finished oil can now be stored in large tanks. For refined sesame oil, it should be refined by Oil Refinery Machine. Then, a vegetable oil filling machine is then used to put the oil into its bottles and final packaging can be done.
There are a many essential pieces of equipment described in the sesame oil production business. Whether producing the oil on a very large scale or in small batches, a very similar process is followed. The production of Sesame Oil is a business that has existed for over 4000 years, and the growth in its popularity continues into the future. ABC Machinery strives to provide the most cost-effective Oil Mill Machine for Business. For more detailed production and manufacturing process of the sesame oil press machine , please feel free to contact us!

Something about Sesame Oil
As an edible oil, sesame oil is extracted from sesame seeds normally by screw oil press. Sesame oil features a natty aroma and great taste, making it a popular cooking oil in Asia, Africa and more. In fact, sesame oil can be divided into two types, one is used as frying oil, and the other is used as a seasoning oil. Among the cooking oil, sesame oil, with high smoke point, is not likely to rancid, since it contains natural antioxidants despite of its high content of polyunsaturated (omega-6) fatty acids (up to 41%). The main sesame oil markets are in countries in Asia and Middle East, such as China, India, Korea, etc.. And the world's sesame seeds are mainly used to produce sesame oils or used in food.

Sesame Oil Production In India
Top Sesame Oil Producing Countries
The world's largest sesame oil producing countries are the United Republic of Tanzania, Myanmar, China, India, Japan, South Sudan, and Sudan and more.China is the main market for the sale of raw sesame seeds and the deciding factor of market trends.
| Rank | Country | Tonnes (Metric Tons) |
| --- | --- | --- |
| 1 | United Republic of Tanzania | 544,293 |
| 2 | Myanmar | 318,000 |
| 3 | China, mainland | 234,000 |
| 4 | India | 108,000 |
| 5 | Japan | 45,441 |
| 6 | South Sudan | 42,500 |
| 7 | Sudan | 41,900 |
| 8 | Turkey | 32,250 |
| 9 | Republic of Korea | 29,466 |
| 10 | Uganda | 24,600 |
| ..... | .......... | ............. |
In recent years, in the highly competitive edible oil market, the concentration of brands has greatly increased, and oil varieties have become more abundant. While providing consumers with diversified consumption choices, it also puts forward a new test for new investors in the market-sufficient room for development must be obtained in the highly competitive edible oil market, and sustained growth of benefits must be achieved. Investors can only produce high-quality edible oil and provide consumers with high-quality, safe and innovative products if they choose a suitable edible oil production equipment supplier.

ABC Machinery dedicates to supply the premium quality sesame oil press machine and sesame oil mill factory at low factory price. For customer convenience, we will customize the BEST oil production plan and ensure oil press equipment is well worth what you paid. If you have any questions or want to the latest price of our sesame oil press machine, please let us know!
I intend setting up a sesame oil mill in Nigeria with the specification of manufacturing cold pressed refined sesame oil. How much is the cost of a machinery that can help me achieve this? I would really appreciate specification based on small -scale size, medium-scale and on a large-scale basis.
Hello, dear. The cold pressed sesame oil and refined sesame oil have different sesame oil manufacturing processes. And, different capacity has different cost. Please tell us your expected capacity, then we can provide you the customized plan for the sesame oil mill and provide the exact cost.
pls i would like to purchase an oil press for Sesame oil and also for coconut oil. can i use the same machine? also i am starting on a small scale say 1 or 2 tonnes a week until i grow in the business. what would you recommend?
Hello, dear. Thanks for your interests in our equipment. You can use the same oil press machine to extract oil from sesame seeds and coconut. But the detailed process may have a little different. For 1~2TPD oil production needs, our YZS-85 oil press machine would be a great choice, it is small in size and efficient in performance.
Request a Quote
We receive enquiries in English, Español (Spanish), Русский язык (Russian), Français (French) and العربية (Arabic).Our professional team will reply to you within one business day.Please feel free to contact us!