Corn Germ & Corn Oil
Corn oil, also known as corn germ oil, is derived from the corn germ. The fat content of corn germ is between 17% and 45%, accounting for about 80% of the total fat content of corn. The biggest feature of fatty acid in corn oil is that its unsaturated fatty acids content is up to 80% ~ 85%. Corn oil itself does not contain cholesterol and it has a dissolving effect on the accumulation of cholesterol in the blood, so it can reduce the effect of hardening on blood vessels. It has active prevention and control effect on senile diseases, such as arteriosclerosis and diabetes. Because of the natural compound vitamin E, corn oil has obvious curative effect and preventive effect on heart disease, thrombophlebitis, reproductive dysfunction, muscular dystrophy and nutritional encephalomalacia. That's why more and more people tend to corn oil and it is now a very important vegetable oils in global market. (More information about oil processing at Oil Processing Plant>>)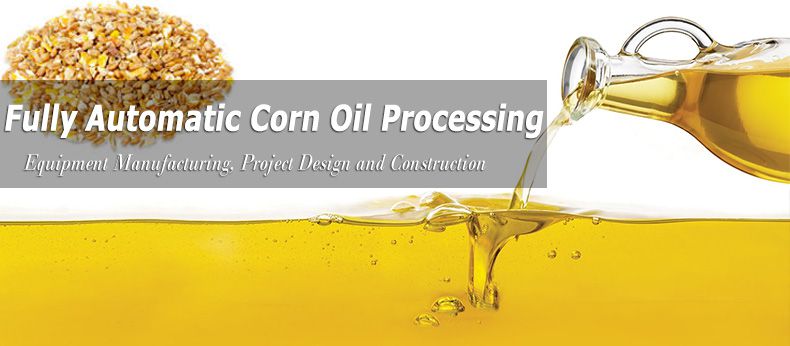 Corn Oil Machine Price In India
For manufacturers who set up corn oil processing plants or businessmen who want to invest, purchasing corn oil processing equipment is an important step. The quality of corn oil processing machines will affect the quality of corn oil, so customers are very cautious when purchasing corn oil processing equipment. However, the corn oil making machine currently on the market is diverse and the quality varies. Many customers cannot buy high-quality equipment with limited cost. In order to make customers avoid detours, ABC Machinery will briefly introduce corn oil processing steps and required equipment, and help customers purchase high-quality corn oil processing equipment.

Corn Oil Processing Machine for Sales
If you are determined to start corn oil manufacturing business, get a best corn oil machine is one of the most important process. ABC Machinery is a professional oil processing machinery supplier and has been established a lot of oil mill plants for different oil seeds. We are expert about corn oil processing and we supply high quality automatic corn oil processing unit to easily solve corn oil pressing process. Below is the main structure of our automatic corn oil pressing machine. It is now the most popular oil processing machinery for small or medium scale corn oil production line.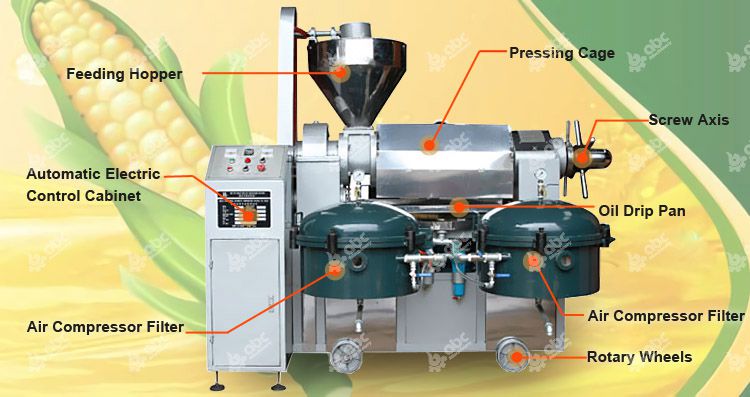 Unlikely traditional corn oil machine, our automatic corn oil processing machine has six biggest features.
Designed with completely automated electric control cabinet to increase the temperature automatically and stably, which finally ensure maximum corn oil output.
The pressing cage and shaft axis is equipped with electrical heated tube, so it saves time of pre-heating of the corn oil machine.
Highly efficient air pressure oil fiters provides direct filtration for crude corn oil.
Stable feeding hopper & Stainless steel oil outlet pan and pressing cage cover & movable rotatory wheels
Applicable for other kinds of plant seeds or nuts, including rice bran, tea seed, sunflower seeds, peanut, soybean, flaxseed, , camellia seed, sesame seed, castor bean, and more.
It can easily set up a small scale or medium scale corn oil processing factory.
ABC Machinery is a leading oil processing machinery supplier in China. We not only provide factory price and high quality oil press machine, but also boasts strong capacity to undertake turnkey oil processing plant projects. If you have any idea about our products or want to have more deep cooperation with us, please contact us with hesitation!

Corn Oil Processing Steps
Corn oil, also called corn germ oil, is the oil extracted from corn germ. Before producing corn oil, you must first make sure that your raw material is corn germ, not the whole corn kernel, so that you can produce corn oil. The production process of corn oil specifically includes cleaning, softening, rolling, steaming, pre-pressing, leaching and refining. A series of corn oil production equipment is also used in the corn oil production process. Let's take a look at the corn oil production equipment manufacturer——ABC Machinery's introduction to the corn oil production technology.

Corn Oil Production Process
Corn germ separation is one of the key steps of corn oil extraction. There are difference in the anti-crushing ability of corn germ and corn endosperm, so the endosperm is crushed by crushing equipment, and then the corn germ is screened by screening equipment. Generally, the corn germ can be separated from the corn by 4% -8%. The corn germ for corn oil extraction is required to contain less water, has high purity and no impurities and no mildew.
Before oil extracting, the corn germ should be cleaned completely to remove impurities by cleaning machine. The vibrating sieve can be used to remove the impurities, such as residue, powder, and improve the germ purity. If the corn germ contains impurities, it will not only waste food, but also reduce the oil yield. The water content of fresh corn germ is about 13%, which is far from the water requirement for oil extracting. Therefore, proper roasting and drying should be carried out before oil pressing to reduce the moisture of the germ to less than 9%, which aims to increase the oil pressing effect.
The cake temperature for oil pressing should be controlled at about 100 C. The oil content of corn germ is high, therefore, the corn germ can be pressed twice. After the first oil pressing, crush the corn germ, steam and flake into cake, and then press it. During the corn oil pressing process, please pay attention to cleaning the oil route. The oil yield of corn germ is about 16% - 20%.

The crude corn germ oil extracted from the mechanical pressing method can be used directly as industrial oil after precipitation for 24 hours. However, for cooking purpose, the crude corn germ oil should be refined through a series of process.

Corn Oil Refinery Machinery
The refining technology of corn oil processing is basically the same, no matter it is pressed by oil press machine or direclty leached or pre-pressed leached by solvent extraction machine.
General Corn Oil Refining Process: Crude Oil → Filtration → Hydration → Deodorization → Refined Oil
Special Corn Oil Refining Process: Crude Oil → Alkali Refining → Decolorizing → Dewaxing → Impurity Removal → Refined Oil
Corn oil contains free fatty acid, phospholipid-bound protein, mucous and other non-glycerol vinegar impurities, which exist in corn oil in the form of colloid. These gelatinous substances will produce foam during heating and emulsify oil and lye during alkali refining, which will affect the refining of corn oil. So before the corn oil alkali refining, the first treatment is hydration and degumming. Hydration is to add 5%-10% of water when the corn oil is heated to 75-80C, at the same time, stir it and add an appropriate amount of salt. During the hydration process, colloidal expansion and dissolved in water, and then the colloidal water and oil separation to achieve the purpose of hydration and degumming.The oil after the refining process meets the national standards and can be sold on the market. Therefore, the corn oil obtained after pre-pressing and leaching must be refined to improve the quality of corn oil.
Types Of Equipment Used In The Corn Oil Refining Process
The equipment used in the corn oil refining plant is corn oil refining equipment, including 1-20 tons/day small corn oil intermittent refining equipment, 10-50 tons/day medium-sized corn oil semi-continuous refining equipment, and 30-600 tons/day Large-scale corn oil full continuous refining equipment. Customers can choose corn oil refining equipment according to the amount of corn oil that needs to be refined every day.

Three Kinds Of Corn Oil Refining Machine
Although corn germ contains low oil content, they have lower cholesterol. So corn germ oil is easier to absorb and are good for your body. That is why many health experts recommend eating corn oil. The fat content of corn germ is between 17% and 45%, which accounts for more than 80% of the total fat content of corn. The fatty acids in corn oil are characterized by up to 80%-85% unsaturated fatty acids. Corn oil contains no cholesterol and is very good for the elderly, so it has a high market value.
The equipment required to produce corn oil is not only related to the processing capacity of corn, but also to the type of corn oil needed by the local market and the investment budget of the manufacturer. If you need to purchase corn oil production equipment, but are not sure what corn oil processing machine you need, you can contact ABC Machinery. ABC Machinery has built different corn oil production projects in India, Nigeria, Liberia, Kenya, Lebanon and other countries, and has accumulated rich project experience. At the same time, ABC Machinery is improving corn oil production equipment to meet the different needs of customers. We will customize the plan of corn oil production equipment for you according to your requirements, and look forward to our cooperation.
Request a Quote
We receive enquiries in English, Español (Spanish), Русский язык (Russian), Français (French) and العربية (Arabic).Our professional team will reply to you within one business day.Please feel free to contact us!